Shopping in Egypt is like being in a dream where all the beautiful natural and man-made artifacts are in your reach at very affordable prices. The purpose of the article is to provide every traveler with all information about what and where to shop in Egypt. This article was written by a group of the very group of expert tour guides, tour operators, and travel consultants who know the best items to buy and where to buy them.
Egypt is filled with a great number of markets and shops where all the magical goods of Egypt is stored and sold on a great display; one of the most famous market places in Egypt is the most visited marketplace on earth Khan El Khalili Bazaar which is a 500-year-old maze of streets, routes, stores and shops in the heart of Islamic Cairo. There are various numbers of markets, souks, crafts, and art centers all over Egypt plus countless local markets where everyone can buy fruits, vegetables, and other products.
The Shopping Materials
Many materials are used to create some incredible artifacts, some of which are mainly copper and brass where all the products such as trays, Arabian coffeepots, hanging lamps, and more are made and located in Cairo inside an area called "Nahaseen". One of the most famous and known Egyptian goods is Egyptian Cotton which came in the shape of awesome shirts, trousers, bed sheets, bed covers, a Galabeya, scarves, and more, also pure natural leather which come in the shape of sandals, shoes, bags, and shoes.
Another popular item is a set of chess or backgammon made from hardwood, with enchanting designs with ivory, bones, pearls, and many. some of the more ridiculous items you can buy in Egypt are belly dancing outfits which come in colorful designs of pharaonic nature and a variety of accessories or a shisha which traditional water pipe is used for smoking and tend to have a unique design. One of the most unique and popular items in Egypt has a special design like Pharaonic, Islamic, Nubian, and especially the bedouin attractive homemade products that come from the Sinia Peninsula and the Siwa Oasis which often utilizes many coins in its designs.
The Famous Bazaars & Souks of Egypt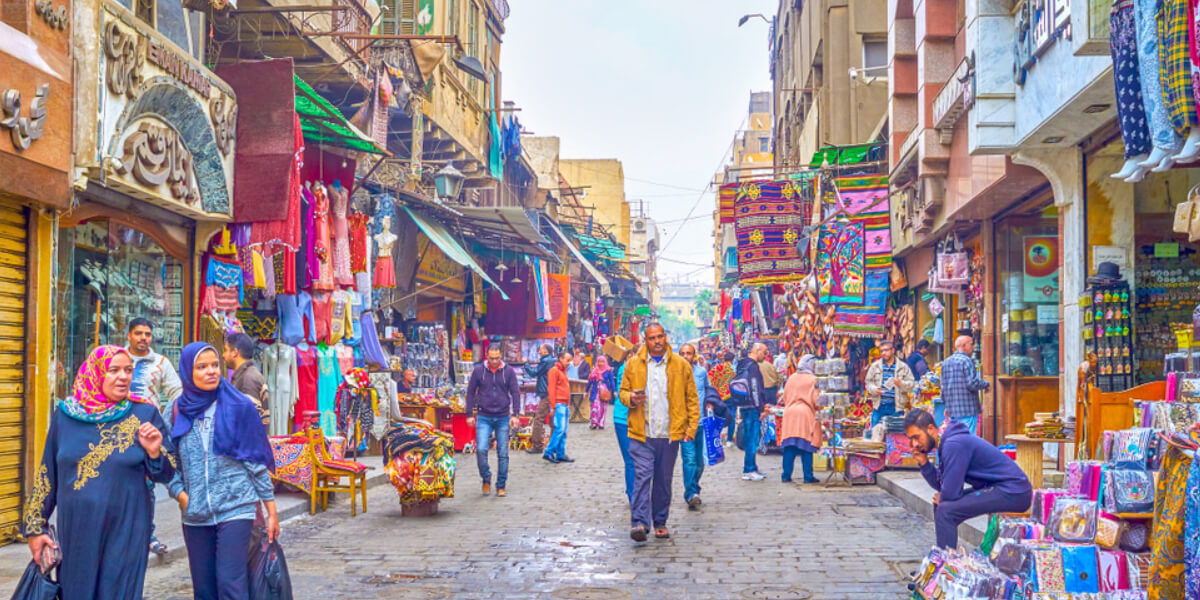 The markets and bazaars of Egypt offer the best for tourists with an epic collection and mixture of products, gifts, and souvenirs in diffident quality and prices. Across all the narrow streets and the massive markets are the biggest collection of never seen before goods; all one hundred percent Egyptian made and based.
What are the famous goods and products that you can buy?
Miniature Pyramids
Shisha
Kohl
Cotton Robes
glass, copper, and brassware Jewelry
Jewelry Wooden Boxes
Statues Replicas
Handcrafted metal works
Hand blow glassworks and ornaments
Veils such as Jilbab, burqa
Belly dancing outfit
Pottery and ceramics
Egyptian Musical Instruments
Kilim Carpets
Scarab beads
Khartouche
Incense
Ramadan Lantern
Bastet, Antique Stones
Khayameya
Papyrus scroll
Fez (head cap for males)
Alabaster Vases
Gold Jewellery
Sand-filled camels
Delicious Eastern Deserts
Where to Shop in Egypt? 
Every traveler will have the chance to explore and shop all the markets and shops across Egypt such as:
Famous markets and bazaars in Cairo:
Arts center of Wekalet El Ghori
Fleamarket at Wekalet El Balah
Traditional Souk of Khan El Khalili
Al Khayameya market
Ashor Bazaar
Al Karnak Bazaar
Roma Bazar
Al Ekhlas Bazar
Shopping Malls such as Nile Mall, Nile Hilton Mall, City Stars, and more. In the heart of the Giza, the city of pyramids is the Egyptian Perfume Palace, Papyrus Shop, Topaz Bazaar, Sondos, Papyrus, Ramses Wissa Wassef Art Centre, and more.
Famous souks in Luxor:
Caravanserai
Habiba Handweaving and gallery
Alladins Cave
Fair Trade Luxor Outlet
Famous souks in Aswan:
The golden city of Aswan is full of riches which can be found in the Aswan Souk, Aswan Bazaar, Om Elnor, Aswan Souk, Spice Market, and Hubia Craft Center.
Famous markets in Alexandria:
In the city of Alexandria is a lot of local markets like the "Attarine" Market which sells all sorts of antiques in a maze of narrow lanes and streets, plus many shopping malls like Zahran Mall, San Stefano Mall, and the Grand Plaza Mall
Enchanting city resorts:
Across the red sea are a number of incredible cities where a truly unique collection of souvenirs and artifacts across its. In Hurghada, you will find all that you need such as:
Karkusha Cotton House
Downtown Bazaar El Gouna
Nikki Leather Dehar
Hurghada Marine Boulevard
Senzo Mall
In the city of peace Sharm El Sheikh is all that you desire in :
The Old Market
Hadaba
Na'am Shopping Centre
Soho Square
Bargaining in Egypt Souks
Bargaining is an art form that involves a great deal of negotiation that has existed in Egypt since ancient times which is more than agreeing on a price, but it is some of a ritual, practiced between the seller and the buyer. Some of the best bargaining practices are found in Egypt, so in order to get the item you desire at the prices you want, every traveler must be extremely patient and calm. It is always a good idea to keep discussing the price as you keep lower the price as much as you can until both parties are satisfied and happy.
Conclusion
Enjoying one of the best Egypt tours is the best souvenir to always remember the land of Pharaohs. A Nile river cruise across Egypt from Luxor to Aswan with us is a magical chance e to get closer to the incredible historical attraction and to all the incredible shops and markets in and between Luxor and Aswan where you have the most epic shopping experience and get to possess a beautiful magical piece of Egypt that will last forever.