Summary
Souk Al Khayamiya is a vibrant artistic attraction in Egypt, featuring enchanting man-made marvels dedicated to various time periods and styles. It offers an exciting shopping experience.
Located near Bab Zuweila in Fatimid Cairo's historic district, Souk Al Khayamiya is a historical rarity that showcases Egyptian cultural heritage and craftsmanship, particularly the art of Al Khayamiya, which dates back to ancient Egypt.
The craftsmanship involved in creating Khayamiya is intricate, with colorful appliqués used for decorating tents. These textiles are known for their durability in Egypt's dry and dusty climate.
The Souk Al Khayamiya offers various styles and designs, including tourist, Khedival, contemporary, and street Khayamiya, each with its unique motifs and inspirations from Egyptian life, ancient Egypt, folkloric themes, and Islamic art.
Visitors to the Souk Al Khayamiya can find a wide range of items, such as wall hangings, tapestries, carpets, and decorative canvases. The market is the last covered market still in use in Cairo, offering high-quality textiles at affordable prices, as well as a vibrant atmosphere with shops, cafes, and local celebrations. Tourists can also explore the bustling Khan El-Khalili Bazaar for more shopping opportunities and unique experiences in Cairo.
Souk Al Khayamiya is one of the most living artistic attractions in existence filled with enchanting man-made marvels on every corner which are dedicated to a number of different time periods and styles. Everyone will be part of the most entertaining shopping tour is one of the most exciting activities that you can do in Egypt after visiting the most interesting ancient attractions & sightseeing.
There are tens of amazing bazaars, open-air markets, and shops in Egypt that are located in different places, and among the most fascinating of them is the impressive Souk Al-Khayamiya "Tentmakers Bazaar".
Location of Souk Al Khayamiya
Souk Al Khayamiya is located across the street from Bab Zuweila behind the Fatimid Cairo's southern walls dating to the 17th century. There have been lots of markets in the area that used to sell different types of goods & souvenirs in Egypt but the tentmakers are the only remaining ones.
After visiting Bab Zuweila, you will see a narrow alley ahead and it is covered by a high roof. In that alley, you will find merchants who are specialized in selling textile goods and you will find thousands of amazing things to look at and buy during your vacation in Egypt.
Historical Rarity of Souk Khayamiya
Souk Al Khayamiya for hundreds of years has stood as a miraculous example of the cultural heritage and craftsmanship of the Egyptians who were able to protect a style of art and continue to thrive despite the challenges posed by modernity. The marvelous art of Al Khayamiya has its origin dating back to the time of ancient Egypt when it was used to make a number of beautiful decorative covers for special occasions and celebrations which was used to provide privacy and shade.
With the many changes in modern life, the use of this traditional Khayamiya totally declined, but interest has risen in time because of the natural material made in the street which led to the resurgence in its popularity in the modern era.
Relevant Post
Know more about Khan El Khalili history and more (Oldest Bazaars in the Middle East)
Ream More
The magnificent textiles of Al Khayamiya are historically rare because they were designed for outdoor use where they can stand in dusty and dry conditions, which can be also very replaceable. In 2010, The Khayamiya was recognized as an Intangible Cultural Heritage of Humanity by the UNESCO. The souk across the history of Egypt raised significant awareness about the art and offered support for its promotion and preservation.
Craftsmanship in Souk Al Khayamiya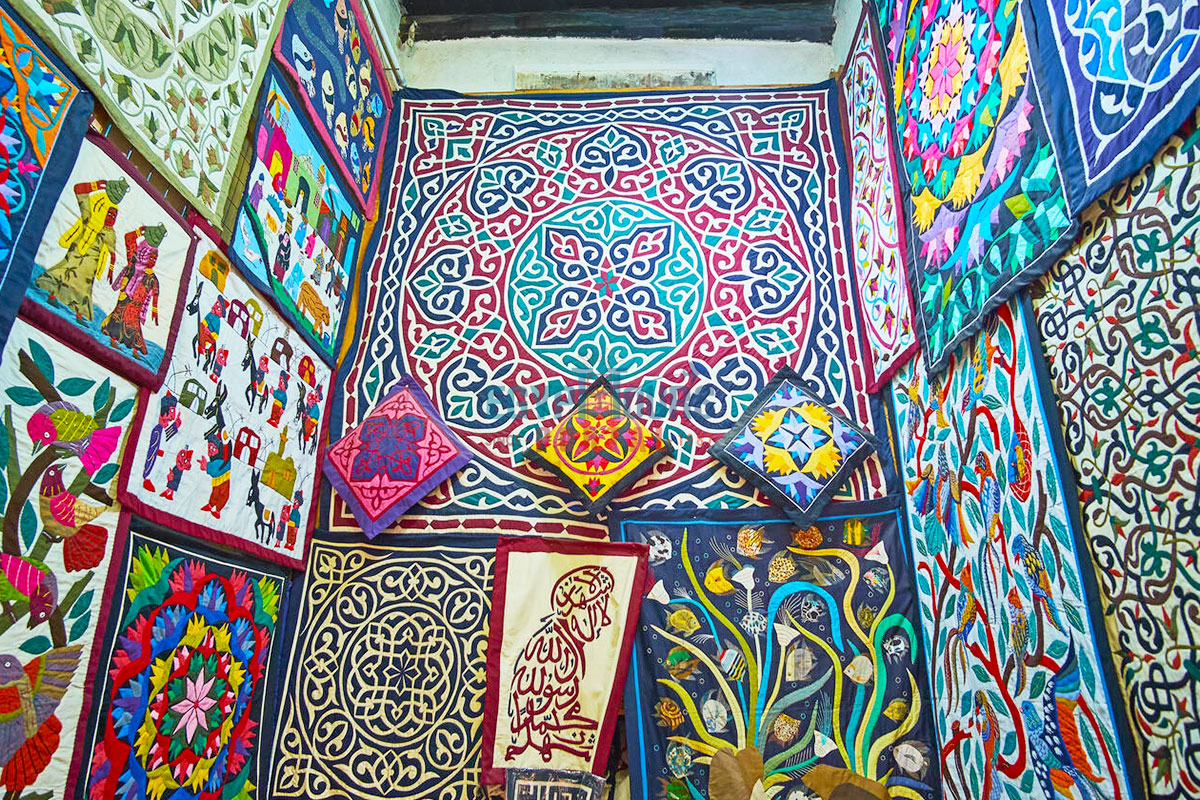 Khayamiya is a marvelous intricately designed colorful appliques that are traditionally used to adorn the interiors of the tents for both its decorative allure and as a functional shelter. It is crafted of three layers, a strong base, a background top, and a complex applique on top. The Khayamiya served as curtains but they evolved with time and were used to create a number of fashion items, bags, cushion covers, and bedspreads.
The textiles were made with hand-stitched cotton applique on a solid cotton base which was designed to endure the dry, hot, and dusty climate of Egypt. The hand-stitching is executed by very professional tentmakers who cut the fabric pieces and use scissors, needles, and thread. A single tentmaker has the skill and power to produce basic cushion covers and intricate wall hangings that can span to several meters which can take up many months to finish.
The common design motifs found across the Khayamiya include curvilinear arabesque and geometric patterns which are totally inspired by Islamic art plus there are depictions of pharaonic art which include lotus motifs and papyrus. The Khayamiya tend to have creative innovations that fit the modern world. It also held a number of calligraphic patterns that were taken from Quranic texts. The contemporary Khayamiya is known to be more intricate and finer handwork.
Styles and Designs of Al Khayamiya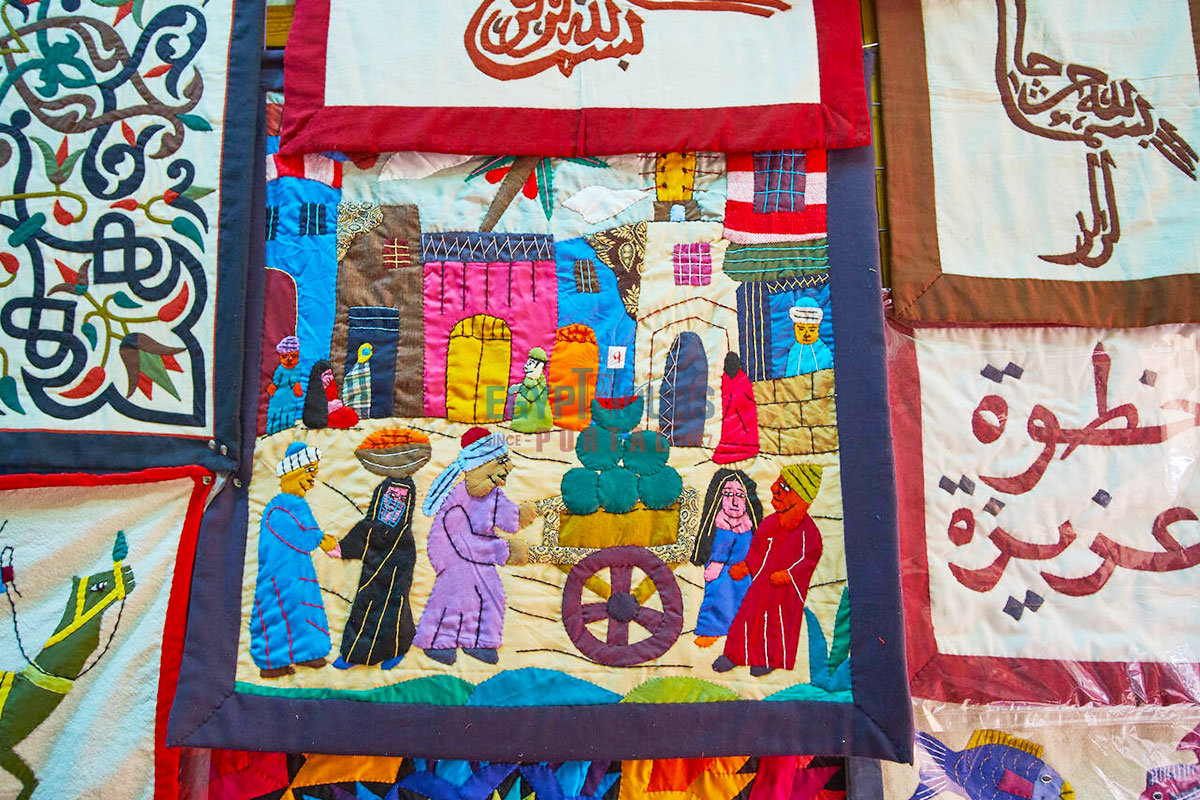 The rich textile art form Khayamiya encompasses four main categories: tourist, Khedival, contemporary, and street. The Khayamiya was crafted between 1867 and 1914 and is made of massive appliqued panels with red, indigo, and white designs found on beige canvas which are known to feature vertical blue stripes found within the canvas. The touristic Khayamiya was established in the 1890s and remains to be produced until our current moment; its fame came after the discovery of Tutankhamun's tomb in 1922.
It is known to be smaller and decorated with figurative appliques that hold motifs from contemporary scenes of Egyptian life and ancient Egypt plus themes from folkloric Egypt. Orientalist Khayamiya is filled with street scenes, bird Khayamiya with incredible scenes of the Garden of Eden, the Tree of Life, or Pharaonic tomb art. It also carries magical and marvelous images of traditional Egyptian and Nubian music and dancing. It holds intricate and attractive designs of Quranic texts and Islamic calligraphy.
It has magnificent pharaonic designs taken directly from ancient Egyptian papyrus texts located in the Book of the Dead and other great works of ancient Egyptian art. The street Khayamiya has always served outdoor purposes in Egypt such as backdrops or Suradeq pavilions for public events. The magnificent contemporary Khayamiya is made indoors and is known to have a number of different types like a beautiful arabesque Khayamiya, and marvelous folkloric Khayamiya showcasing the legend of Goha. A number of talented and famous artists, curators, designers, and publishers make their own Khayamiya.
What Can Be Found in the Souk El-Khayamiya?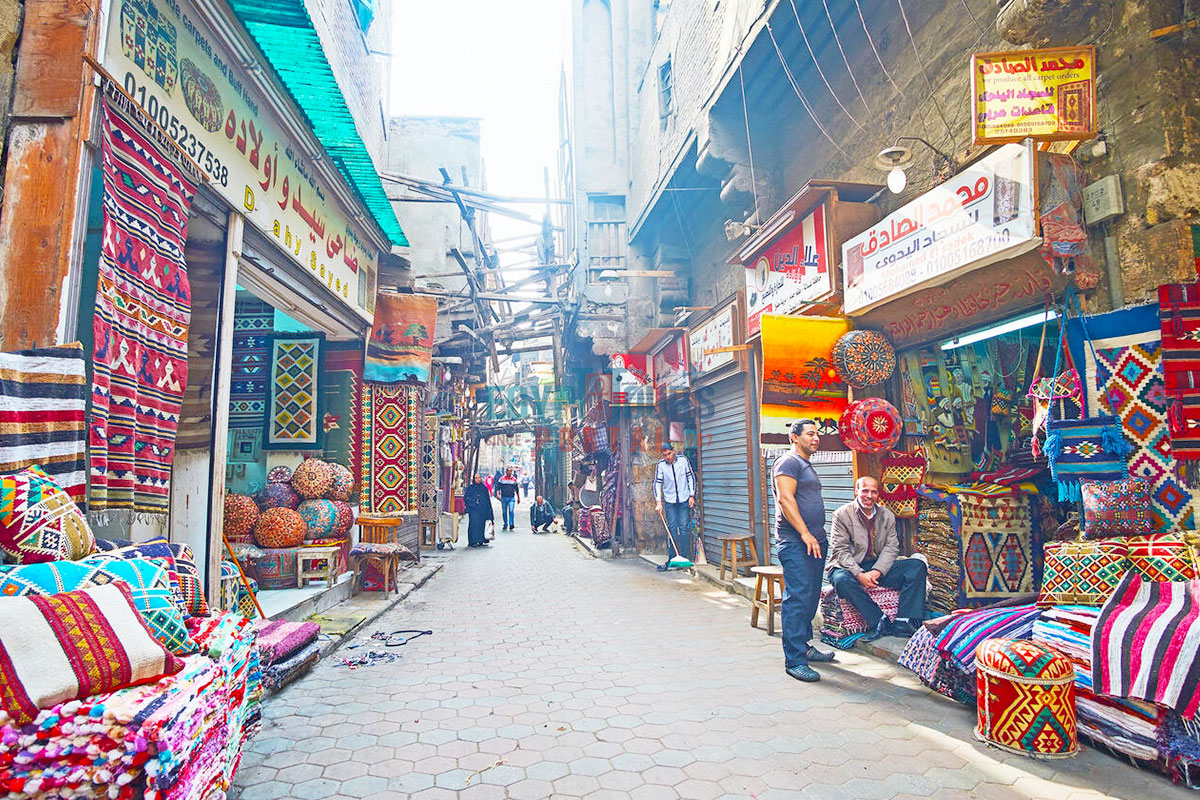 While being in the Souk of Al-Khayamiya, you will find lots of wall hangings, colorful tapestries & carpets, and amazing colorful canvases that are decorated with amazing designs that reflect the Islamic era. The tents that are being sold in that market have been used for special occasions & outdoor activities for a long time including funerals, holiday celebrations, shop openings, and wedding feasts.
Relevant Post
Here is a list of the most common traditional souvenirs to buy in Egypt!
Ream More
It is the last remaining covered market that is in use in Cairo up to date and that is not all about it as the crafts that are being produced there are very valuable and of high quality at affordable prices. You will find different textile pieces that are of more affordable prices than what you can find in Khan El-Khalili Bazaar. If you are walking around in Cairo's famous neighborhoods, you will definitely see some of those tents and hear some loud music & the celebration sounds in Old Cairo's Streets and avenues. In there, you will find a number of great shops that have a number of essential oils, gold vendors, antiques, fabric, carpets, and much more. One of the notable café is Al Fishawy which is Cairo's oldest and is adorned with massive mirrors and large antique furniture.
What to Expect While Being in Khan El-Khalili Bazaar?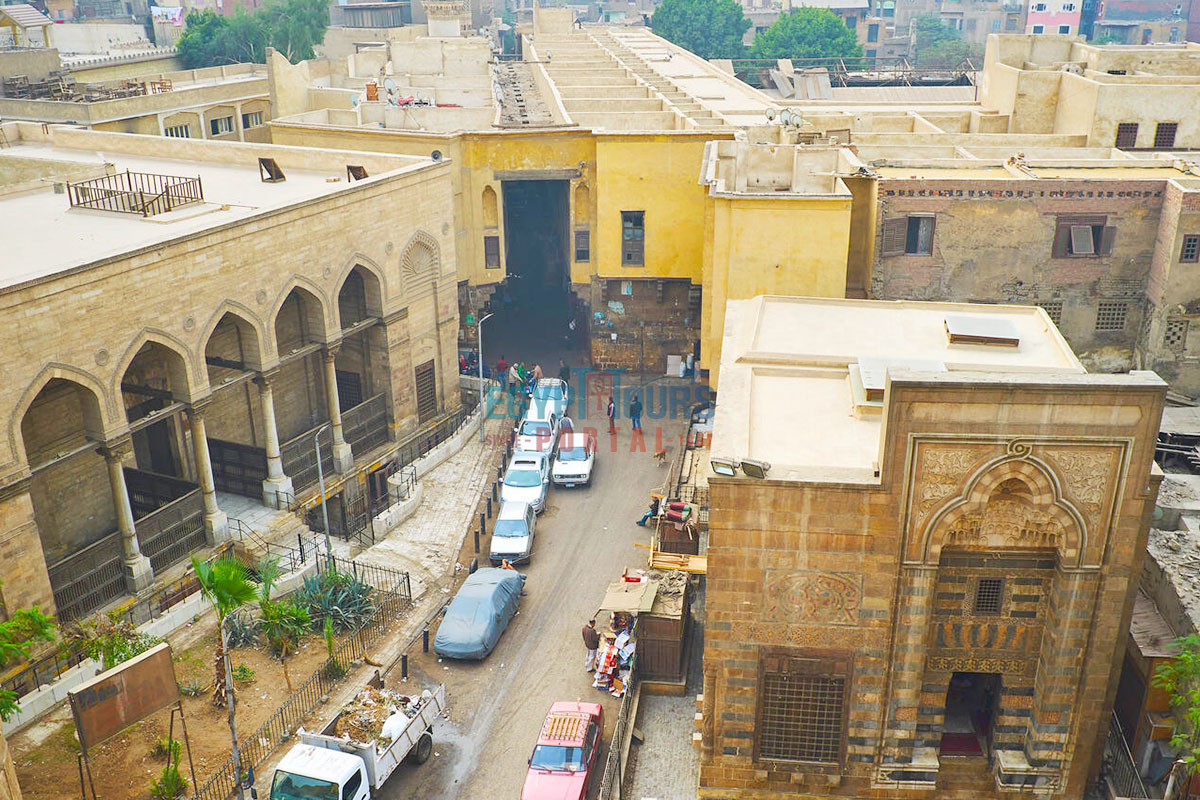 Khan El-Khalili Bazaar is the biggest and the most colorful and crowded market you will ever witness in Egypt because of its magical shiny baubles, and amazing goods that attract tourists from all over the world, especially with its breathtaking spice market that includes the best fresh spices you will ever find in addition to the largest perfume market that has numerous essential oils' scents.
Inside the market, you will be able to find some gold vendors & shops of antiques that are filled with priceless pieces of art. In addition to this, there are also some fabric shops & vendors of carpets that sell nearly all of the things that you may have a desire to buy while being in Egypt.
Time-Travel Through Cairo
So while being in Egypt to spend your vacation, don't miss that chance of visiting such glamorous markets and bazaars that have all of what may come to your mind while touring around the majestic land of Pharaohs. Make sure to have a local tour guide with you while buying such items to get them at good prices and in order not to be cheated by any of the locals as you deserve to spend the best vacation ever.
You can also look for our majestic Cairo day tours that offer amazing day trips to the best attractions in Cairo such as the Giza pyramids, the Egyptian Museum, the Khan El Khalili Bazaar, and much more.