In the mystical world of travel, "Egypt Tours Portal" stands as a beacon of excellence, weaving enchantment and wonder into the very fabric of universal exploration. For more than three ages, it honored with illustrious awards that grace our name, each one stands as a testament to our unwavering commitment to providing the most extraordinary experiences and services for our cherished and honorable travelers.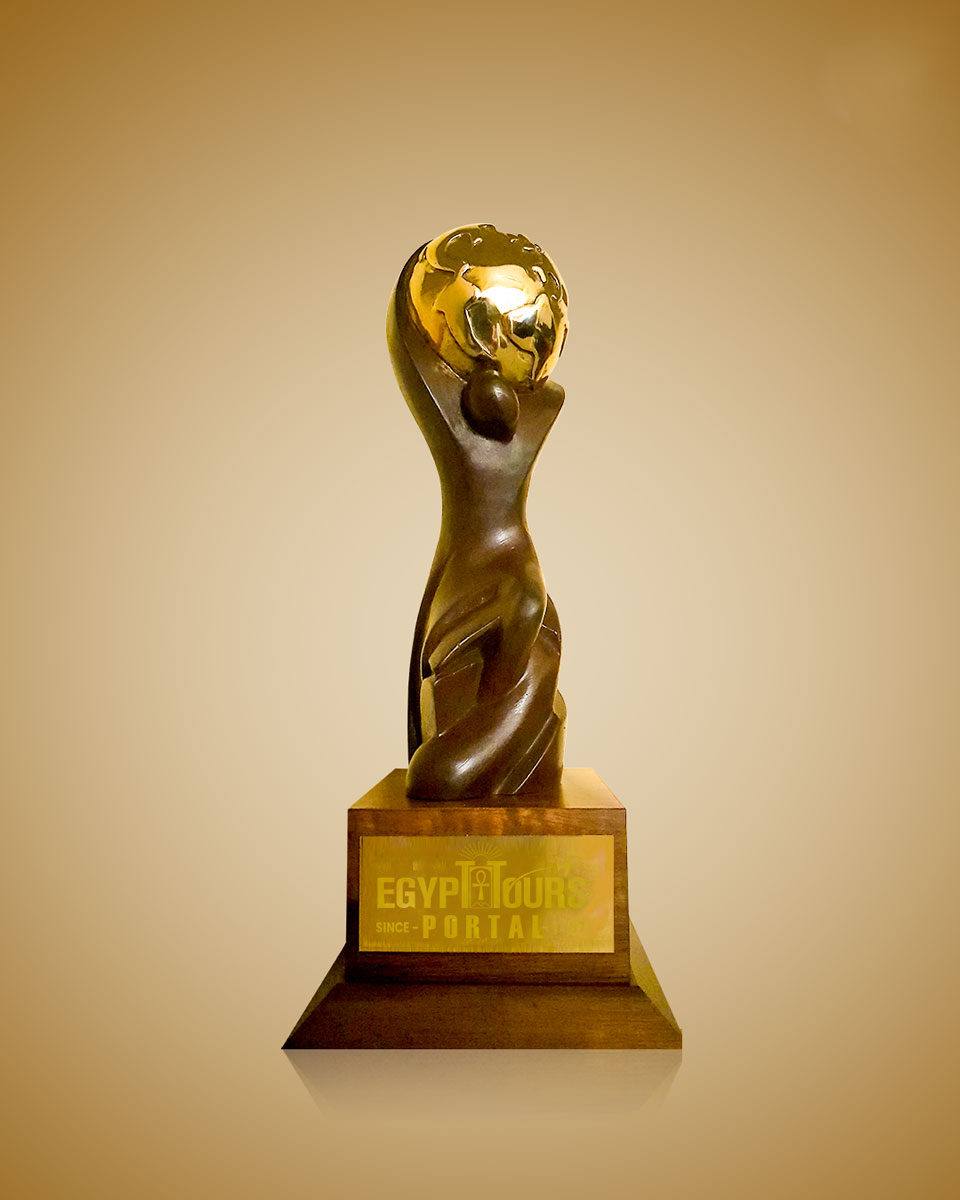 The Revelation of the World Travel Awards to Egypt Tours Portal in 2021 and 2023
In October 2023, World Travel Awards graced Egypt Tours Portal with the title of the best leading travel agency in all of Egypt which is the second time ETP has won this award since 2021 because of its continuous support to provide a magical entrance to the immortal wonders of this golden civilization which spanned over three decades where we have crafted extraordinary journeys through Egypt's tapestry of history, culture, and entertainment. All our marvelous tours have equipped our guests with the most ideal examples of comfortable accommodations, magical Nile Cruises, excellent transportation, delicious culinary delights, thrilling activities, and professional tour guides. In the cities of Cairo, Alexandria, Luxor, Aswan, Hurghada, and more, our travelers will dive into comfort and affordability with their memories etched with the splendor of Egypt.
Egypt Tours Portal Rest of Awards
A Decade of TripAdvisor's Favored Choice
For ten splendid years, spanning from 2013 to the present day, Egypt Tours Portal has claimed TripAdvisor Travelers' Choice accolades, formerly known as the Certificate of Excellence and TripAdvisor Traveler's Choice. This accolade, adorned with over 4,500 radiant reviews, bestows upon us the seal of enduring customer satisfaction, unwavering dedication, boundless vision, and tireless labor. To gaze upon the certificate is to witness a tapestry of passion and professionalism woven by our expert tour operators, drivers, and guides.
2022: A Year of Luxurious Conquest
In the mystical sphere of luxury, Egypt Tours Portal has ascended to global eminence. The illustrious World Luxury Travel Awards bestowed upon us the title of "Best Luxury Tour Company" in 2022, an accolade that emanates from our core values and an unyielding dedication to crafting the most splendid luxury experiences within Egypt's embrace. For three decades, we have curated accommodations, Nile Cruises, delectable restaurants, seamless transport, thrilling activities, and the wisdom of our guides, rendering every moment an indelible treasure.
Champion of Luxury Life
The Luxury Lifestyle Awards in 2020 and 2022 acclaimed Egypt Tours Portal as the "Best Luxury Travel Agency in Egypt". Our tireless toil and fervent dedication have led us to this pinnacle, as echoed in the voices of our patrons. We have become the preeminent envoy of luxury services, affording the zenith of accommodations, Nile Cruises, transportation, culinary delights, activities, and guides.
The International Accolade
Egypt Tours Portal emerges as the "Best Travel Agency in Egypt 2021" by the esteemed International Travel Awards. Our win stands as a testament to our diligence, unwavering dedication, and visionary approach to the world of tourism. Over more than thirty years, we have ensnared the hearts of travelers from around the world with allure and grandeur creating enchanting memories in the wondrous cities of Cairo, Alexandria, Luxor, Aswan, and Hurghada.
MEA Markets: Where Magic Unfolds
The prestigious MEA Markets bows to Egypt Tours Portal, anointing us as the "Best Inbound Guided Tour Company in Egypt". Our vision and relentless effort have found their recognition, for every traveler has savored the finest service, delivered by our exceptional team of tour operators, guides, drivers, and custodians of delight.
Africa's Cultural Treasure
Egypt Tours Portal takes its rightful place as the "Best Cultural Experience Tours Provider in Egypt", crowned by the esteemed Travel & Hospitality Awards Magazine. Across the sprawling monuments and artifacts of Cairo, Alexandria, Luxor, Aswan, and Hurghada, our deep knowledge, vast experience, and unwavering dedication shine brightly, illuminating the path to the richest cultural experiences in Egypt.
The world that we occupy today holds many challenges that make enjoying a holiday a hard task but with Egypt Tours Portal every dream is now a reality, containing the finest means and a state of the art services that will transform every moment into an epic tale of thrill, magnificence, and wonder. Every single one of our awards is a thread of enchantment and excellence that weaves through our name, and in every traveler's heart, a lasting memory blooms. Egypt Tours Portal is where each journey unfolds as a story spun from dreams.