Special Tours & Holidays to Egypt in September 2024
Egypt tours in September 2024 for Australians are the last chance before the summer ends to catch a glimpse of the beauty of Egypt under the full heat of the sun. Our holidays to Egypt in September 2024 are your gateway to exploring acts of the allure of wonder dating to more than 4000 years in the shape of great monuments and natural attractions within the immortal destinations of Cairo, Alexandria, Luxor, Aswan, and Hurghada. Egypt Tours Portal has created the best tour for its Australian guests since it started working in 1987 offering the most affordable prices and the finest service. Egypt Tours Portal has used its great experience to provide an unforgettable Egypt vacation in September 2024 to all Australian visitors from all over the world.
Our tours to Egypt in September will provide the vacation of dreams while keeping your budget safe and sound where you will be able to witness the ancient Giza pyramids, the museum, Karnak & Hatshepsut temples, the Valley of the Kings, the awesome Abu Simbel temples, and much more. Our holidays to Egypt in September will have you board a Nile cruise on the beating heart of Egypt sailing across the majestic Nile River then you will experience the tropical life of the red sea through snorkeling and diving in a once-in-a-lifetime opportunity. Don't hesitate! Grab your chance to experience the wonders of Egypt on vacation in September. Book now and make this journey the highlight of your year!
Top Egypt Tours & Holidays In September 2024
Egypt Weather of September 2024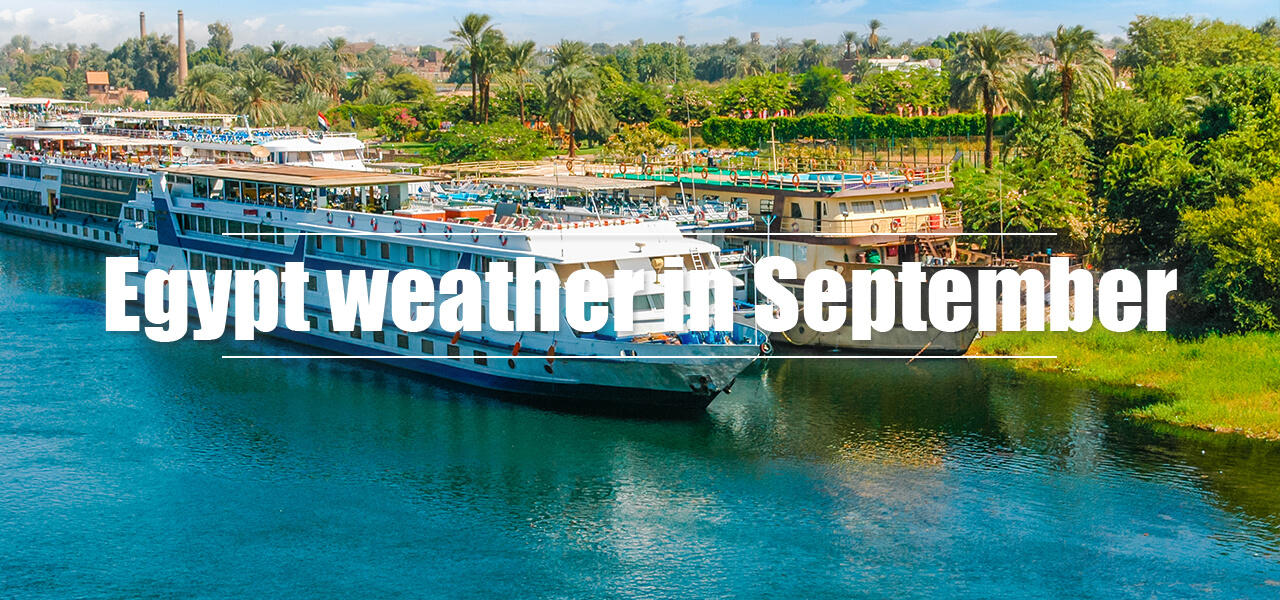 September is a moderate month with a very well-balanced temperature reaching a high of 33°C (91°F) during the day and a low of around 20°C (about 68°F) at night with no chance of rain. In September, you will feel the temperature going down at fall at the end of September. The cities of Upper Egypt usually remain not fully crowded at this time of the year so you will have the places all to yourselves. The tropical destination of the red sea will be truly beautiful in September such as Hurghada, Sharm el Sheik, and many more relaxing resorts.
Tailor-Made Your Own Holiday
Learn More About Egypt
Before you visit Egypt and experience its countless adventures in the timeless cities of Cairo, Alexandria, Luxor, Aswan, and Hurghada. You can explore our blog about Egypt travel tips, ancient Egyptian civilization, pharaohs, artifacts, and destinations you must visit during Egypt holiday in September 2024.