Ras Mohammed National Park is a heavenly attraction offering every traveler a look into the natural allure and glamor of one of Egypt's most precious hidden gems. Ras Mohammed National Park article's main goal is to offer every traveler all the information and details about this magical place. This article was written by a team of a very experienced and skilled team of tour guides, tour operators, and travel consultants who know all the majestic facts about Ras Mohammed National Park. Within the divine lands of Sinai is a piece of paradise "Ras Mohammed National Park" containing the most enchanting natural reflection of beauty and wonder. A vision of clarity awaits between the jewel in the crown of the red sea showcasing the most majestic sea creatures and coral reefs within a harmonious ecosystem filled with miracles that make any aquatic activity truly heavenly, worth remembering forever.
History of Ras Mohammed National Park
Ras Mohammed means "Mohammed's Head" because of its shape as the top of a triangle with the mountains of South Sinai forming the other side of the triangle resembling a head and Mohammed refers to the prophet (PBUH). Ras Mohammed National Park was opened to the public by the Egyptian environment affairs agency in 1983, as a marine reservation to protect its complex one-of-a-kind habitat that contains thousands of aquatic species and a diversity of wildlife such as gazelles and desert foxes.
Geography and Location of Ras Mohammed National Park
The National Park of Ras Mohammed is located in the meeting point of the two gulfs of the Suez Gulf and the Aqaba Gulf. Ras Mohamed has located 70 km from Tor Sinai, 12 km from Sharm El Sheikh, and 446 km from Cairo. Ras Mohamed National Park is 480 km in size divided into 135 km of land and 345 km of water. It consists of a diversity of desert habitats like mountains and wadis, sand dunes, gravel, and coastal mud plains and plays a major role in bird migration as a place of rest and nourishment
The Climate of Ras Mohammed National Park
Ras Mohammad National Park has a very dry climate, with only a few rainfalls during the winter. Temperatures are mild in the winter, with daytime high temperatures averaging around 23°C (73°F) and low temperatures around 14°C (56°F). During the summer, temperatures often exceed 40°C (104°F) and low ones around 27°C (81°F).
Best Activities To Do in Ras Mohamed National Park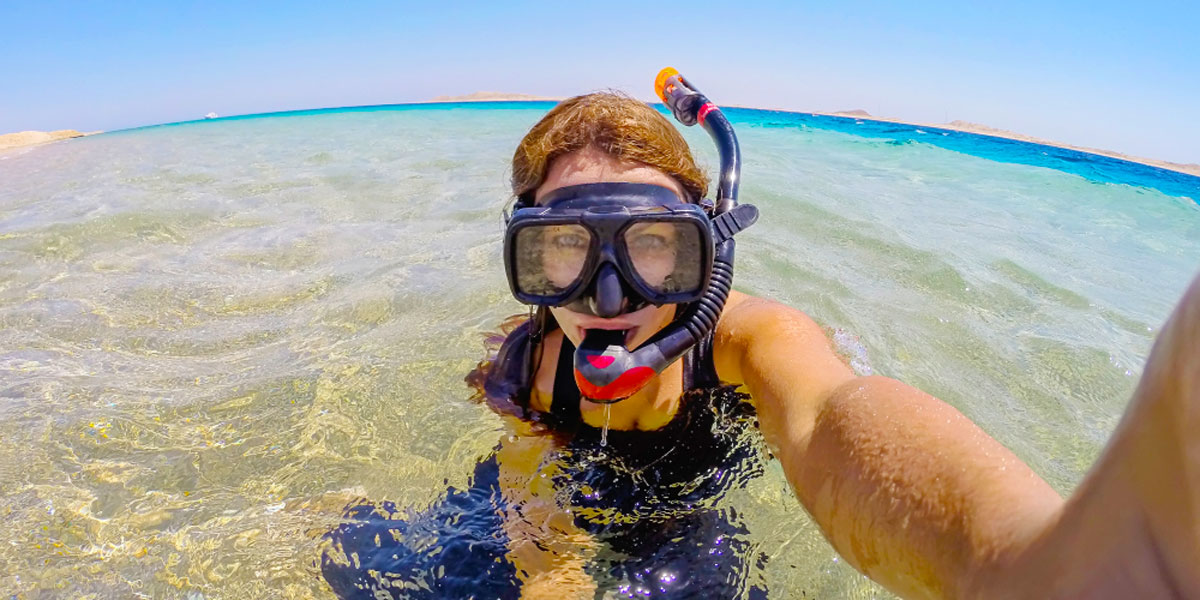 There are a great number of activities that surround this incredibly magical place, Ras Mohamed National Park is a world-famous place known as one of the most amazing diving spots on the globe. Tourists from all over the planet visit Ras Mohamed every year to enjoy diving and snorkeling in its rich marine life, plus explore the incredible unique biological variety and the ancient fossils that trace to the ages from 75 thousand to 20 million years.
Tourism in Ras Mohammed National Park
National Park in Ras Mohammed occupies a total of 480 sq km of land and sea, including the desert in and around the headland, Tiran Island, and the shoreline between Sharm El Sheikh harbor and Nabq protectorate. Some of the world's most spectacular coral reef ecosystems, rare fishes coral species, and phenomenal marine life are the reason why more than 50,000 visitors a year come thus this place so they can have the chance to explore all of its natural allure and wonder in the hidden pocket dimension.
Amazing Ecology and Attractions in Ras Mohammed National Park
The Suez beach is full of amazing seagulls and is the resting place of various rare species such as sea turtles and a lot of other creatures that encourage you to go for a dive to fully explore them. You can witness dolphins, water turtles, or even sharks. There are also a lot of crustaceans and sponge animals, plus over 200 kinds of coral reefs. Ras Mohammed National Park with a lot of species of birds like falcons, storks, herons, and a lot of mammals like foxes, wild rabbits, hyenas, dears, and mountain goats
The mangrove canal was created by the great earthquake millions of years ago and caused a split in the land of Ras Mohamed and the mangrove is a rare plant that can be found in only four places on earth. What makes the plant special is that it absorbs salt out of the water and produces it through its leaves. The fortress of mangrove plants is located in the eastern part of Ras Mohamed and connects Ras Mohamed to the Island of Al Ba'eera. The area of this tree formation has very clear waters and the land can get totally dry sometimes.
There are a lot of sea caves in this area containing many sea creatures in different colors, shapes, and sizes. However, most of these creatures are totally friendly. There are many butterflyfish in this area and a number of fire reefs and corals that will make you feel you are swimming in a colored paradise.
Ras Mohamed has a marvelous collection of the most ancient fossils in the whole world that date from 75 thousand years to 20 million years. One of the most attractive sites in ras Mohammed is the lake that changes color seven times a day due to a natural phenomenon. The lake holds all the shades of blue and changes its colors seven times every day.
Book Your Holiday to Ras Mohammed
Ras Mohammed is a must-visit land built in the shape of true wonder containing the most enchanting visions of marine beauty and the chance to create so precious memories that would last till the end of times. Book a holiday to Ras Mohammed through our Egypt Red Sea holidays and live the most beautiful time of your life.