Summary
Save on accommodation by choosing from a range of hotel options, from 3* to 5*, and consider hostels. Booking through platforms like booking.com or a travel agency can offer cost-saving packages.
Explore cost-effective and valuable attractions in Egypt, such as Cairo, Giza, Luxor, Aswan, Alexandria, and coastal cities like Hurghada and Sharm El-Sheikh for beach and water activities.
Enjoy affordable local and street food to save money on meals, and ensure food quality when dining at local restaurants and cafés.
Utilize public transportation for city travel and consider options like sleeper trains and flights for intercity journeys. Travel agencies can provide transportation solutions.
Shop for souvenirs at affordable prices, especially at places like Khan El-Khalili Bazaar, where bargaining can help secure good deals.
Consider visiting Egypt in the off-season (May to October) for lower prices, fewer crowds, and more relaxed sightseeing experiences.
Whenever you decide to come to visit Egypt and whatever the destinations you intend to visit, you will definitely try your best to do what you can to save as much money as you can since you may spend a fortune while being in Egypt if you are not planning a specific tour or if you don't have a specific budget to stick with.
Whatever the currency you are holding like USD, AUD, EGP, GBP, CAD, or any other currency, with our tips and recommendations below, you will be able to enjoy a really terrific vacation in Egypt without getting over your budget. Here is the way to save money in Egypt:
1. Book Affordable Accommodation in Egypt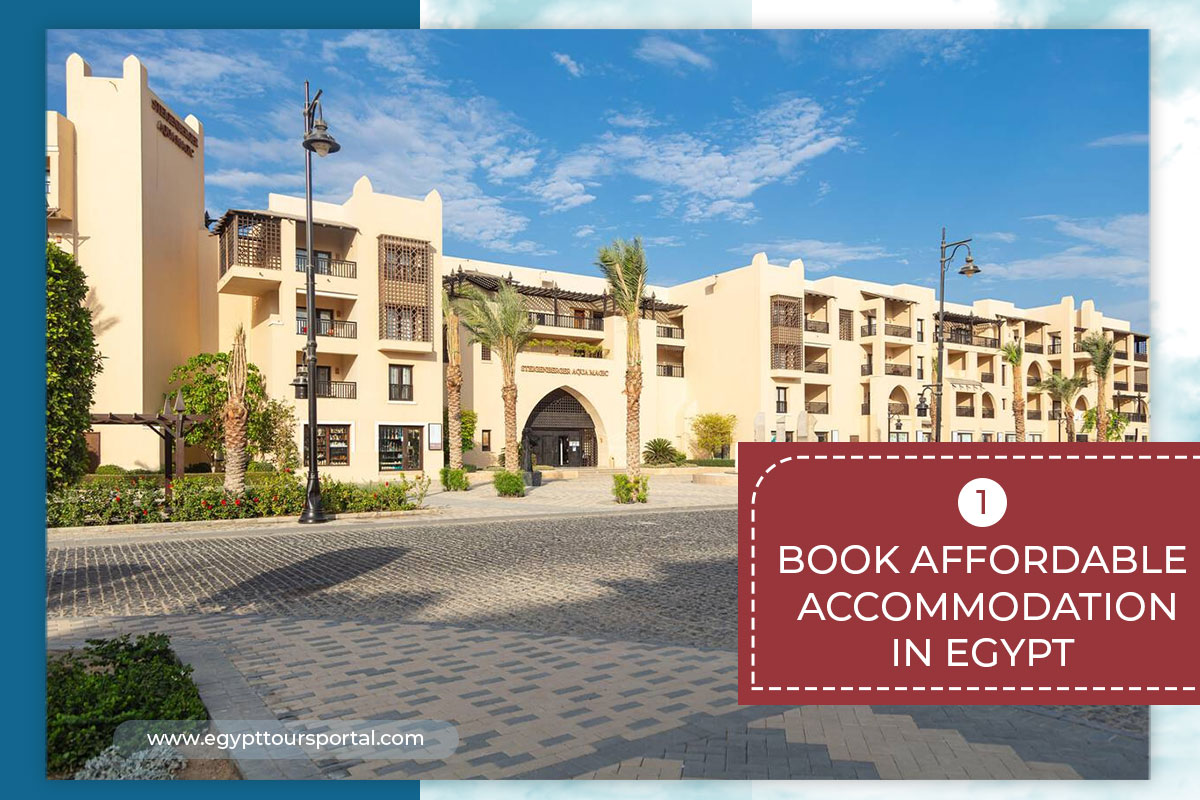 Before booking any tours in Egypt and before arranging any domestic flights, you need first to know that there are so many hotels all over Egypt that range from 3* hotels to the highest luxurious 5* ones and you need to make sure that you know the exact amount of money you want to spend for your accommodation, on other words, you need to determine how important is the place where you will spend your nights and would you like to spend a lot for just sleeping and having the breakfast meal rather than touring and enjoying the whole day!
There are also so many hostels all around in the Egyptian cities that offer cheap accommodation but they don't include the same facilities & amenities as the 4* or the 5* hotels. Checking booking.com is always helpful when it comes to getting the best hotel rates and if you are booking with us, we will offer you an incomparable price for your full tour package including the hotels & flights in order to save lots of money and enjoy a remarkable vacation without worrying about anything.
Relevant Post
Here is important information you should know before traveling to Egypt.
Ream More
Regarding accommodation, there is also the option of being accommodated on a Nile River Cruise and this is the most favorable type of tour any guest to Egypt love to try since you will be able to sail the amazing Nile River "The Longest River in the World" and the one that holds inside so many secrets and mysteries beside visiting the incredible attractions in Upper Egypt including those in the beautiful cities of Luxor & Aswan.
There are also so many types of Nile River cruises with different categories and when it comes to saving money while booking the accommodation on the board a Nile River Cruise, you need to go for the standard 5* deluxe Nile River cruises that offer satisfactory services on board and at the same time, you won't spend a great amount of money like what will spend with the luxury option.
2. Explore Inexpensive & Valuable Attractions in Egypt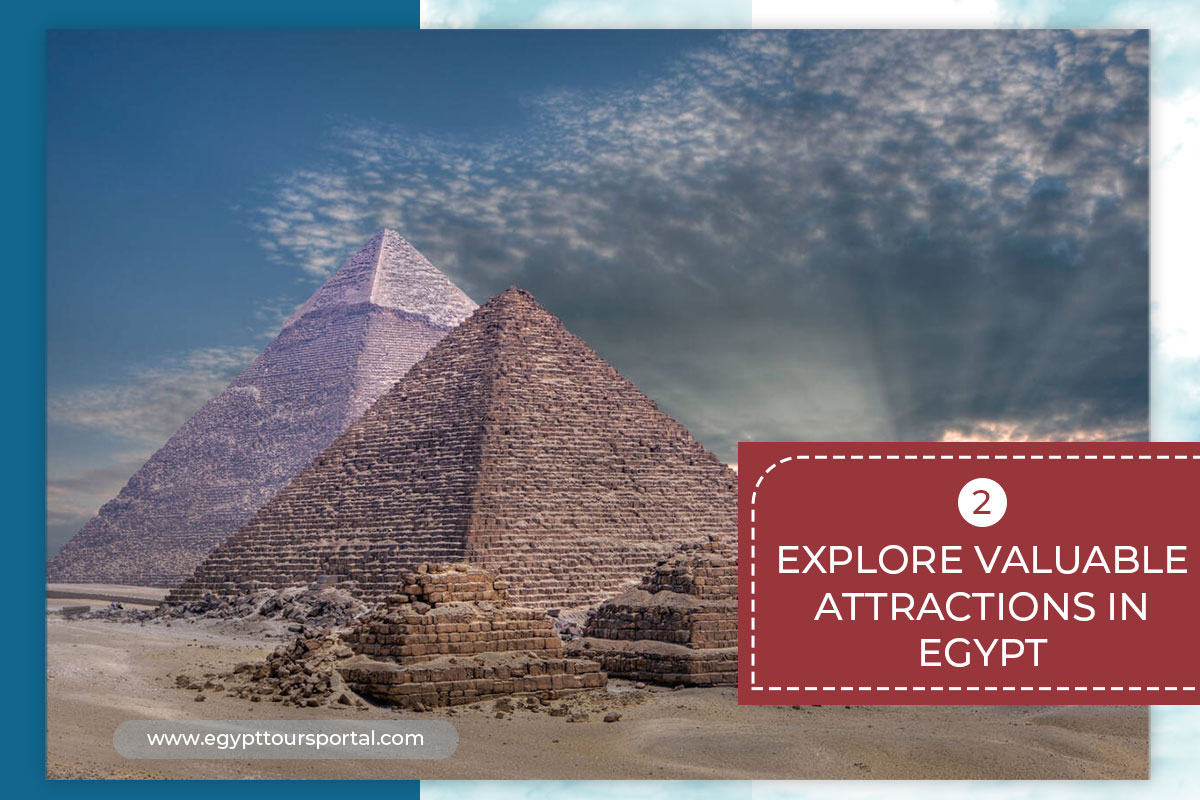 The tourist attractions that are located in Egypt are uncountable and you need to have a specific travel plan to go for before arriving in Egypt as without having something similar to it, you will miss lots of amazing sightseeing and you may waste your time and money in the destinations that don't even worth it.
Booking your vacation in Egypt with an experienced travel agency is as important as knowing exactly the main places to visit and the most notable attractions in Egypt that have a lower cost and allow you to understand a lot about the great history of Egypt.
To minimize the options, the best historical Egyptian cities to visit are Cairo, Giza, Luxor, Aswan, and Alexandria, and regarding the recreational destinations that allow you to enjoy the beach and the best water activities, there are Hurghada, Sharm El-Sheikh, El Gouna, and Marsa Alam. Each one of those cities has a unique taste and special things that make visiting them a dream for any traveler so you need to concentrate on including only the major highlights of them and cover as many sites as you can in order not to miss any of them.
3. Experience An Egyptian Local Food at Low Costs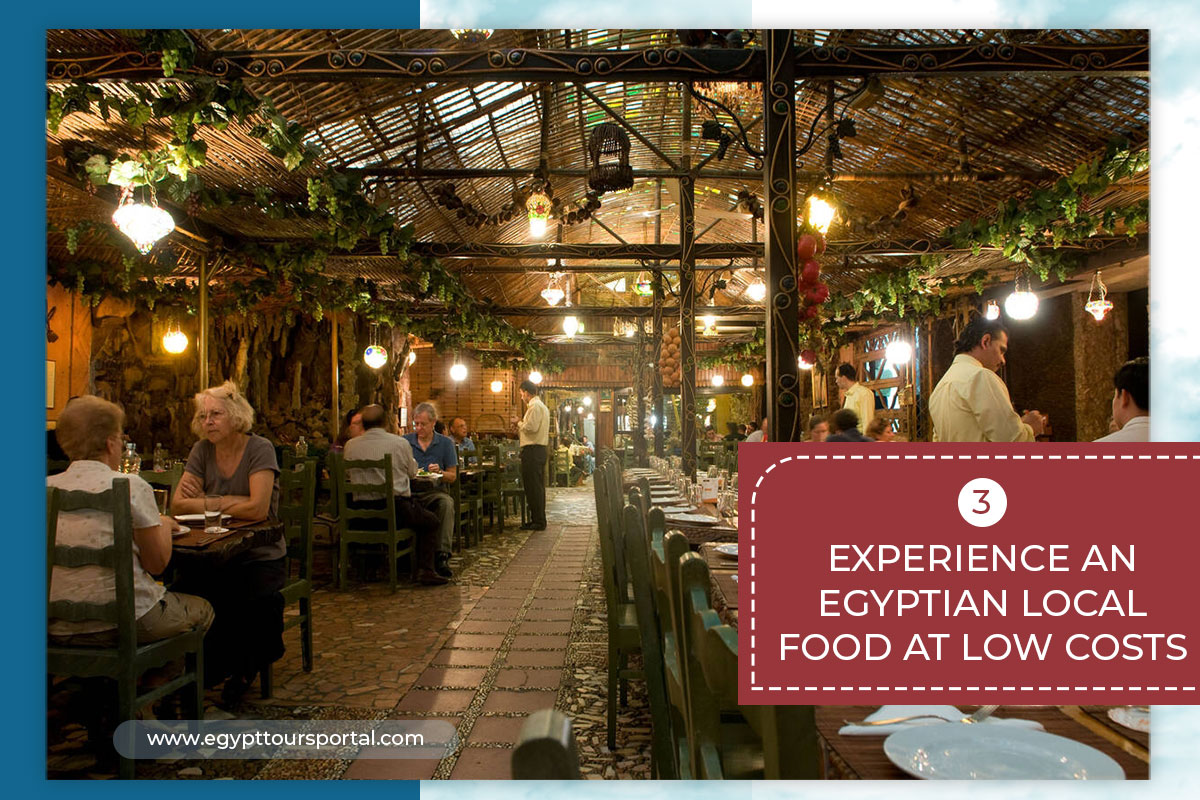 The best thing you need to do in order to save as much money as you can regarding having your food in Egypt is to try the local food & the street food that represent the most traditional meals prepared in Egypt and they are really cheap so you will be able to try lots of dishes and pay little money.
There are local restaurants & cafés on nearly every street in Cairo, Egypt which offer oriental and Western food at reasonable prices and you won't need to go to fantasy places to enjoy your meals. In order to get a full experience in Egypt, try to taste the traditional Egyptian meals that include different ingredients and spices to know more about Egypt and enjoy a lot with the ones whom you love. The main thing to keep in mind is that you need to check the quality of the food offered in those restaurants to guarantee that everything is clean and tasty.
4. Choosing the Public Transportation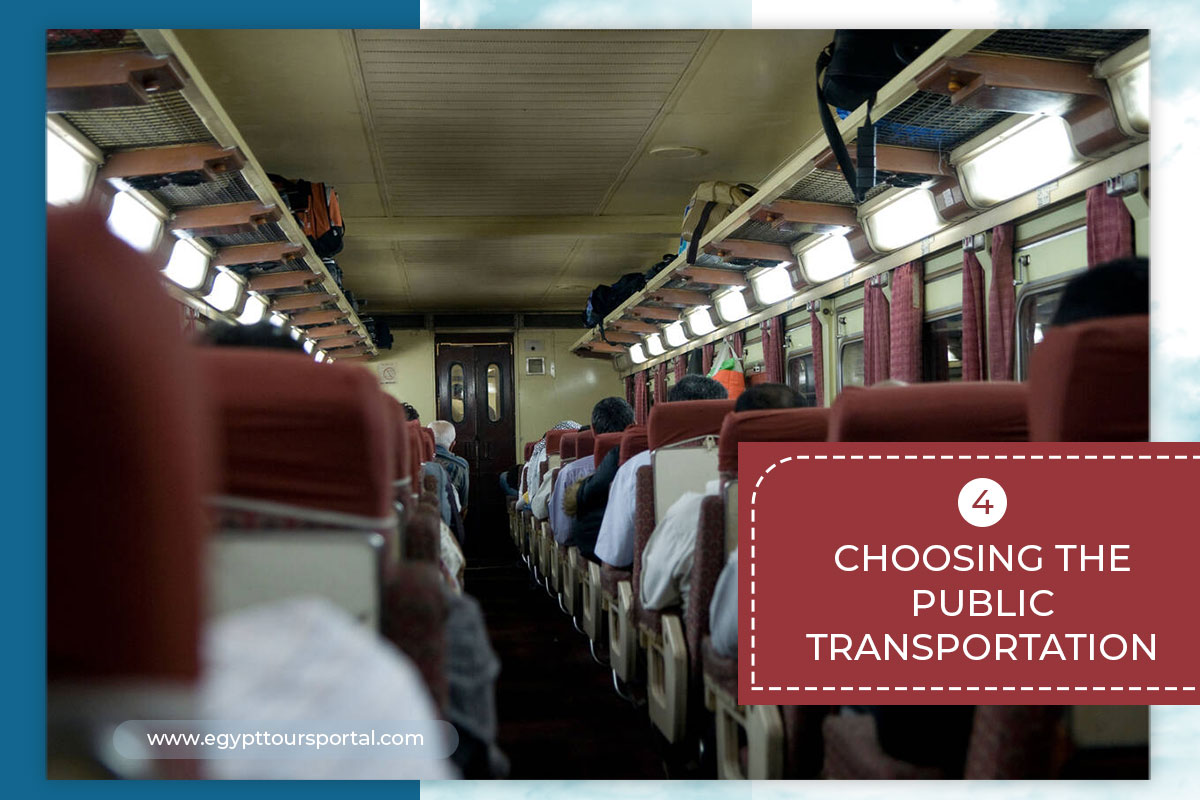 Egypt is a very big country that has tens of available vehicles for transportation in each city, town, village, and between the main highlighted cities. If you aren't traveling with a travel agency, you can contact Uber to have transfers within the city and if you want to be transferred between large cities like Cairo, Aswan, and Luxor, you can take the sleeper train from Cairo to either of those cities whereas, you can definitely take the flight option that is more expensive but faster and more convenient.
Taking the local trains between Luxor & Aswan is with no doubt the best and the most budgeted option to be transferred between the two cities and in case you want to head from Cairo to Hurghada or the opposite, you will have two recommended options; either to take the direct flight between the two cities or to be transferred in a private car and both options are suitable and allow you to explore the internal beauty of Egypt. Unlock Egypt's treasures effortlessly with Egypt Tours Portal's top-tier transportation solutions. Our Egypt transportation services make exploring this captivating country a breeze. Your gateway to extraordinary Egyptian adventures begins with our transportation services.
5. Buy Fewer Souvenirs At Reasonable Prices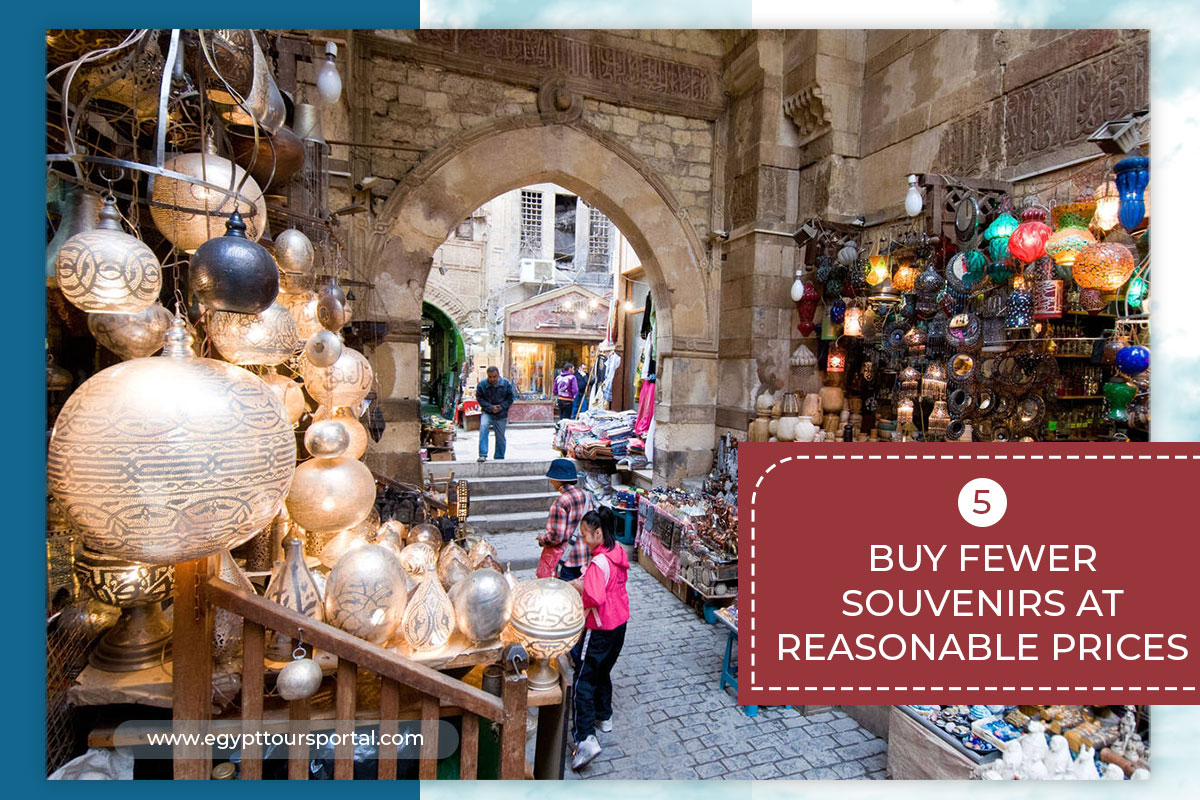 Egypt has the biggest and the most interesting shopping centers and destinations where all items can be found at really affordable costs and in high quality in comparison to their prices anywhere else and when it comes to the most famous bazaar in Egypt, we must mention the fascinating Khan El-Khalili Bazaar that contains nearly all of what someone may want to buy including traditional Egyptian clothes, cosmetics, accessories, artifacts, traditional souvenirs, spices, shoes, personal items, food, and lots of other magnificent things that can be bought in really cheap prices especially if you have the skills of negotiation and bargaining as that way, it is guaranteed that you will be able to get a really good price for the items you are going to buy.
6. Exchange Your Money Right Upon Your Arrival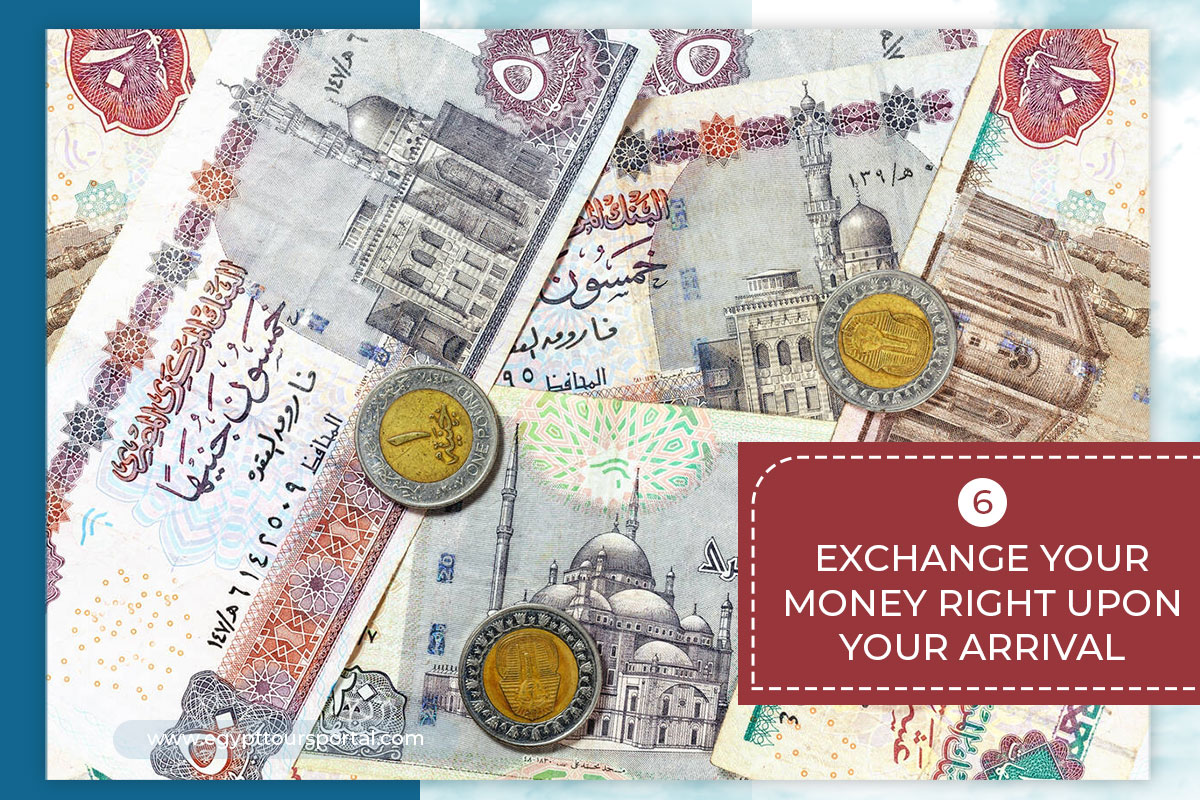 When planning your trip to Egypt, it's a good idea to consider how you'll handle currency exchange. You can exchange some of your home currency for Egyptian Pounds (EGP) before your departure, which can be convenient for covering initial expenses upon your arrival. However, if you want to maximize your exchange rate, it's advisable to wait until you reach Cairo Airport.
Cairo Airport offers a reliable and convenient option for currency exchange, allowing you to convert your money into EGP at the prevailing exchange rate of the day. This is often a favorable choice because airport exchange services are competitive and ensure you get a rate that is closer to the interbank rate, giving you more value for your money.
Having some Egyptian Pounds on hand while in Egypt is highly recommended. You'll find it useful for various purposes, including making purchases, paying for services, and giving tips. It's especially beneficial to have smaller denominations of EGP for tipping, as it's a common practice in Egypt to show appreciation for small changes. This makes it more convenient to reward excellent service, such as at restaurants, hotels, or during guided tours.
7. Opt for Off-Season to Visit Egypt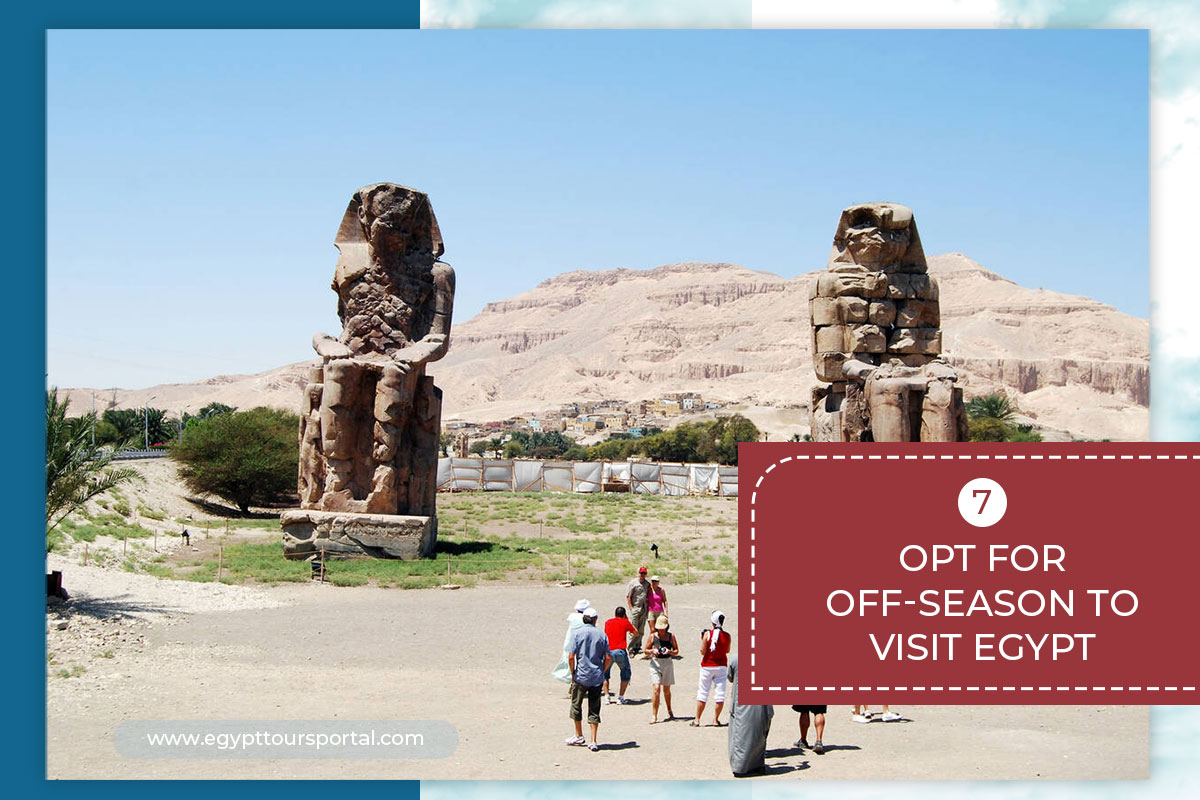 Traveling to Egypt in the off-season between May and October can be a very money-saving and highly relaxing experience because of the fewer crowds which can lead to low prices across all the Accommodation, hotels, flights, Nile cruises, and tour packages. All the popular tourist attractions will be completely relaxing and incredibly empty with just a few travelers.
Relevant Post
The best time to visit Egypt 2023/2024, know more about the best destination to spend a terrific time either on vacations or in your leisure time.
Ream More
Because of the low crowds, all the tourists will get to enjoy a number of popular tourist attractions which are the pyramids, Luxor temples, and museums which will provide the chance to take amazing photos at your own pace. All the prices of the souvenirs, transportation, and guided tours will be under negotiated prices. The coastal cities during the off-season like Hurghada and Sharm El Sheikh will be the best place to be in the off-season. with fewer tourists, all the travelers will get to enjoy a full and rich cultural experience.
8. Travel With A Group When Visiting Egypt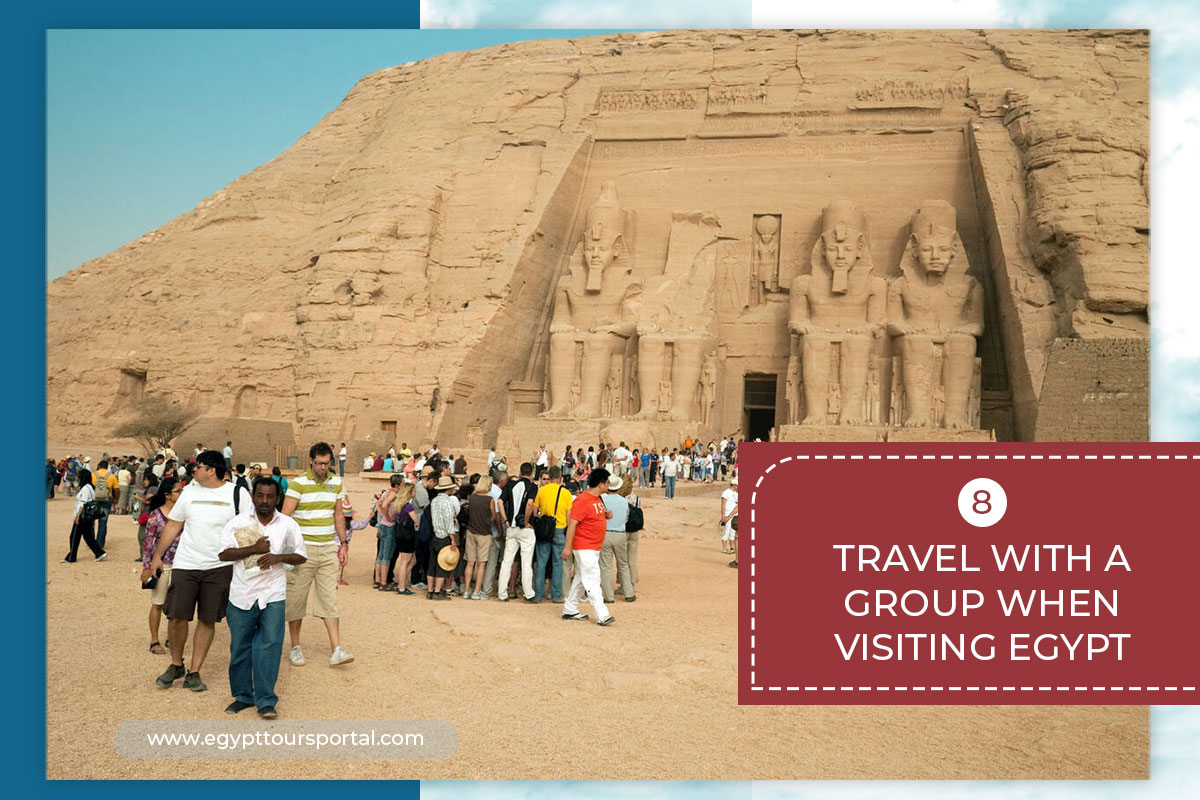 Traveling to Egypt with a group can be a life-changing experience which can also be very budget-saving. All the travelers will enjoy reduced costs on all the accommodation, transportation, and even Egypt-guided group tours since all the expenses are shared among all the participants. It is worth mentioning that it is highly safe when you are in a group. Many discounts are offered for all groups which can be highly cost-effective.
The group will get to have a magical quest into Egypt's history and culture with the help of knowledgeable guides. It becomes the ideal manner to make close friends and live a memorable travel experience.
9. Search for Special Travel Deals to Egypt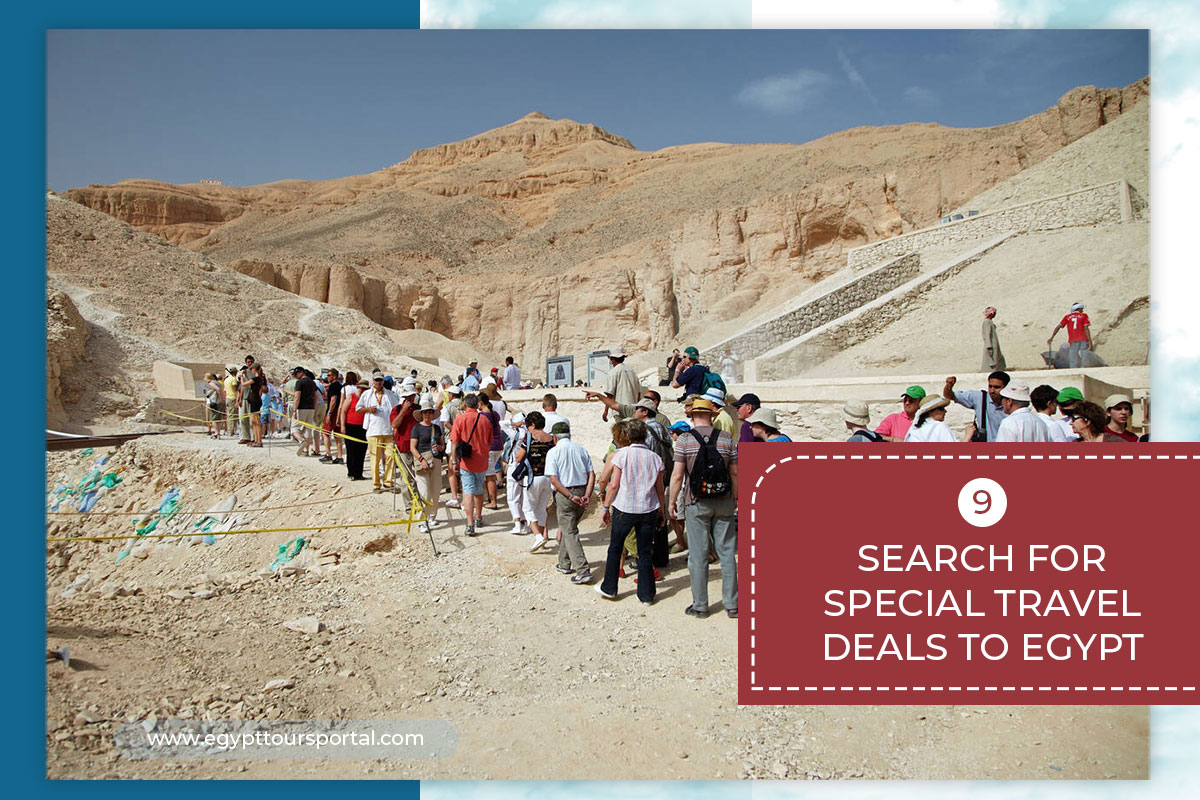 It is advised to enjoy a number of marvelous deals and discounts which can be found on a number of different travel websites, hotel booking platforms, and airline websites.
All-inclusive packages which include the finest flights, accommodation, and tours have the most affordable prices when compared to booking everything separately. Discount cards and newsletter subscriptions can be the best way to get the most ideal deals in order to save the best money.
10. Witness the Free Places & attractions in Egypt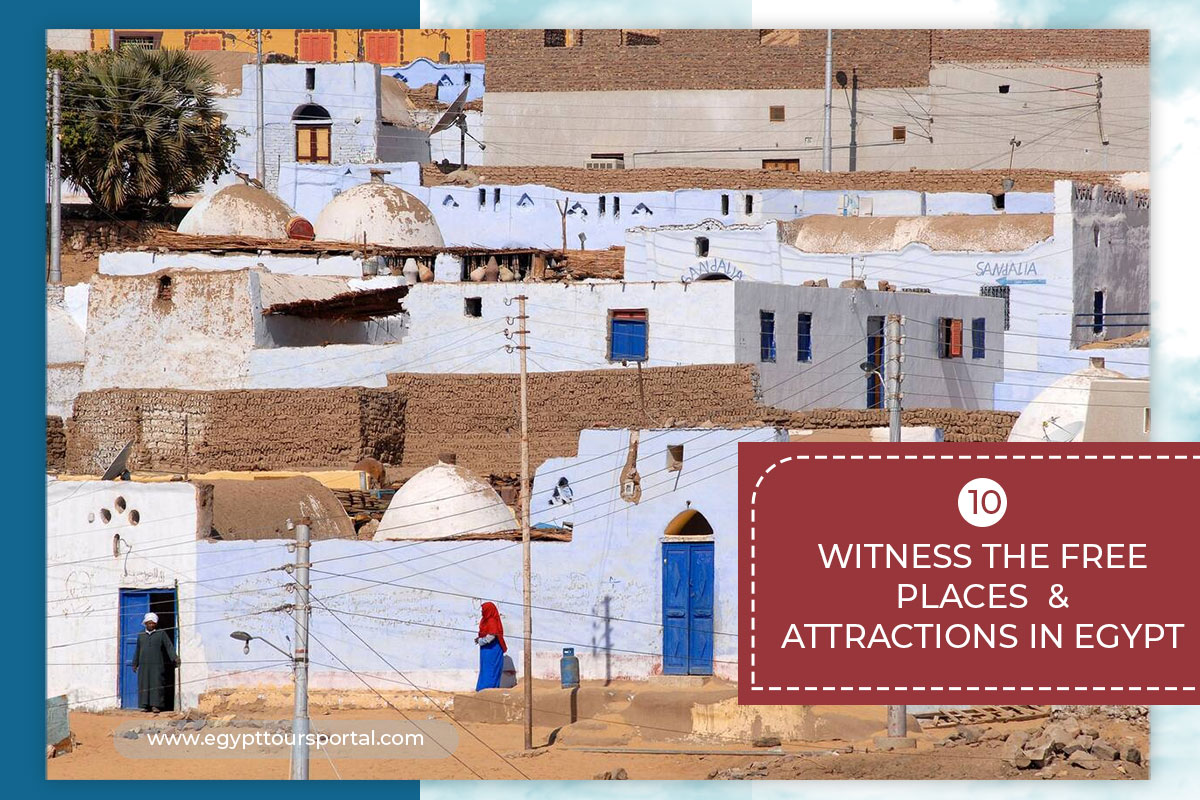 Egypt is filled with a number of marvelous attractions that are open for all at low cost everyone will get to enjoy the most incredible culture, art, and history including Khan el Khalili Bazaar, Nile Corniche, Al Muizz Street, Nubian Village, historical mosques, and many more.
All travelers will get to cast their eyes on a number of Iconic attractions and hidden gems which will uncover a great deal of facts and shed light on the incredibly rich daily life of the Egyptians that mix perfectly with their architecture and cultural wealth.
Book Your Affordable Egyptian Adventure Now!
Ready for an affordable Egyptian adventure? Egypt Tours Portal brings you unbeatable deals on budget & cheap tours to Egypt. Dive into the heart of ancient history, from the awe-inspiring pyramids to the tranquil shores of the Nile. Don't let your dream trip slip away – act now to secure your place at these incredible prices.
Begin your journey into Egypt's rich past and vibrant present with our exclusive, wallet-friendly packages. Book your affordable Egypt tour today to experience the magic of this captivating country without emptying your wallet. Start your adventure now and reserve your spot with us!