There are many benefits for seniors to travel, it has been an amazing searched topic for the last decade, nowadays the opportunity of traveling for seniors are numerous as most travel agencies take care of their clients and understand what their ages need, then arrange tours to provide comfort for them and to avoid hassles. Many factors should be included during any tour for our seniors such as safety, comfort, transportation, activities, and prices. We will discuss each factor one by one to have enough information before you book your tour to Egypt.
Main Factors for Seniors Tour in Egypt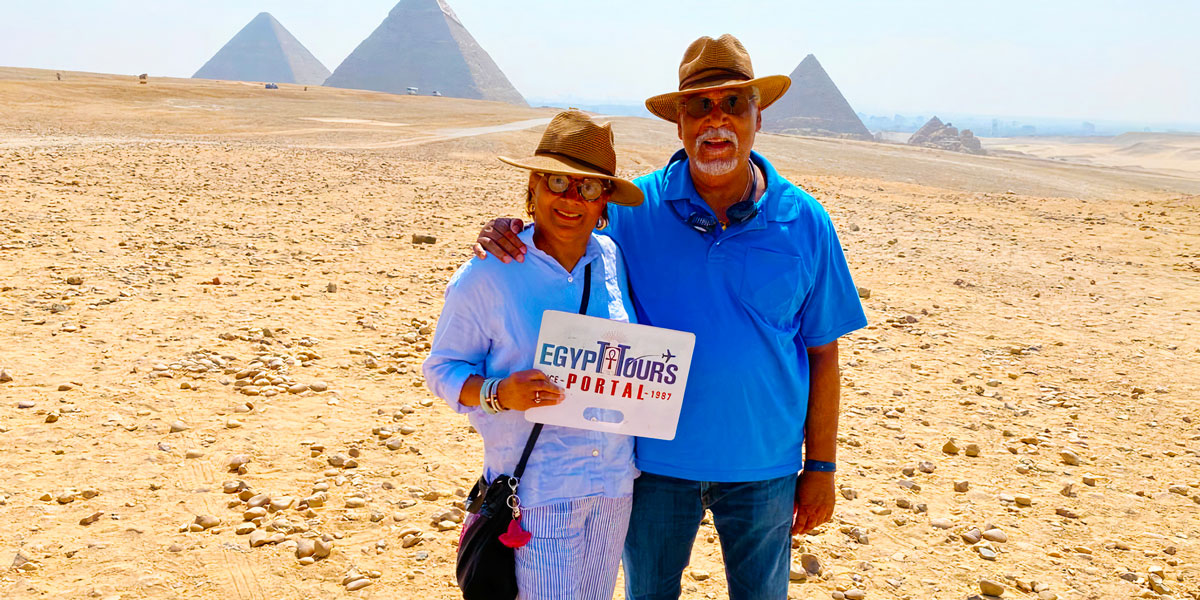 These days, you should make sure of what you will do before you take the step and book any tour in general, not only to EGYPT. In this essay, we will provide you with the most important factors that you should miss none of them to secure yourself and your partner if you are planning to visit Egypt.
Safety Factor
We will start with is as it is very important for any traveler, not only for the seniors, especially if you will travel to a country without having friends, relatives, or someone you know to help you, so. You need to be safe during your vacation as you do not speak their language also. Egypt is fairly a safe country for all seniors as the crime rate is low.
You need to make sure that are booking with a trusted travel agency to book your stay in safe hotels and provide you with a driver to not stay alone in a strange country, also they will provide you with a tour guide during your whole vacation in Egypt. It is often said that the Egyptian people are one of the most kind as their people love seniors, and prefer to help strangers as they consider them like guests in their home.
Comfort Factor
Seniors care too much about this factor as their ages require them to be comfortable most of the time. All of your tours should be most comfortable as you need to stay in clean hotels to serve them in the best way, the vehicles should be comfortable, tour guides must be friendly and patient, domestic flights should be more comfortable to do not stay many hours and waste your time on flights, and you should eat healthy food.
Reviews Factor
Before you book with a travel agency, you should know everything about their history, and check their pages on social platforms such as Facebook, Instagram, YouTube, and generally google, so that you will know more details about how their quality, prices, tour guides, hotels, Nile Cruises, and transportation, etc. You can check all of these on TripAdvisor.
Prices
Egypt is one of the cheapest countries in the world that has good attractions, Deluxe, and Luxury hotels with an appropriate price to suit all categories. You will find in Egypt all that you need from Super luxury hotels and Nile cruises to 5* hotels. Egypt Tours Portal deals with the best hotels in Egypt to provide the factor of comfort to seniors with good prices to fit all travelers.
What Are the Top Cities in Egypt for Seniors?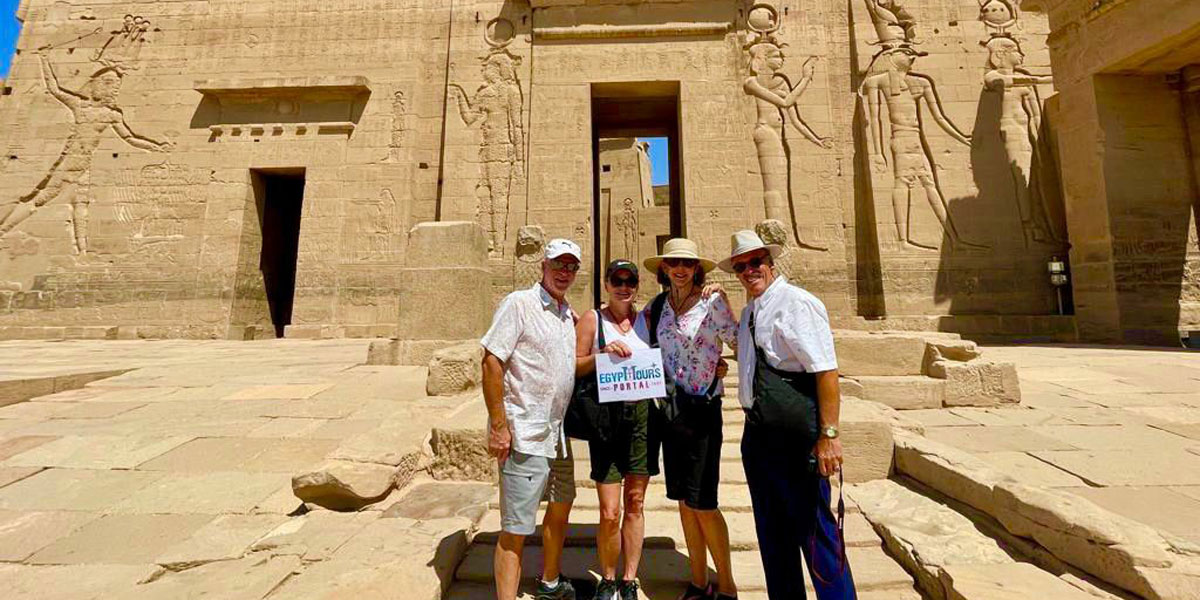 Egypt has a strategic position that distinguishes it from other countries as it has many sites that have millions of tourists every year to witness the glory of its history and also its amazing beaches, here are the most attractions and the safest Egyptian cities for seniors:
Cairo City
Cairo city is set on the Nile River, it is well known for its Pyramids as it has Great Giza Pyramids and the Great Sphinx. If you are in Cairo, do not miss the chance to the Islamic and Coptic Cairo as it includes many historical mosques and churches such as Amr Ibn Al-as mosque, Ahmed Ibn Tulun mosque, the citadel of Salah El Din, Al-Azhar mosque..etc. Christian tourists come from all over the world to visit the Hanging Church, St. George Church, Saint Mary's Church, and Saint Simon Church.
Alexandria City
Alexandria is the bride of the Mediterranean for its beautiful beauty and landmarks. The city of Alexandria is well-known for "The Lighthouse" as the pharaoh built it, this landmark is one of the Seven Wonders of the World. Alexandria was founded by "Alexander the Great" in 331 Bc. It has also many historical attractions such as Al-Mursi Abu El-abbas Mosque, the Church of Saint Catherine in Mansheya, and the Eliyahu Hanavi Synagogue. This city has also the "Alexandria Library" one of the greatest libraries worldwide, the Roman Amphitheater, Roman Pillars, Saint Mark's Coptic Orthodox Cathedral, Catacombs of Kom El-Shoqafa, and Citadel of Qitbay.
Aswan City
Aswan City is on the Nile River, and it is famous for the "Aswan High Dam" an amazing piece of innovation, it is one of the largest embankment dams in the world. The High Dam was constructed between the 60s and 70s to save water during floods. "Philae Temple" is the second attraction in Aswan as this temple was designed on an island, you should ride a boat to arrive at it. The temple was dedicated to the goodness "Isis", her husband "Osiris" and her son "Horus". Aswan includes "The Nubian Museum" which is an important archeological center that contains monuments of the period of Nubia.
Abu Simbel Temples
Abu Simbel is in the south of Egypt, it was cut into rocks by King "Ramses II". The temple is well-known for its four massive seated statues, and their ramming of them can still be seen on the ground. The Temples were moved from their original place in Aswan after Building "The High Dam" in 1968 to where they are standing now.
Luxor City
Luxor City has two-thirds of the monuments in the world, it is one of the oldest cities on earth, as it was the capital of Egypt during the New Kingdom from the 16th to the 11th century B.C. Luxor had grown from a small town to a prospering city, and in a short time, it became a hub of power and wealth, as it plays a great role in the national economy. Luxor runs lengthways along the Nile River and is bordered by the desert. 
Luxor has an east and west bank, on the east bank, you can visit Karnak Temple, Luxor Museum, Mummification Museum, and Luxor Temple. On the west bank, you can visit Madinet Habu, the Ramesseum, Tombs of the Nobles, Colossi of Memnon, Valley of the Kings, and Valley of the Queens….etc. Tourists come from all over the world to visit Luxor, even for a day tour from the airports, to witness the glory of the ancient Egyptians.
Hurghada City
This city was founded in the early 20th century. Hurghada is well-known for its amazing beaches, clear water, and water activities such as the aquarium, snorkeling, diving, scuba, etc. It has one of the most amazing beaches in the world such as "Sahl Hasheesh", "Soma Bay", and "El Gouna". The major industry of Hurghada is foreign and domestic tourism.
Honestly, it is not recommended tours to the mountains for our seniors as they cannot climb a mountain or camp in a desert in a low temperature, and the distance also is not short from Cairo to the mountains, as they will face some barriers that will not make them completely comfortable, but if you are interested in doing such tours, kindly contact our operation team to arrange it for you directly and they will help you with the best options to make your tour memorable.
When is the Best Time to Visit Egypt for Seniors?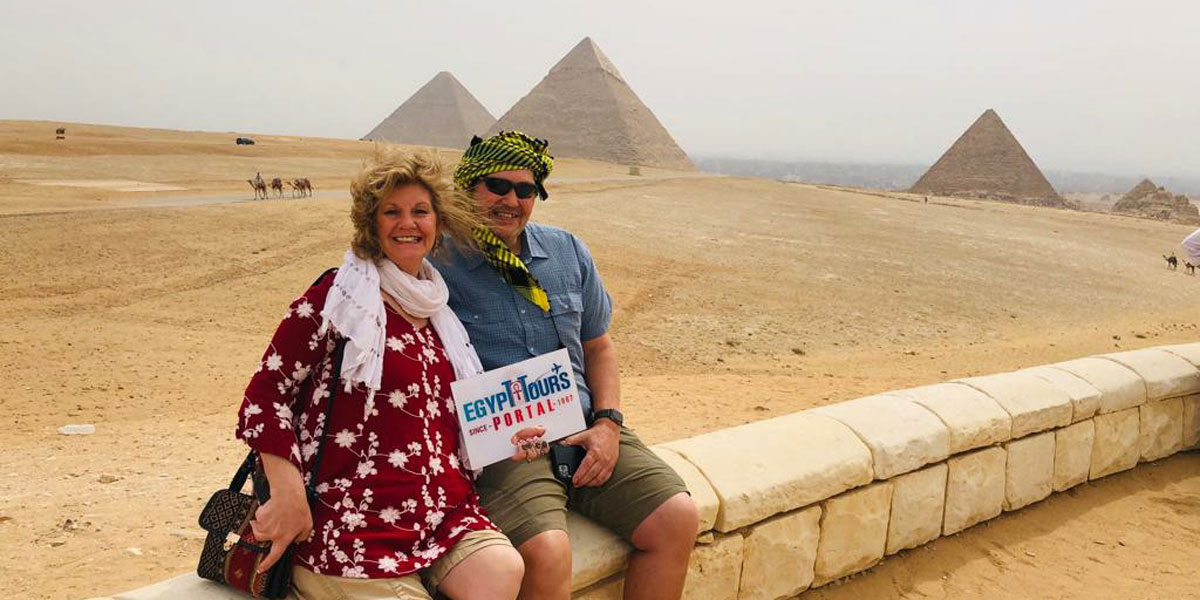 If you are thinking which the best time to visit Egypt 2023, we help you make your decision by providing you with the exact information to choose the most suitable for you.
First, Many seniors prefer to travel to Egypt from mid-October to mid-February, because the weather is pretty warm during these seasons in winter, and also to spend Christmas and new year during December. Other seniors prefer to travel during summer time to spend some days in Hurghada or Sharm El-sheikh, and some seniors prefer to travel during summer because prices are quite good and suit them.
Is Ramadan A Good Time to Visit Egypt for Senior Travelers?
During the month of Ramadan, Muslim people refrain from drinking, eating, listening to music, and smoking from sunrise to sunset every day, at the end of the month they celebrate "Eid El-Fitr". Some seniors think that it is not a good time to travel because people fast and they will not enjoy the tour or the restaurants and cafes are closed. We assure you that restaurants, cafes, hotels, and all the activities are working! You will travel and enjoy your tour without barriers. It is an amazing experience to share, the food that exists in Ramadan only, the weather, Decorations, and lighting that are in each street.
Travel Tips for Seniors Before Traveling to Egypt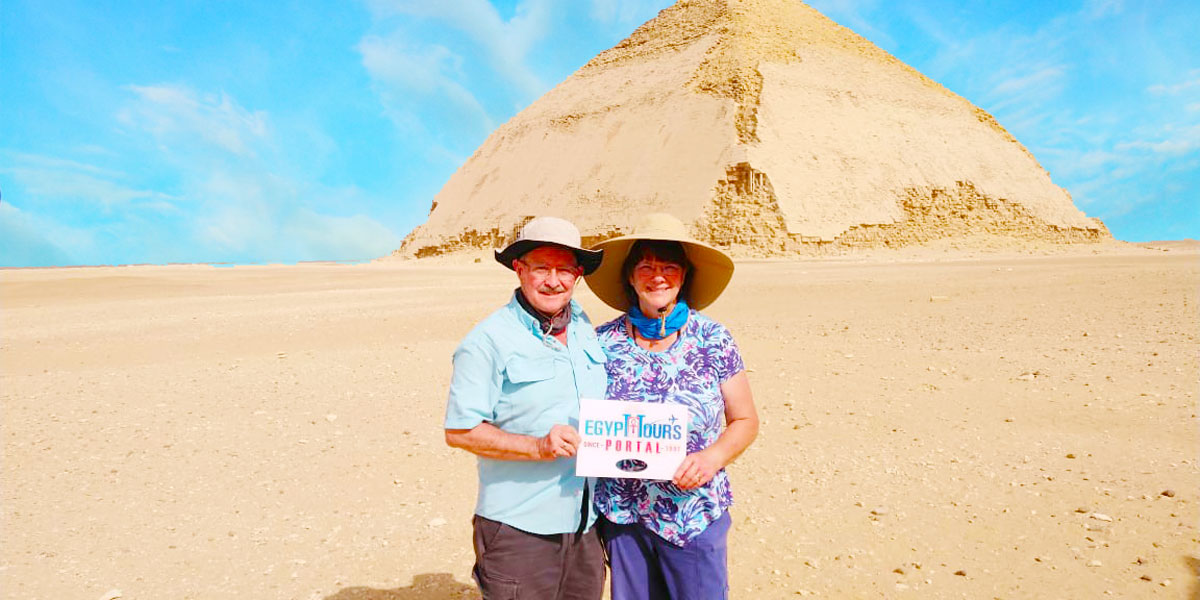 Before traveling, make sure that you have copies of your documents to help you if you lost any of them, the extra copy could help. Do not share these documents or copies with various agencies to do not use them in a bad way.
Know the whole details about your trip before traveling and the attractions of Egypt that were included in your itinerary to know your rights well.
Do not lug your luggage, with the Egypt Tours Portal, you do not need to carry luggage as your driver will take care of them in your car, and there is a rep in the Airport whose main work is helping you and assisting you ideally.
Ask before you join any trip if there is a good network or free Wi-Fi as there are some hotels that do not have Wi-Fi, upon your arrival to Egypt, your tour guide will help you to buy a local SIM.
Search about the hotels and Nile cruises before booking, make sure that they are clean, provide the best services, and have excellent reviews.
Try to have a good experience by booking a Nile River cruise, it helps you to relax, and it does not need to walk too much. Nile cruises are not expensive. You can choose to go on a three nights Nile cruise from Aswan to Luxor, or four nights Nile River cruise from Luxor to Aswan. If you want to enjoy yourself with your family on a private Nile cruise, do not forget to ask for the "Dahabiya Nile Cruise" if you want to enjoy your privacy.
You do not need to carry too much money during your tour, as there are ATM machines everywhere, so you can withdraw whenever needed.
Do not miss the chance to try the traditional food, as it is an important experience from your trip. Try to eat Ful, Tamiya, Kofta, Kushari, and other food.
Write down your hotel's address before leaving it to do not to get lost after finishing your tour, and before hiring a private car make sure that it includes GPS to help you reach the exact destination.
Things to Bring Sor A Senior Tour in Egypt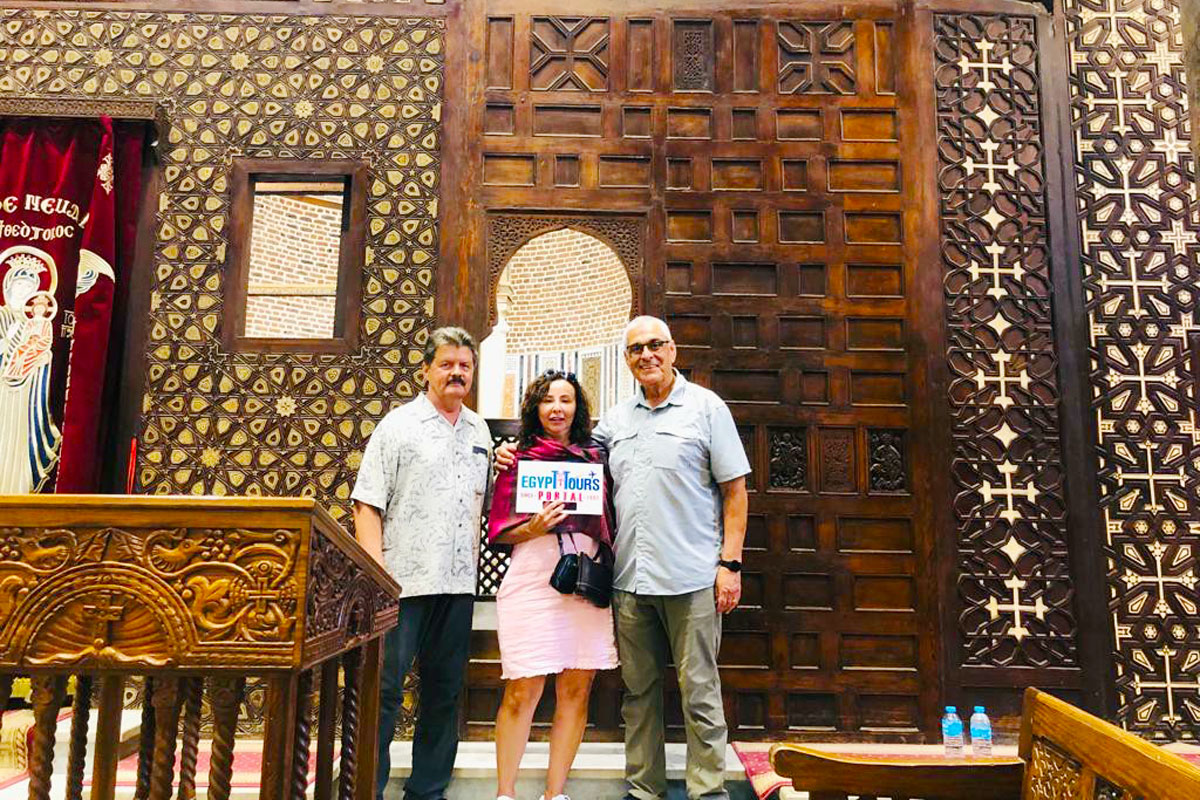 There are some things you should not forget before traveling to Egypt, make sure that you have all of them before you catch your International flight.
Sunblock to protect your skin from the heat.
A scarf for women to wear before visiting mosques.
Copy of your documents, your itinerary, and domestic flights if you have booked them.
Comfortable walking shoes.
Cotton and light clothes in summer
Heavy clothes, tall pants, and jackets in the winter.
Your credit card.
Your bagpack.
An umbrella.
Do not forget to bring your camera.
These are the most important things that you should bring before traveling to Egypt.
Conclusion
Many of us reach an age before exploring a certain destination or one of our hobbies is traveling and exploring history and civilization. Traveling for seniors also makes them active, open-minded, and emotionally stable, it can increase their confidence and make them overcome their fears.
Egypt Tours Portal is one of the best travel agencies that customize a fascinating Senior holiday at an excellent rate! All our Egypt tours for seniors were designed especially for travelers with some exceptions in order to make their tour more comfortable and facilitate some barriers. We will help you by providing a rep at the Airport upon your arrival, providing drivers with modern vehicles to drive you to the hotels, and a guide to help you during your tour. You will feel like you are the only traveler with us as our main goal is to make our guests satisfied with our tour.