Summary
Mahmya Island is a picturesque escape from daily life, offering pristine waters, powdery sands, and vibrant marine life, making it a unique adventure destination in Hurghada.
Located just 25 km from Hurghada on Giftun Island, Mahmya Island can be reached by a 45-minute boat ride or a 15-minute seaplane ride, offering stunning coastal views.
The island's tropical climate with mild winters and hot summers is ideal for a visit in the fall or spring, offering an entertaining tropical vacation.
Mahmya Island provides diverse accommodation options, including the luxurious Mahmya Island Resort, beachfront Mahmya Island Bungalows, and budget-friendly Mahmya Island Camping.
Visitors can enjoy swimming, snorkeling, and dolphin sightings during boat trips to Mahmya Island, followed by a meal at one of the island's seafront restaurants. Additionally, glass-bottomed boat rentals allow for underwater exploration without getting wet, making it an unforgettable destination for nature and water enthusiasts.
Mahmya Island is a paradisiacal oasis, offering an escape from the hustle of daily life. Crystal-clear waters, powdery sands, and vibrant marine life make it the ultimate retreat. A trip to Mahmya Island in Hurghada is without a doubt a truly unique adventure trip. It is famous for being the most chosen spot for arranging the best snorkeling excursions in Hurghada. It is a must-visited place in Hurghada and you can leave the city without spending a day tour in that majestic snorkeling spot.
The magnificent Mahmya is a golden wonder that is filled with a number of marvelous umbrellas, sunbeds, showers, and epic facilities of bars and restaurants. Mahmya Beach welcomes visitors daily from 9:00 AM until sunset, from this blissful beach is the chance to enjoy the ultimate rejuvenation sensation, culinary delights, swimming trips, and marine journeys in the divine Red Sea which include snorkeling, diving, and banana boat rides. The Mahmya beach holds a marvelous space for the children's play area. It offers the chance to enjoy the most incredible settings while being on the golden beach of Mahyma.
Location and How to Get Mahmya Island
The beautiful Mahmya Island is a magical piece of land found in the heart of the miraculous Red Sea, just 25 km away from Hurghada coast on the Giftun Island which gained renowned fame due to its magnificent crystal-clear waters, sand beaches, and coral reefs. The best way to reach the mesmerizing Mahmya Island is through a boat ride from Hurghada or any of the close resorts which is about 45 minutes.
There is also another way to reach the Island through a seaplane rise from Hurghada or any of its close resorts which will take about 15 minutes and provide the most enchanting views of the celestial & colorful coastal waters of the Red Sea in Hurghada. 
Mahmya Island Weather Along the Year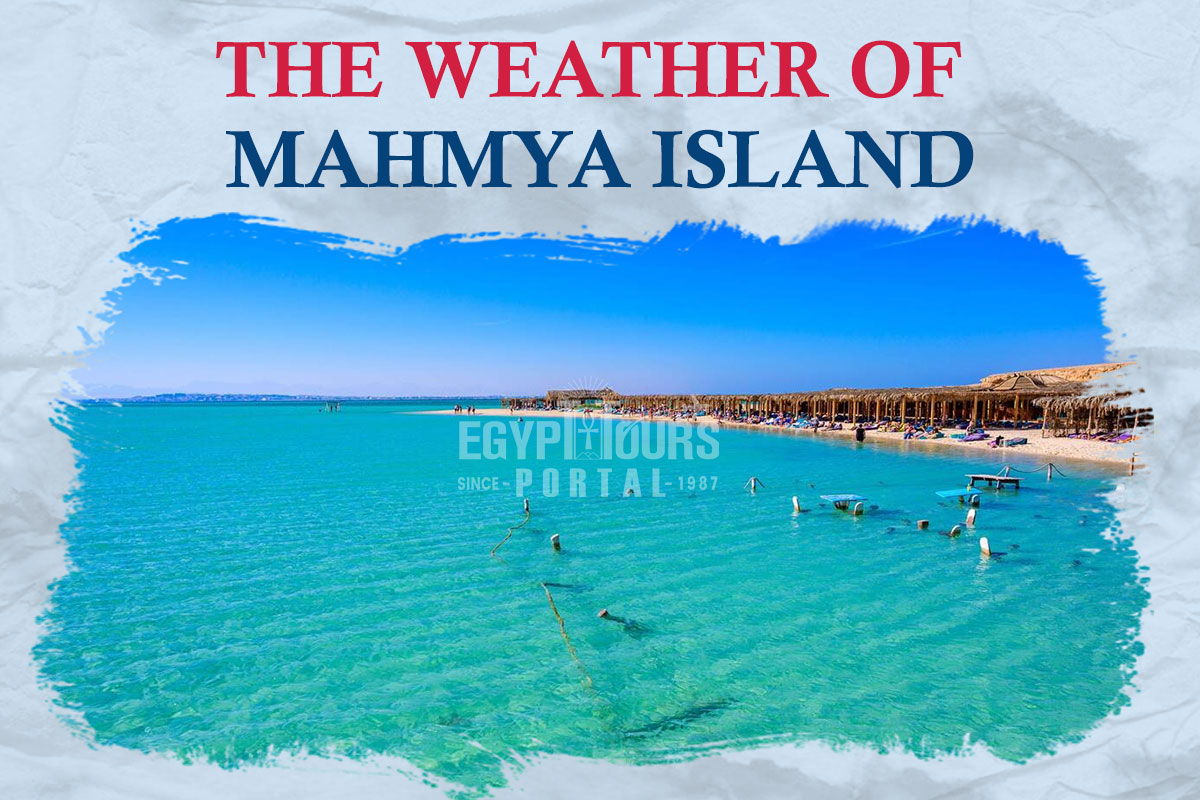 The climate of Mahmya island is very tropical with mild winters and hot summers at around 30 degrees Celsius, and an average temperature in the winter of around 20 degrees Celsius. The best time to visit the Island is during the fall and the spring when the climate is at its best where everyone will get to enjoy the most ideal and entertaining tropical vacation.
| Month | Average Temperature (°C) | Average Temperature (°F) |
| --- | --- | --- |
| January | 25°C | 77°F |
| February | 26°C | 79°F |
| March | 28°C | 82°F |
| April | 30°C | 86°F |
| May | 32°C | 90°F |
| June | 34°C | 93°F |
| July | 35°C | 95°F |
| August | 35°C | 95°F |
| September | 33°C | 91°F |
| October | 31°C | 88°F |
| November | 29°C | 84°F |
| December | 27°C | 81°F |
Hotels on Mahmya Island to Stay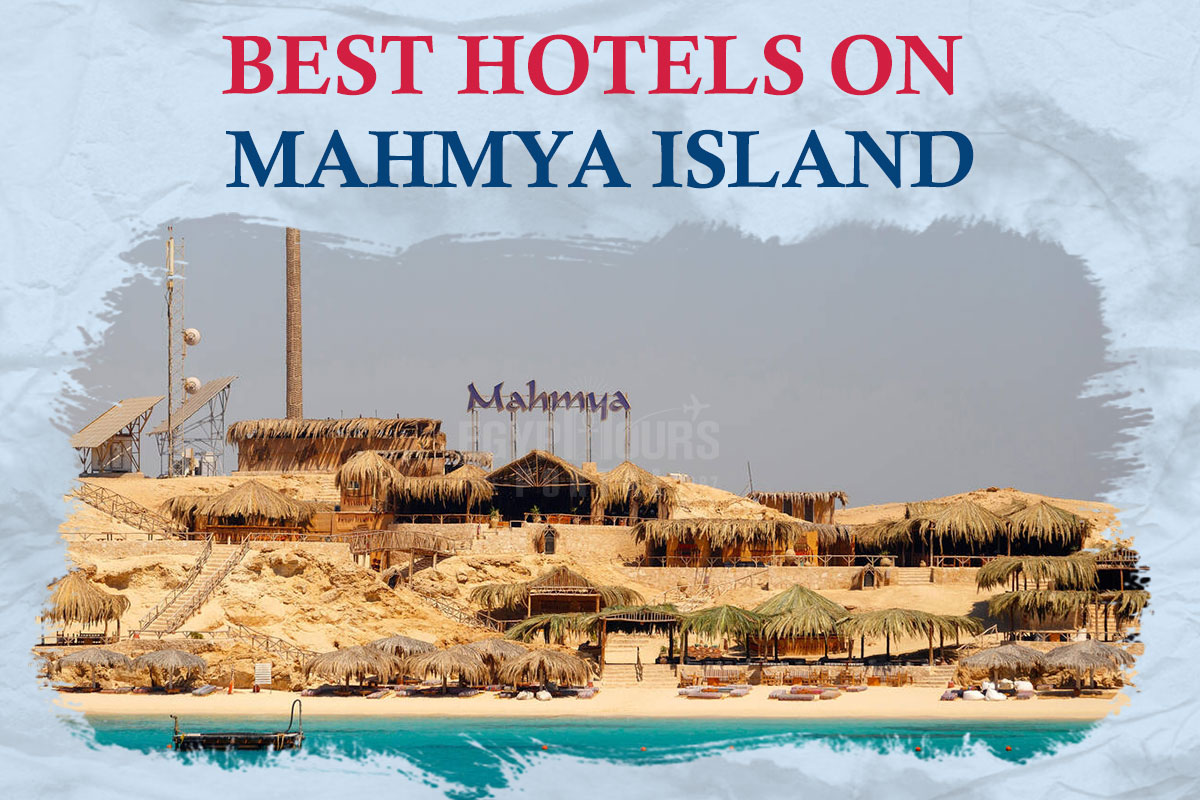 Mahmya Island contains diverse accommodation options where everyone can pick from a collection of amazing accommodations, some of the best include the following:
Mahmya Island Resort is a renowned luxurious getaway on this magical island which is filled with a wealth of amenities, including a private beach, swimming pool, rejuvenating spa, and a range of dining options at its restaurants and bars.
Mahmya Island Bungalows is found on the rightful beach which provides captivating views of the Red Sea that shed light on the island's natural splendor.
Mahmya Island Camping is the ideal spot for all budget-conscious travelers and nature enthusiasts who can get up close and personal with the island's untouched beauty, wild desert nature, and heavenly starry skies.
Things to Do in Mahmya Island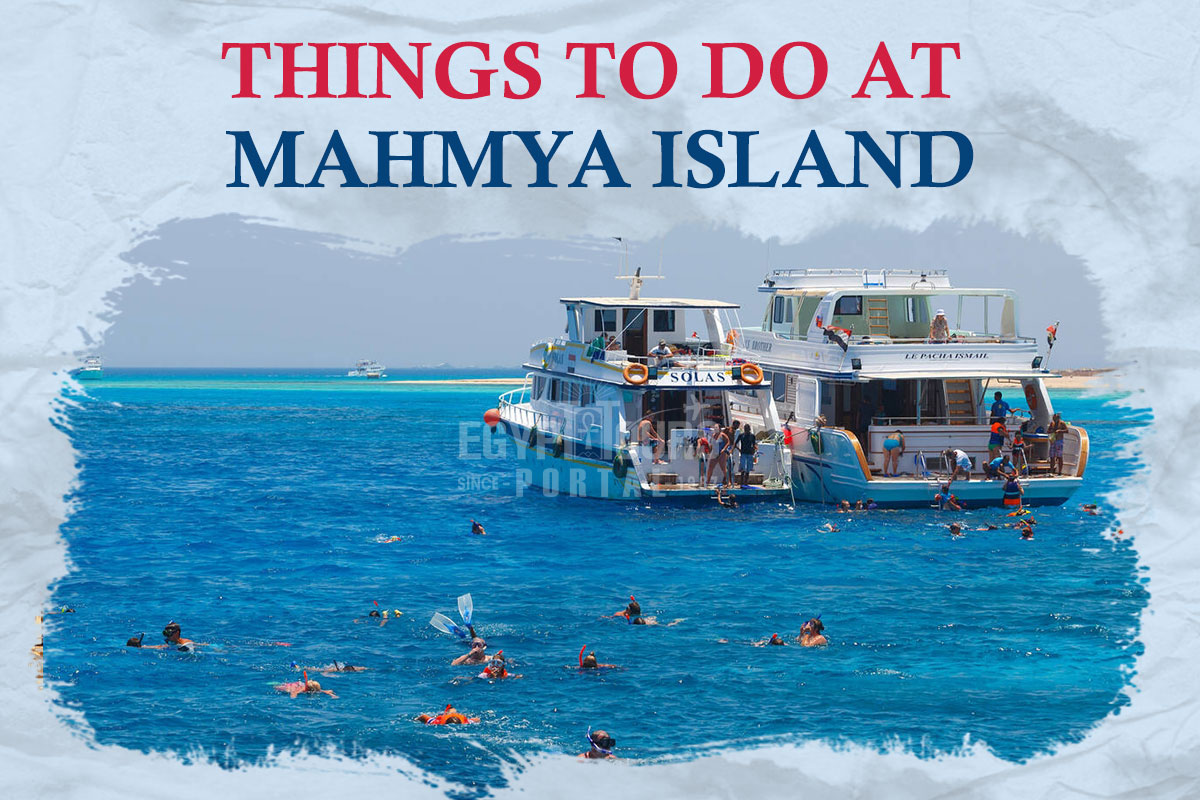 Mahmya Island is famous for its magical crystal waters and white sandy beaches where visitors can enjoy the best swimming & snorkeling tours. In order to start an unforgettable trip, you need to get on a Mahmya sailing boat and it takes usually one hour to reach the amazing Mahmya Island. You have the best chance to see the most charming dolphins on your way to the Mahmya and upon your arrival; you will be absolutely free to enjoy the incredible Mahmya music while doing some swimming, snorkeling, or just enjoying a free day on your own doing the water activities you love the most just like sand soccer.
Relevant Post
Discover the best things to do in Hurghada, activities to do in Hurghada!
Ream More
The lunch meal is usually served in the open air in one of the fantastic sea restaurants in the area that serve tens of oriental & European dishes which suit all of the family members from children to elders. The word "Mahmya" means "A Protected Area" and the site we have today should definitely be a protected area for the incredible Coral Reefs, types of fish, and dolphins, and for swimming & snorkeling spots it contains. You will also be able while being there to rent glass-bottomed boats to explore the beautiful underwater world without even getting wet, is there anything in the world more fantastic than that??
Mahmya Island Photos
Explore Hurghada: Unforgettable Excursions
Uncover the beauty of Hurghada through Hurghada excursions. Dive into the mesmerizing depths of the Red Sea, traverse the captivating desert landscapes, and immerse yourself in the historical richness of Luxor and Cairo. Our experienced guides ensure your journey along the enchanting East Coast is truly remarkable.