Egypt Classic Holidays - Best Historical Tours to Egypt
With our Egypt classic tours for UAE, you will find the true definition of class in Egypt through the thrill of being a witness to the collection of classical living miracles of heavenly monuments located in history's most ancient and majestic cities such as Cairo, Alexandria, Luxor & Aswan through our Classic holidays to Egypt. Having a heritage spanning more than three decades within Egypt's prestigious tourism sector, Egypt Tours Portal serves as proof of our steadfast dedication to upholding high standards. Our group of guides, chauffeurs, tour operators, customer support, as well as various travel and time advisors, are devoted to offering top-quality yet budget-friendly lodging, dining, transportation, and Nile Cruise experiences.
If you desire to discover the forgotten civilization of the old, then our classic Egypt trips are what you have been looking for, learn about the enchanting city of Cairo that holds the great Pyramids of Giza, the home of wonder the Egyptian Museum, Salah El-din Citadel, and many more mesmerizing monuments. With our Egypt classic tours, you will find the life-giver and secrets-holder the heavenly Nile River that goes all the way by our classical Nile River cruises to the immortal cities of Luxor and Aswan where brilliance and artistry transcend to an unbelievable level as located in the royal Valley of the Kings, the holy Karnak Temples Complex, the hypnotic Abu Simbel, captivating Hatshepsut Temple, and many more beautiful artifacts. Then continue to the city of Alexandria where history took as an immortal; piece of Greco-Roman art. The stunning coastlines of the Red Sea, stretching along the tropical urban retreats of Hurghada, Sharm El Sheikh, Marsa Alam, and El Gouna, provide an exciting opportunity to engage in incredible pursuits like scuba diving, snorkeling, and surfing, alongside an exceptional Sahara desert safari and numerous other adventures. Egypt has redefined the meaning of the word classical so don't miss this chance and book your classic holiday to Egypt now!
Top 9 Egypt Classic Tours for UAE
| Tour Name | Duration | Price From | View Tour |
| --- | --- | --- | --- |
| Giza Pyramids and Old Cairo Private Tour | 4 Days / 3 Nights | $400 | View Tour |
| Cairo, Abu Simbel, and Luxor Tour | 5 Days / 4 Nights | $940 | View Tour |
| Cairo, Luxor, Aswan, and Abu Simbel Vacation | 6 Days / 5 Nights | $990 | View Tour |
| Cairo and Upper Egypt with Edfu & Kom Ombo Tour | 7 Days / 6 Nights | $1070 | View Tour |
| Private Tour to Cairo, Giza Pyramids & Nile Cruise | 8 Days / 7 Nights | $1220 | View Tour |
| Cairo, Alexandria, Luxor, and Aswan Private Trip | 9 Days / 8 Nights | $1290 | View Tour |
| Cairo, Nile Cruise, and Hurghada Vacation | 12 Days / 11 Nights | $1680 | View Tour |
| Marvelous of Egypt Pyramids Tour | 14 Days / 13 Nights | $2000 | View Tour |
| Best of Egypt Private Tour | 15 Days / 14 Nights | $1930 | View Tour |
Amazing Classic Trips to Egypt
Tailor-Made Your Own Holiday
Learn More About Egypt Classic Tours
The best time to visit Egypt 2023/2024, know more about the best destination to spend a terr...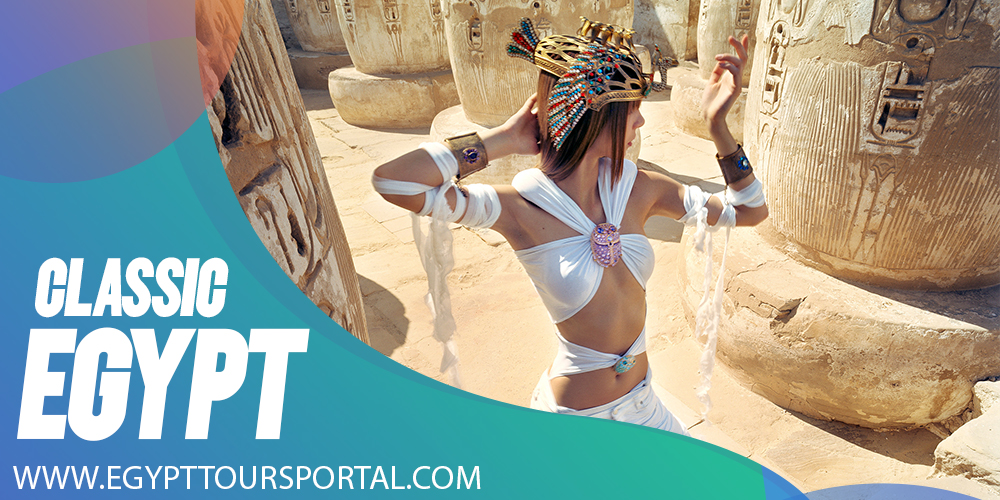 Discover how to enjoy a classic holiday in Egypt & experience all the magnificent treasures that extend f...