Types of Tourism in Egypt are several, each shedding light on the different aspects of this rich country. The purpose of this article is to provide all the answers, information, and details about what are all the different tourism types in Egypt, where to experience them, and how to enjoy them. Egyptian Tourism represents more than 11% of the total GDP, 40% of total Egypt's non-commodity exports, and hires 12% of Egypt's Workforce which serves up to 15 million tourists a year. This article is written by ETP team which is a group of very skilled tour operators and travel consultants who will provide all the important information about all the types of Egyptian Tourism.
Egypt has always been throughout its history the best tourist destination and the main reason behind this, is the discovery of the charming Pharaohnic antiquities a long time ago and this definitely added charm to Egypt and made tourists arrange tours from all parts of the world to enjoy that amazing beauty in addition to of course tour around the fascinating religious and cultural monuments that are spread all over the country. Another reason that makes Egypt an amazing country is its geographical location and its beautiful climate during the whole year especially along its vast coastal line. Such amazing things in Egypt really match the requests of any traveler especially those who seek to visit the most impressive ancient landmarks and also to have the most magical recreational tour.
The oldest type of tourism in Egypt is archeological or cultural tourism as Egypt is mainly known for its impressive ancient civilizations that can be witnessed through the incredible constructions and achievements since the dawn of history. This type of tourism remains unrepeated and non-competitive with any other country since Egypt includes more than one-third of the World's impressive monuments. In addition to cultural tourism, there are many other types of tourism that have come into existence just like recreational tourism, religious tourism, sports tourism, desert tourism, eco-tourism, therapeutic tourism, maritime tourism, festival tourism, Diving centers tourism, and exhibitions tourism. Here are the 4 main types of tourism in Egypt:
1. Cultural Tourism
This is the main type of tourism that has been found in Egypt since the discovery of the incredible attractions of ancient Egypt. Through Cultural tourism, every traveler will get to discover all the historical and the way of life of the ancient Egyptians. There are many magnificent cultural archeological tourist sites in Egypt that date back to more than 5000 years and attract tourists come for ever and among the most irresistible ancient cities in Egypt is its magnificent capital, Cairo as it has inside the most invaluable sightseeing including the remarkable: Giza Pyramids Complex is one of the most famous archaeological monuments in Egypt that includes the superb three amazing Pyramids of Khufu, Khafre, and Menquare that used to be the tombs of the Pharaohs. The Great Pyramid of King Khufu is considered one of the Seven Wonders of the ancient world and to be more specific the last remaining wonder and this with no doubt adds a lot to its great importance of a visit to such terrific sightseeing and tourists really love getting inside such a wonderful site.
Near the Complex is the legendary Grand Egyptian Museum which is the largest archaeological museum in the world, filled with countless thousands of artifacts across the history of the ancient Egyptian civilization. While being inside the complex, you will also find the hypnotic Sphinx that used to be the guard of the complex since its construction by the son of Khufu. It is going to be such a good chance to explore the Valley Temple that narrates the whole amazing story of the mummification processes that were operated by the ancients to let their dead be prepared for the afterlife journey. To check extra pyramids, you can visit Saqqara Step Pyramid which has been the first pyramid to be built in Egypt, and while being there, you will be close to Memphis City which has been the capital of ancient Egypt, and also enjoys a breathtaking cultural tour to Dahshur Pyramids where you will find the Bent pyramid & the Red Pyramid.
Cairo is not the only city that contains tens of magnificent historical sightseeing as you should definitely visit Luxor City that contains the greatest and the most impressive temples that were ever built by a man. Among the best sightseeing, you should visit while being in Luxor are the charming Mortuary Temple of Hatshepsut, the fascinating temples of Karnak and Luxor temple, Colossi of Memnon, The great Valley of the Kings that includes the tombs of the great ancient Egyptian Pharaohs, and lots of other spacious cultural sites that must be visited while being in Egypt.
That is not all as there are also a couple of Egyptian cities that represent a great part of the Egyptian culture through the landmarks located within One of them is the beautiful Aswan city that follows the glory of Egypt's cities and has also some of the most notable places that tourists really love to visit including the incredible High Dam, Philae Temple of the ancient goddess Isis, Abu Simbel Temples, and the gorgeous Nubian Village where you will be able to meet the lovely Nubians and learn some of the best Egyptian traditions and customs.
The other incredible historical tourist city in Egypt is the famous Alexandria city that really contains some of the best attractions to visit and explore including Qaitbay Citadel, Pompey's Pillar, the Catacombs of Kom El-Shokafa, and last but not least the magical Alexandria Library where you can find a copy of each book ever published in the world. You will then transfer from the historical wonders of Egypt to entertaining coastal activities in Egypt.
2. Leisure Tourism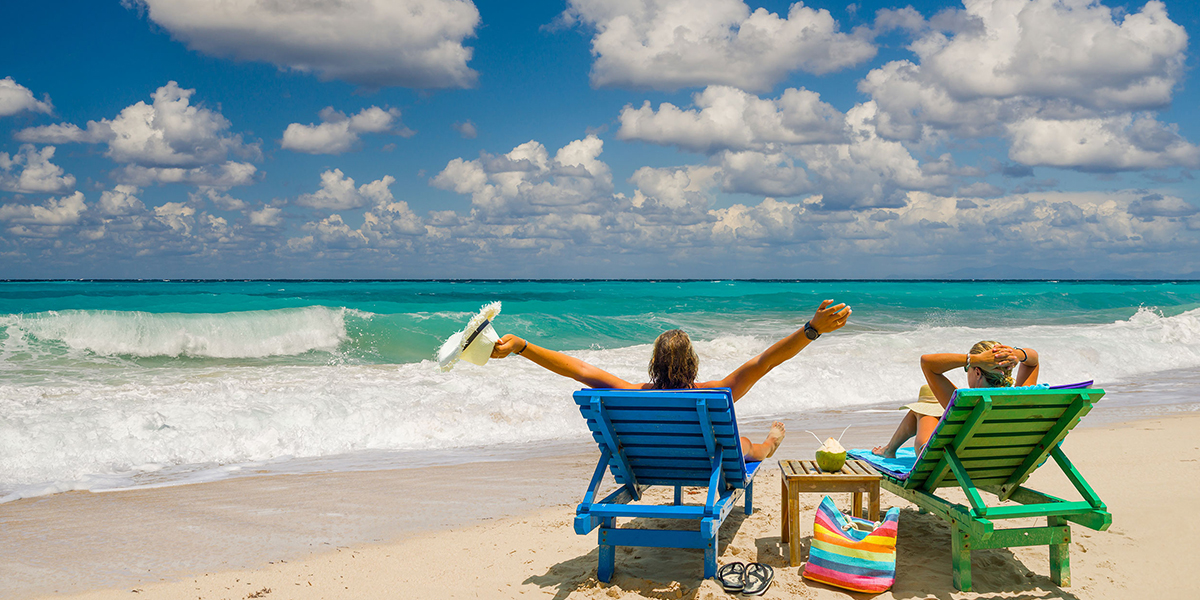 Egypt is rich with the most incredible fun tourist destinations where tourists can enjoy the greatest recreational tour since there is a shoreline in Egypt through which you can see Bahrain White & Red, start an adventure in the Red Sea with its pure incredible water, get the best facilities while being in the Gulf of Aqaba, enjoy the mesmerizing gorgeous tourist resorts in different sites like the Mediterranean coast, the Gulf of Suez, and the incredible Gulf of Aqaba.
Tourists really love to come to Egypt to enjoy a recreational tour while being in the tourist beaches in the incredible coastal beaches of Hurghada, Marsa Alam, Dahab, El-Gouna, Sharm El-Sheikh, Safaga, Al-Ein El-Sukhna, Ras Sudr, and lots of other exquisite sites with amazing beaches and breathtaking services to be offered to tourists. Travelers of all ages love heading to such cities and spots since they can enjoy different water activities like snorkeling, scuba diving, swimming with dolphins, enjoying the interesting types of fish and coral reefs plus a super safari across the Sahara while being there and you will also find the best activities for your children to practice and enjoy. You will then find out about all the religious attractions of Egypt.
3. Religious Tourism
Egypt is a divine destination that made an impact across all the three great holy religions of the world. It offers every traveler the road to divinity, bliss, and unity. Egypt's rich religious background can be traced to the harmonious and polytheistic society and atmosphere which the population enjoyed across history and in turn gave birth to some of the most incredible religious monuments ever built. Many tourists love Egypt in the first place as they find there some of the greatest religious attractions from the three Abraham religions on earth and we can divide those attractions according to the following points:
◆ What are the Islamic Landmarks In Egypt?
Egypt is in the first place a Muslim country and during the whole ages over such a country, its great rulers made sure that they establish mesmerizing mosques with fascinating construction skills and a great story to be narrated about each site. Here are some of the most well-known incredible Islamic attractions that travelers from all parts of the world from different religions love to visit:
Mosque of Amr ibn al-Aas - Al-Hussein Mosque.
Sayyida Zainab Mosque - Azhar mosque.
Sultan Hassan Mosque - Ahmad Ibn Tulun Mosque.
Al-Hakim Mosque - Mohammed Ali Mosque in Cairo Citadel.
El- Refai Mosque.
Here are also some of the most notable castles that were built all over Egypt to defend Egypt from any foreign attack:
Salah El-Din Citadel. – Mohamed Ali Citadel.
Qaitbay Citadel in Alexandria - Aqaba Castle.
Castle Soldier - Castle Stage.
Castle Nakhl - Al-Arish Castle.
◆ What are the Coptic Attractions in Egypt?
There are some charming Coptic Churches in Egypt that are characterized with the best Coptic features and both Muslims and Christians love to visit and explore their history. Here are some of the most well-known Coptic Sightseeing in Old Cairo:
Saint Mary Church. – Saint Mercurium Church
Saints Sergius & Bacchus Church "Abu Serga Church" - Church of the Holy Virgin
Saint Barbra Church. – The Church of Saint Menas.
Nunnery & Church of St. George. – Monastery and Church of St. George.
◆ What are the Jewish Sites in Egypt?
Although there are a few numbers of Jewish sightseeing in Egypt represent all of what you may need to know about the history of Jewish and a great part of their history:
Ben Ezra Synagogue.
Harat El-Yahood in Khan El-Khalili, Old Cairo.
Mount Sina where Moses has received God's Ten Commandments.
Eliahu Hanavi Synagogue.
You will then learn about all the medical tourism of Egypt.
4. Medical Tourism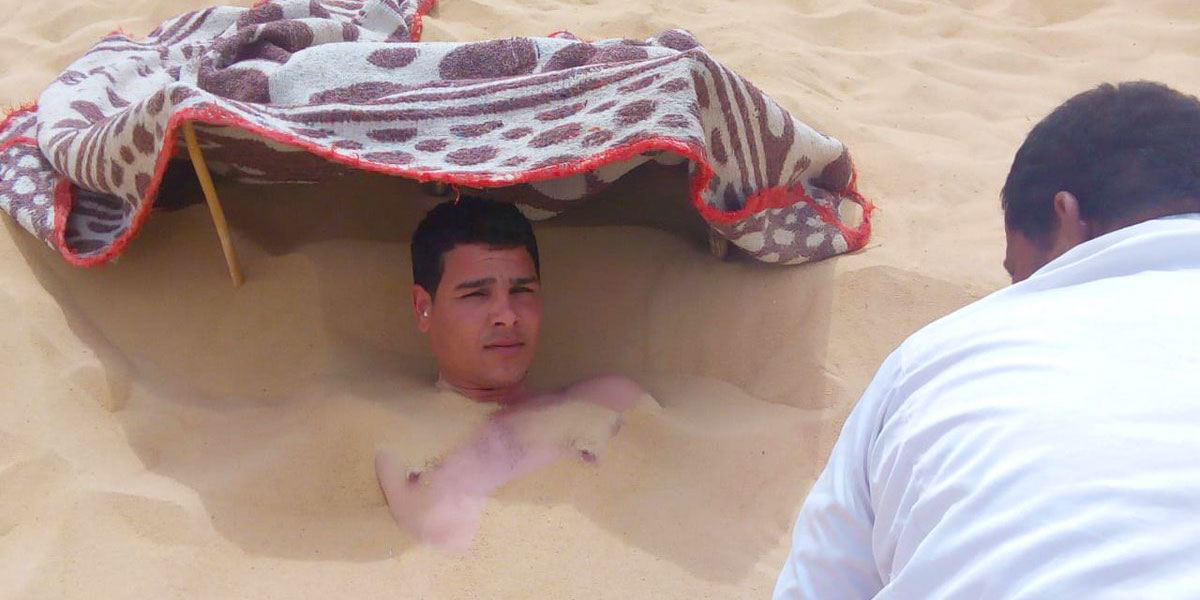 Egypt has always been known to have mystical and healing powers across its heavenly waters and divine lands. The best and the most notable thing about Egypt is its mineral water that is free from moisture and it is the best to treat many diseases including bone & skin diseases, gastrointestinal tract, and lots of other diseases that can simply be cured just by staying in the sand. There are many clues that prove that the Red Sea water has the power to heal people of psoriasis. Some might ask where is medical tourism in Egypt, there are 16 inland and coastal locations, and among the most notable medical tourist spots in Egypt are Hurghada, Helwan, Ain El-Sira, Aswan, Sinai, Safaga, Al-Ain El-Sokna, the Oasis, and Fayoum and all of those cities have the necessary elements to cure people of several diseases. Here are the best medical spots in Egypt that you will be a very lucky person to enjoy part of your Egypt vacation at:
◆ Baharia Oasis
You will find there the incredible springs of Halfa and the best warm water and lots of tourists come from all around the world to be treated in such a wonderful spot.
◆ Beaulac Wells
The water there is rich with the best beneficial Minerals in addition to the incredible sand dunes that are close to the wells and they have the power to cure lots of diseases including rheumatism, joint pains, and rheumatoid.
◆ Nasser Wells
You will find there three incredible deep wells and they are gathered in a swimming pool. Warm water there is mainly used to treat rheumatism, skin inflammation, kidney stones, and other digestive complications.
◆ Farafra Oasis
The new Valley Oasis includes lots of herbs & plants including Al-Ashaar Karkade, Dammsesa, and such plants are used for the treatment of rheumatism and also digestive system diseases. If you have stomach aches, then you can simply use the catnip herb. The best treatment for diabetes there is the Egleeg herb.
◆ Sands of Safaga
Because of the moderate climate in Safaga, its magical sands have the power to treat psoriasis in addition to its incredible radioactive mineral elements including Uranium, Potassium, and Thorium that can definitely treat joint pains and skin inflammation. Travelers who have a history of liver, heart, or kidney diseases will enjoy the most there as low gravity there helps high blood flow patients.
Conclusion
What has been mentioned within this article isn't what we can say all types of tourism you can find in Egypt but it is only a small part from a huge unique integrated tourism system in Egypt and to know all of what you can find & enjoy while being in Egypt, You can now choose from the different Egypt Tours and Nile River Cruises to enjoy the best of what Egypt has to offer and to find the exact type of tourism you want to enjoy while being in the Land of Pharaohs with your family, friends, or with your partner, as Egypt has it all.