In the city of Aswan lies the majestic Nubian Museum that was constructed for the sole purpose of honoring Nubian history and Culture. It was designed by an Egyptian architect by the name of Mahmoud Al-Hakim for the total cost of $22 MILLION (75 MILLION LE) paid by its sponsor the UNESCO to store the thousands of artifacts collected during the Nubian Rescue mission after the built of the Aswan High Dam in the 60s which led to the rise of the water levels of lake Nasser and putting the monuments in danger.
The Architecture of the Nubian Museum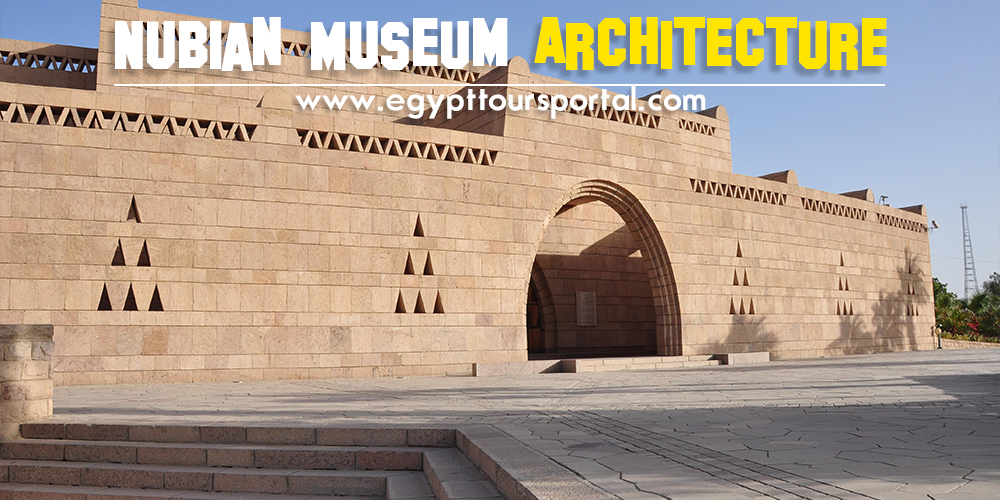 The Nubian museum was opened in November 1997 and its design was breathtaking as it holds a modern building with enclosed walls faced with limestone accompanied by traditional Nubian design to preserve the heritage of Nubian village Architecture.
The Nubian museum covers 50,000 square meters, 7,000 allocated for the building, and 43,000 for the grounds, it holds landscaped gardens, artificial lakes, and a huge building consisting of three floors for displaying and housing 3,000 artifacts that go back to 3500 BC from various historical ages and more than 500,000 displays that tell the full story of the Nubian Culture. The museum was awarded the Aga Khan Award for Architecture in 2001.
Artifacts in the Nubian Museum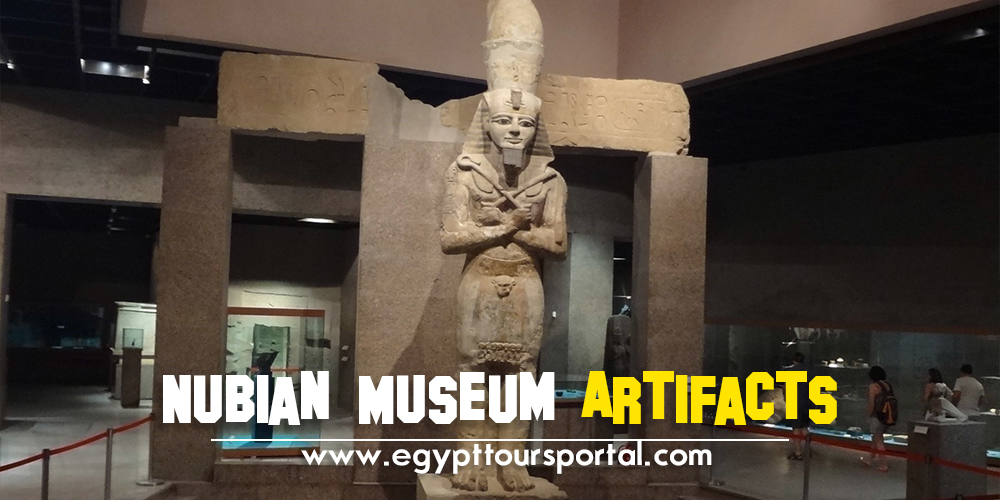 The Nubian museum acts as a magical portal that transports its visitors to ancient times from the prehistorical days of the kingdom of Kush to the Pharaonic era to the Greco-Roman period to the Coptic & Islamic age until the salvage of the ancient monuments from beneath Lake Nasser. The garden of the museum holds more than 80 statues for famous figures in Nubian History and for the gods of Ancient Nubia.
The museum contains many exhibition halls, a cultural activities center, and an information center. It holds an impressive collection of monuments from massive statues to artifacts made of ivory and ebony to very important documents and researches that centers around Nubian culture, archaeology, and history.
Book Now Your Holiday in Egypt
Egypt is an amazing country, full of incredible things to see and do and through our Egypt private tours, you will enjoy everything it has to offer to grasp the feeling of being in front of 7000 years of history, traditions, culture, beauty, and some of the world's greatest masterpieces ever created. So don't miss the chance and pick your favorite holiday.