Summary
Location & Overview: El Nabatat Island, also known as Kitchener's Island, lies in the Nile River near Aswan City and is famous for its Botanical Garden housing exotic plants from worldwide origins. The island is small, oval-shaped, and offers relaxation and picnic spots amid its lush greenery.
Historical Significance: Renamed after Consul-General Lord Kitchener in 1899, who transformed it into a botanical paradise, importing rare plants from various countries over three years. Later, the Egyptian Government expanded it in 1928, integrating plants from all continents.
Accessing the Island: The island is reachable by boat and has three entrances, with the main one located at its northern apex. Access to Aswan is via various modes like train, bus, domestic flight, felucca ride, or Nile cruise, each offering a chance to explore the wonders of the region.
Flora of the Botanical Gardens: The garden boasts a diverse range of plants, trees, and flowers, including palms, bamboo, cacti, succulents, orchids, fruit trees, medicinal plants, and aquatic species. It's renowned for its collection of exotic trees and ornamental flowers.
In the heart of the Nile River in Aswan sits a small oval-shaped island opposite Aswan City, behind the island of Elephantine called El Nabatat Island or Kitchener's Island. The island is less than a km long and half a km wide and is highly famous for containing Aswan's magical Botanical Garden, the home of some of the most exotic plants from around the world.
It has three entrances and is divided into 27 squares like a chessboard. It serves as a delightful spot for relaxation and picnics thanks to its natural green environment for both natives and foreigners.
The History of Kitchener's Island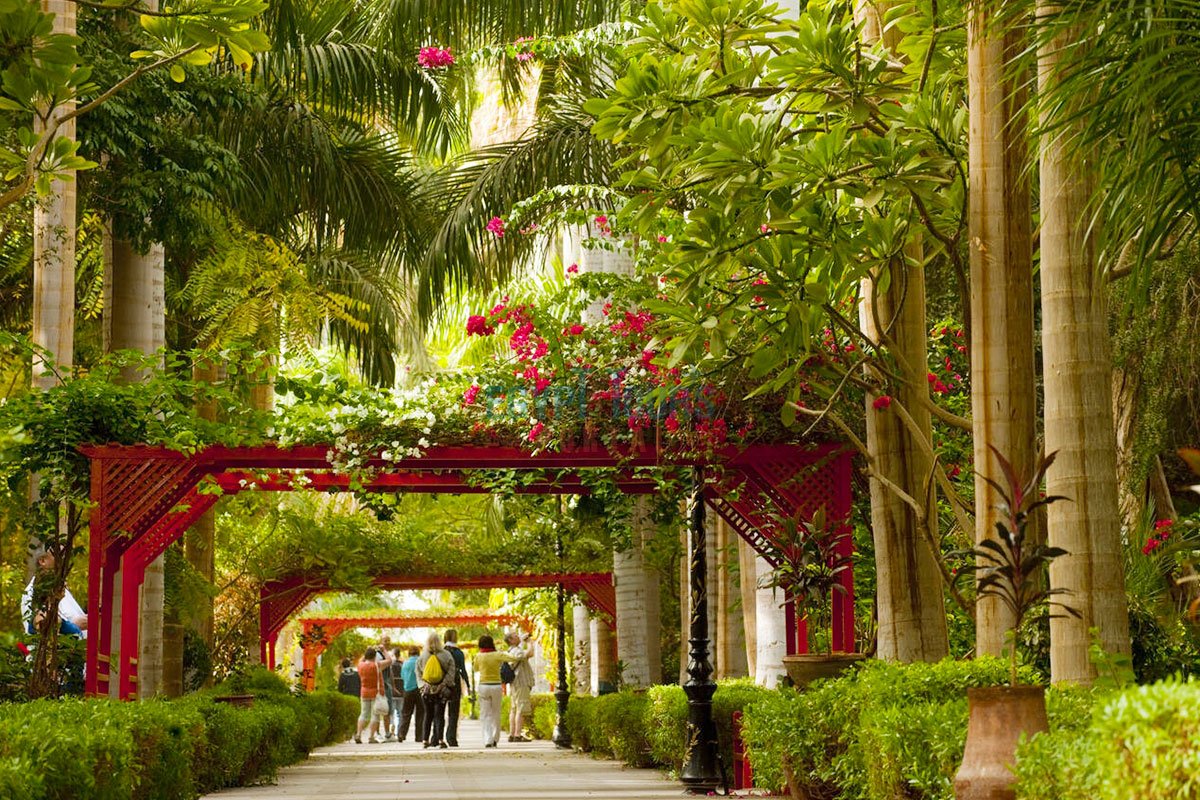 The history of Kitchener's Island goes way back. It was known as Kitchener Island in 1899 after Consul-General Lord Kitchener used the island as his headquarters for his military exploits and campaigns in Sudan. He was awarded the island as a gift where he worked on indulging his hobby of being a Botanist; he worked on transforming the 750m (2,460 ft.) long island into a heavenly habitat for rare, subtropical, and exotic plants by importing seeds and shrubs from far countries like India and Malaysia on the course of three years from 29 September 1911 to June 1914.
The Ministry of Irrigation worked on expanding its work in 1928 by featuring trees and plants from the five continents. The Garden became a part of the Egyptian Government and used a Botanical Research Institute. Aswan is the most glamorous region in Egypt and home to the best Pharaoh's attractions.
Location and How to Get Aswan Botanical Garden
The marvelous Aswan botanical garden can be found on the legendary Kitchener's Island (Gezira Kitchener) in Aswan which is situated on the Nile River and is accessible by boat.
The island contains three entrances, and the main entrance is found on the northern climax. There are many ways to reach Aswan, such as by train, bus, domestic flight, Felucca Ride in Aswan, or, of course, a Nile cruise, where all the wonders of Aswan will come to life before your eyes.
Plants Of Aswan Botanical Gardens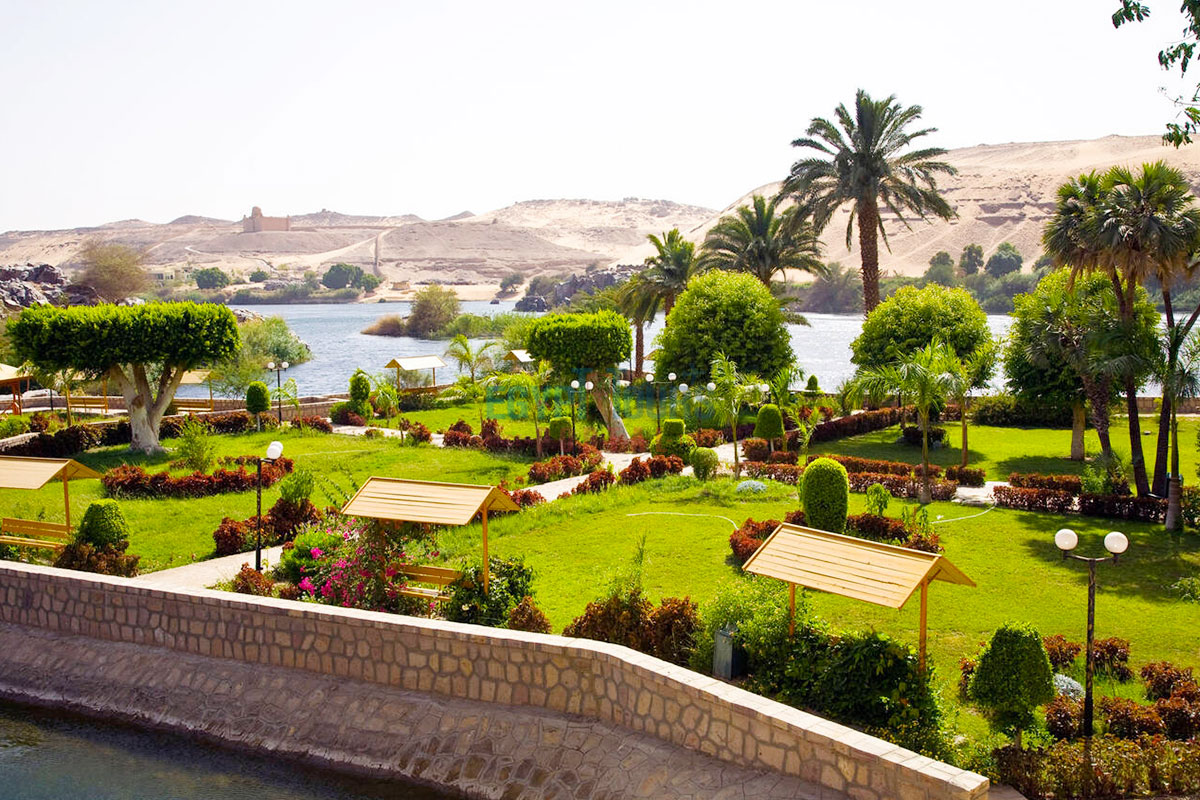 The Aswan Botanical Garden contains a magical, diverse collection of plants, trees, and flowers. The 750-meter (2,460 ft) long island garden was established in the early 20th century and has since become a sanctuary for various plant species, including indigenous and exotic varieties, especially from India. The garden is home to various palm species, which are the Royal Palm tree, the Sabal Palm tree, Date palms, fan palms, and other palm varieties. Bamboo groves also provide a unique and tranquil setting within the garden.
All the Bamboo is known for its rapid growth and ornamental value. Many cacti and succulent species can be seen all over the garden, which holds different types of agave and aloe. The garden has a section dedicated to orchids, which are known for their stunning and diverse flowers. Various fruit trees, including citrus trees, mango trees, and pomegranate trees, are cultivated in the garden.
Relevant Post
There are 28 protectorates in Egypt, and here is a list of the most famous national parks in Egypt. Read more!!!
Ream More
Some areas of the garden may feature medicinal plants and herbs used in traditional and herbal medicine. Kitchener's Island is known for its collection of exotic trees from different parts of the world, such as the royal palm, mahogany, and eucalyptus. The garden also includes aquatic and semi-aquatic plants, such as water lilies and papyrus. The garden showcases a variety of ornamental flowers, including bougainvillea, hibiscus, and other colorful blooms.
Aswan Botanical Gardens Galley & Photos
Serene Aswan: Day Tours Along the Nile
Through our day trips from Aswan, you can marvel at the Imperial Philae temple, the massive Aswan High Dam, and the Granite Quarries of the Pharaohs.. and witness the sailboats drift along the Nile. Don't miss the chance and book us now.