Souvenirs to buy in Egypt are countless offering every traveler to buy a majestic piece of Egyptian art and culture. This article's main goal is to offer every traveler all the means to choose the finest souvenirs to buy in Egypt. This article was written by a group of very skilled team of tour operators, tour guides, and travel consultants who offer the finest collection of souvenirs to buy.
All the souvenirs will remind you of the beauty and Tourists can experience lots of different interesting activities & tours in Egypt and part of any traveler's experience is picking up & buying some interesting souvenirs from the country he/she has visited to commemorate their visit and to show their relatives and friends the best things they have met and seen in Egypt and to show them part of the Egyptian culture & civilization.
There are tens of shopping sites & bazaars in Egypt that sell almost all of what any guest may want to get regarding the great cultural treasures, antiques, and traditional items that reflect the Egyptian culture. Here are some of the most important questions regarding the most traditional things that you can find in Egypt.
Where to shop in Egypt?
The most popular places for shopping in Egypt Include:
 
Khan Al Khalili
Egypt Craft Center
Souk Al Fustat
Aswan Souk
Souk-Al-Gamaal
Old Market
Sharia Khayamiya
Suuq El Ataba
Han El Halili
Luxor Bazaar
Sharia El Souk
Tent Market
Lotus Bazaar
Cairo Festival City Mall
Khan Msr Toulon
Nomad
Siwa Souk
What to shop in Egypt?
There are  a lot of options to shop while in Egypt such as:
Novelty T-shirts.
Souvenirs with your name printed in Hieroglyphics.
  
Pillowcases
Artworks in the shape of woodwork, paintings, bowls, trays, ceramic products, and more.
Incense
Bastet, Antique Stones, and Statues Replicas
Khayameya
Fez "Tarboosh"
Hookah "Shisha"
Cotton Robes and Vail "Jilbab & Burqa"
Jewelry Wooden Boxes
Handcrafted Metal Works
Eastern Desserts
Papyrus Manuscripts and Paintings "Replica"
Pottery and Ceramics
Belly Dancing Costume
Ramadan Lantern "Fanoos"
Egyptian Musical Instruments
Hand Blown Glass Works and Ornaments
Kohl
Kilim Carpets
What are the best places to do ordinary shop in Egypt?
You can find some amazing places to shop while being in Egypt such as Khan Al Khalili, Souk Al Fustat, Aswan Souk, Old Market, Souk-Al-Gamaal, Sharia Khayamiya, Han El Halili, Souq El Ataba, Luxor Bazaar, Tent Market, Sharia El Souk, Lotus Bazaar, Cairo Festival City Mall, etc where you can find the best of shopping options.
How to bargain and get a good deal in Egypt? 
Don't start bargaining unless you are really intending to buy.
Have a price in mind.
Ask the seller to offer a price before you offer one. 
Offer about half of what you would like to pay for that particular product. 
Take it in turns to adjust your price.
here is a list of the most common souvenirs to buy in Egypt:
1. Mini Pyramids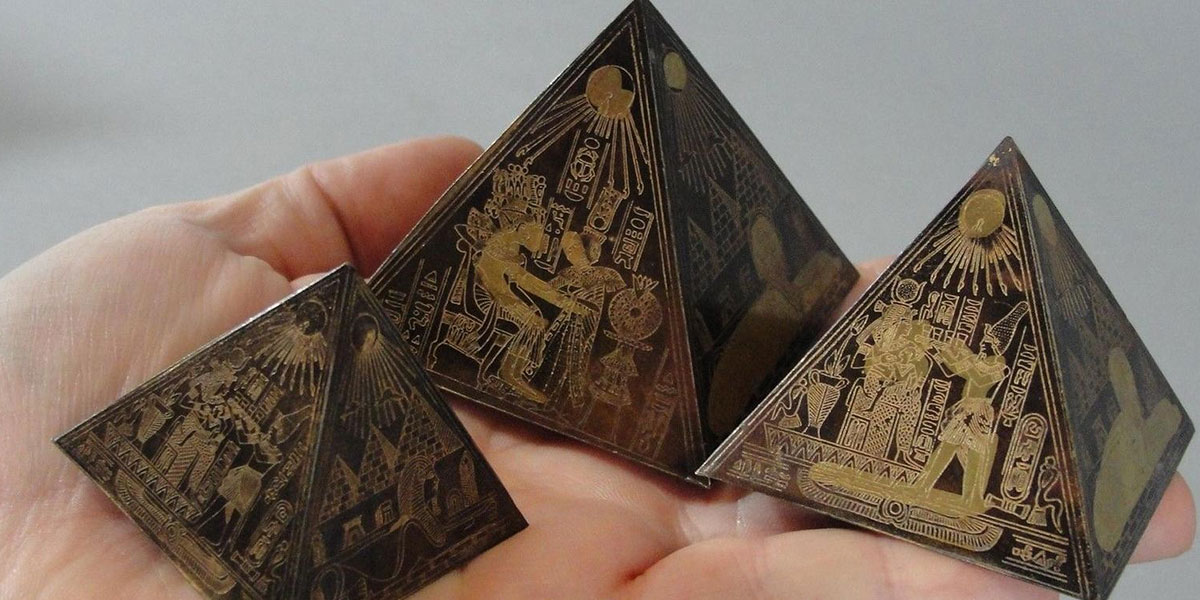 The Pyramids in Giza of Khufu, Khafre, and Menquare are considered with no doubt the most fascinating attractions to visit all around Egypt due to their incomparable size, magical construction, and absolute dedication of the ancients while constructing them. And because of this, the mini pyramids that are sold in nearly every store and shop around Egypt are really amazing gifts for all tourists. There are also other miniature statues that belong to the ancient history of Egypt just like the mini statues of Giza Sphinx, kings, and Queens.
2. Papyrus Scroll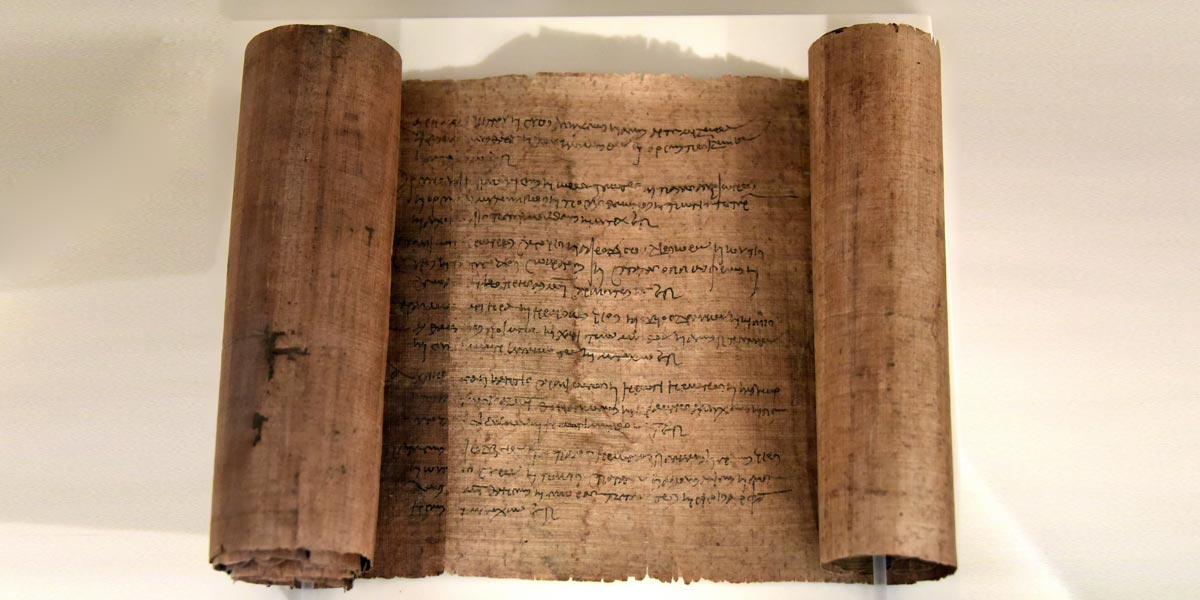 That item is closely attached to the great ancient Egyptian civilization since the ancients were the first ones to establish the writing system on the papyrus which was made from the papyrus plant pith. Nowadays, you will find tens of papyrus scrolls in the majority of the stores that sell antiques and tourist souvenirs. They are being sold in different shapes, paintings, scenes, and the Hieroglyphic alphabet.
3. The Scarab
The scarab are items that are in the shape of dung beetles and they were considered really important for the ancient Egyptians due to some ancient religious beliefs but now they are sold to tourists as gifts as they are really cool and they are sold in different shapes, sizes, and colors. Those beetles are also used in the bracelets & necklaces so that women put them on and keep to always remember the amazing trip she has been to.
4. Cartouche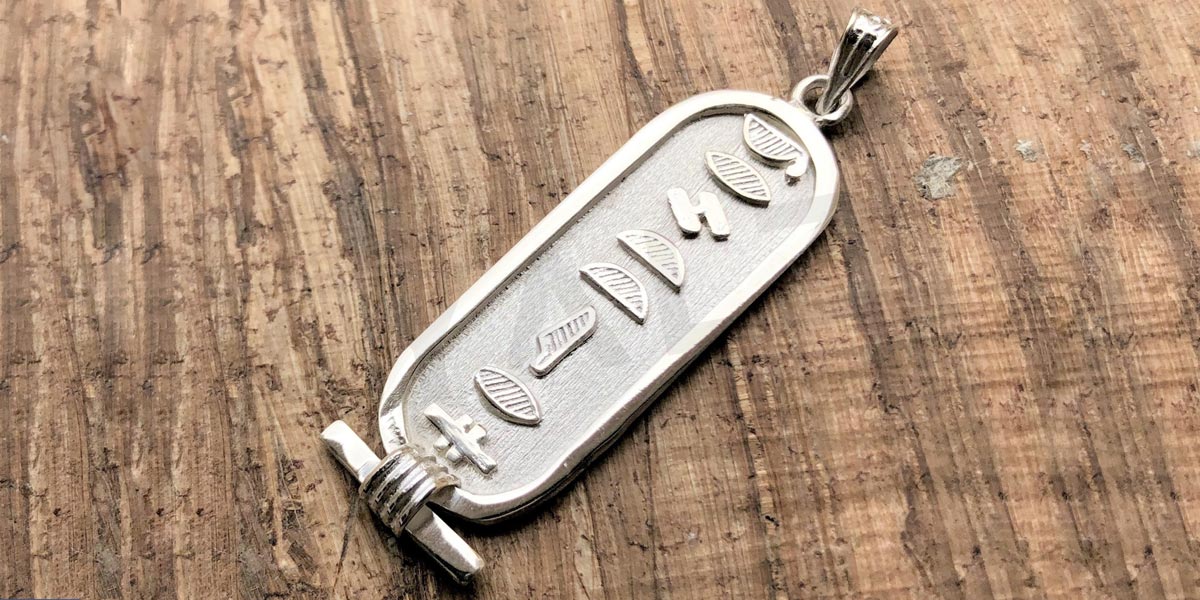 This is another very familiar type of gift in Egypt and it is mainly an oval that has a horizontal line that indicates an enclosed text. Such items are engraved on the walls of so many Egyptian temples and they are being sold nowadays on different materials like stones and alabaster. Cartouche is mainly being sold nowadays in the different silver shops in a form of silver necklaces. The most interesting thing about them is that sellers offer the opportunity to write the name of the guest in the Hieroglyphic alphabet and this is with no doubt really wonderful for you and the ones you love.
5. The Egyptian Jalabiya
This is one of the most common Egyptian traditional outfits that can be found in Egypt which is mainly similar to dresses and is suitable for both men and women with different styles and colors. Not so many people who live in the capital wear it but only the native locals who are living in the villages and deserts. Its style differs from a governorate to another and you will be able to find so many shops and stores in Egypt that sell such a common Egyptian outfit.
6. Belly Dancing Outfit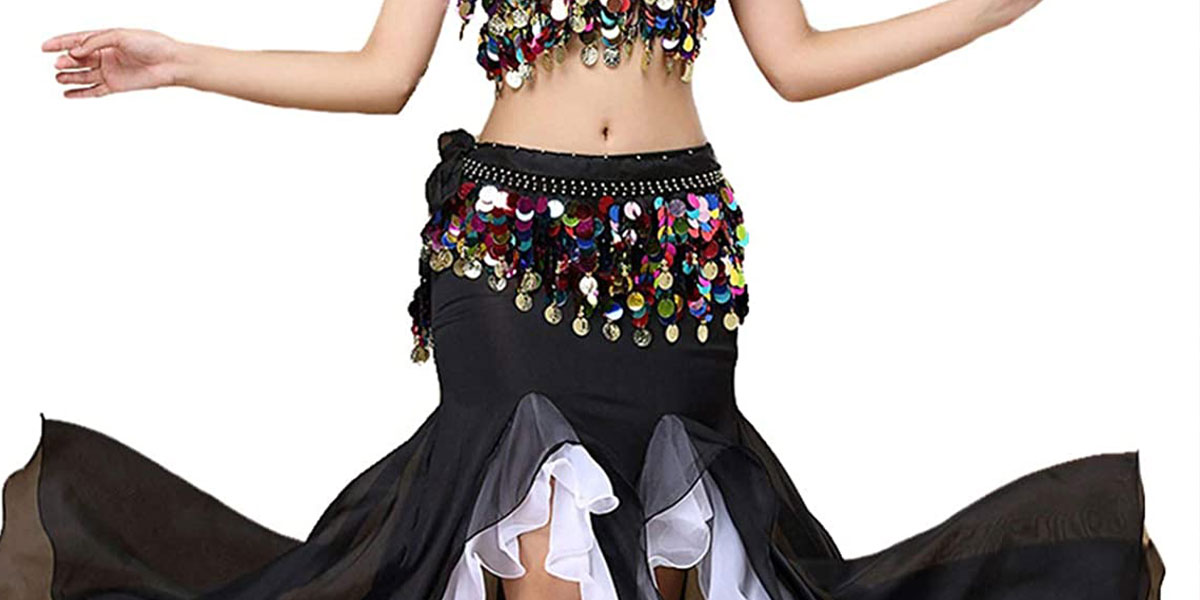 The Egyptians have been always known for their belly dancing a long time ago which is mainly Arabic expressive dance that is organized based on specific movements. The dancer wears a specific outfit and the majority of the Egyptian movie especially the white & black ones reflect the traditional outfit that is used by the belly dancers. Such outfits are different in styles and colors and because Egypt's visitors get impressed by all of what is traditional and reflect the Egyptian traditions, they like buying such an outfit as gifts while being in Khan El-Khalili Bazaar.
7. Geometric Pattern Boxes
Those are known as jewelry boxes and they are arabesque style boxes that are sold in tens of places around Egypt in different sizes, designs, and shapes. They are designed with some Islamic geometric patterns and although such patterns date back to the Islamic era, lots of those patterns actually trace back to the ancient Egyptian era. So it is such an exceptional souvenir to buy during your Egyptian vacation.
8. Leather Slippers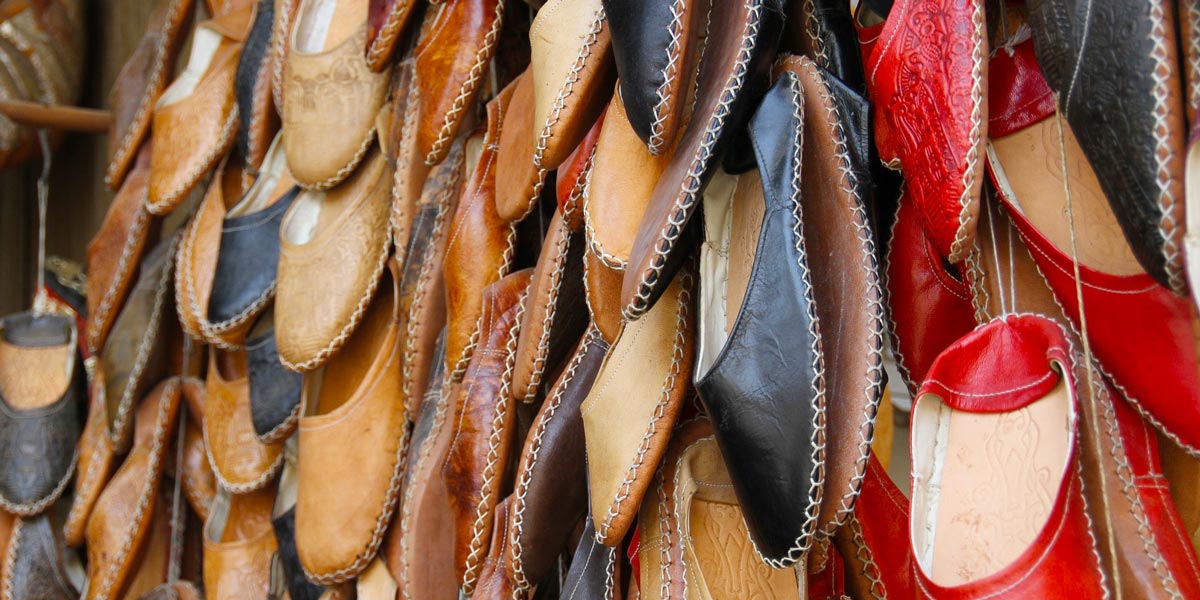 These handmade leather slippers are designed in so many shapes, sizes, and colors and can be bought in nearly all Egyptian stores. With the amazing Pharaohnic symbol that can be found on the slipper, it is considered really a wonderful gift to buy in Egypt and to take it with you back home. Those symbols show the ancient Egyptian deities in the Egyptian Pantheon. The slippers aren't really practical but they are wonderful to keep with you or to gift them to the ones you love.
9. Glass Bottles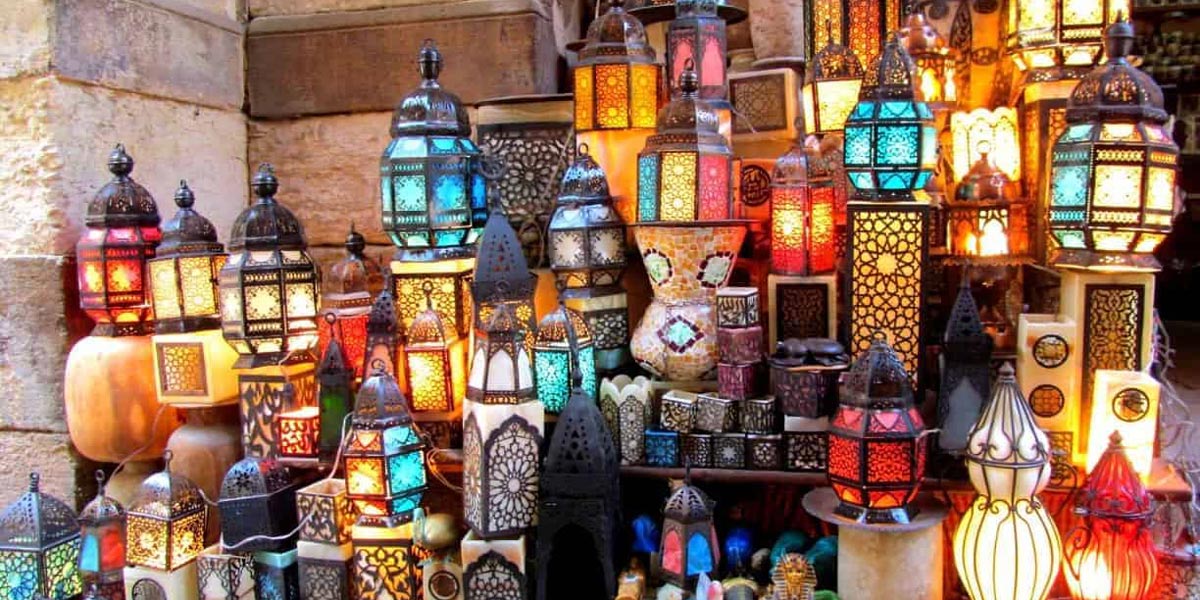 The Egyptians are really incredible in the craft of glass sand bottles and it is actually considered one of the oldest crafts in the country. There are lots of street vendors who are specialized in selling those handmade sand bottles with beautiful designs, colors, and shapes and you will definitely be able to find them in Luxor, Dahab, Aswan, Cairo, Sharm, and Alexandria.
10. Traditional Hats
Egypt vendors are known for selling different hats to tourists and such hats are different in sizes, shapes, and colors. The most common types of hats to buy in Egypt are the Nubian hats that are sold in Aswan, Cairo, Giza, and in so many bazaars around the country.
Another famous type of hat that you can find in Egypt is the cowboy hat and it is mainly sold in Giza & Cairo to protect tourists from the heat of the sun and also to give them a wonderful look in front of the greatest Egyptian attractions. If you have the chance to plan a visit to that breathtaking site in Egypt, it would be a very interesting addition to your Egypt tour and we will be more than happy to arrange the best cultural tours for you within our various Egypt Holidays.
11. Perfume
Egypt is known for producing a variety of enchanting essences used by international perfumiers all over the world. Undiluted essence can be bought by the ounce in Cairo's Khan al- Khalili souq for very reasonable prices that will last for eternity. In Egypt, shops duplicate famous fragrances on request or sell imitations for cheap prices. There is also the chance which you can also buy essential oils such as rose or jasmine.
12. Egyptian Cotton Clothes
Cotton is a very essential crop for producing the finest clothes that were introduced into Egypt in the 19th century and since that moment  Egypt has been renowned for the quality of its cotton goods, especially clothes, suits, sheets, and towels. Much of the best cotton is exported from Egypt and what you find locally is often inferior or fake. However, certain shops in malls and hotels sell top-quality goods which you can get at very affordable prices.
13. Spices
Spices are widely sold across all the souqs all across Egypt. They are fresher and have better quality than the packaged variety sold in the US or Europe, some of the most commonly sold spices include cinnamon, cumin, and dukkah, which is a blend of spices.
14. Jewelry
Egyptians possess, sell, and buy large quantities of gold and silver as a form of tradition. Precious metals are sold by the gram in the souqs in the form of marvelous jewelry. Each piece of jewelry has its own price which possesses a percentage that is then added to the price for the workmanship. A favorite Egypt souvenir is a cartouche with hieroglyphs that is made of white gold and silver.
15. Carpets and Rugs
Just like Turkey, Morocco, or Iran, Egypt is a great carpetmaking nation and the work is generally sold to people from all over the world. Rugs and tapestries are woven from coarse wool or camel hair, typically in beige and brown. Colorful picture rugs depicting rural scenes are produced at the Ramses Wissa Wassef Art Centre.
Egypt is filled with a number of incredible artifacts and unique works of art that can only be found in Egypt. With Egypt Tours from the UK, everyone will have the key to getting a piece of Egypt at a very reasonable price that will act as the ideal reminder of all the enchanting moments spent across the wonders of Egypt.