Tipping in Egypt is a tradition and an art forms easy to master. This article's goal is to provide every traveler in Egypt with all the answers and information about do I have to tip in Egypt and how much to tip in Egypt. This article was written by our ETP team who is a skilled and expert group of tour operators and tour guides to provide all the details about tipping in Egypt. While planning for spending a vacation in Egypt, travelers feel that this is an issue that is somehow confused them which is the issue of giving tipping to locals in Egypt. Who deserves to take your baksheesh and whom you should ignore and of course the one hundred dollars question, how much should I give tipping to anyone in Egypt and when even I should give tipping in Egypt??? We will explain everything that revolves around the word tipping in our article so that you understand all about it.
What is the Meaning of Bakshish?
Baksheesh or tipping is a word that is used in Egypt that means that someone is waiting for your act of appreciation for the service he/she offered to you by giving them some of your change that can be estimated by the type of service you have received. You are the one who should determine the amount of money to give since it is not something you have to do, on the contrary, it is something that should get from your heart and based on your full desire to give money to others to help them and also to encourage them to do so many good deeds and offer assistance to other foreigners who come to visit Egypt.
How Does Tipping Work in Egypt?
By giving baksheesh or gratuity to someone, you are saying to him or her that thanks for the desired services you have obtained and the most important thing to keep in mind is that it is not obligatory as no one can ever force you to give any amount of money that you don't want. It is something really traditional in Egypt which is inherited hundreds of years ago and should be kept in mind that anyone who offers you services in Egypt including tour guides, drivers, waiters, and similar people. So after receiving some kind of service, you can offer the person who assisted you with some money that is determined based on the services you received. While planning a vacation in Egypt and calculating the costs of your trip, you need to consider the tipping fees and the best way to do so is to keep change in your pocket as you will never know when you are going to need a bill.
What is the Best Currency for Tipping in Egypt??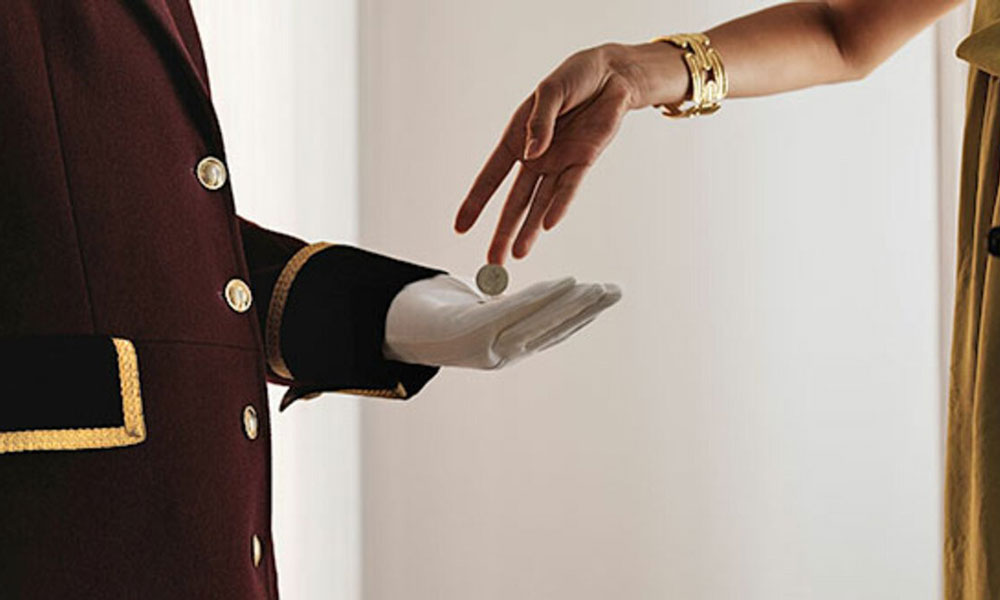 The best way to give tips to everyone and not to spend lots of money is through exchanging some of your money in the Egyptian pound once you arrive in Egypt and that way one of your dollars will equally around 5$ and this is going to be more than enough to give to someone as a kind of appreciation and shows lots of satisfaction towards the services you have received.
How Much Should I Do Tipping in Egypt??
There is no specific amount of tipping but it is mostly 5 to 10% of the total cost of your bill. You have the entire and total decision regarding determining how much money you are willing to give as a tip or not give at all. Here are some tipping guidelines that can assist you to know how much money do you need to tip in Egypt, for example :
How much do you tip a part-time driver in Egypt?  The driver's tip is 5 $.
How much do you tip a luggage Man?  The  luggage Man's man tip is 5 to 10 $
How much do you tip the Housekeeping?  The Housekeeping tip is 5-10 $ per night.
How much do you tip the Driver?  The Driver's full-day Tip is 10 to 20 $.
How much do you tip the tour guide?  The Tour Guide full day Tip is 30 to 50$.
How much do you tip the waiter?  The waiter's tip is 10 $.
On the board of the Nile river cruises, you will find a gratuities box that is left at the reception and you can leave there the amount of money you want.
Waiters on the cruise can take up to 10 $ per trip.
Tour Gide usually takes 10 $ per day.
Felucca man usually takes 10 $ per hour.
Guards who are on each site can take around 10 $.
Horsemen usually take 5 $ per ride.
General tipping at the restaurants is around 10% of the total cost of your bill.
When Should You Tip in Egypt?
You should tip the one who seems in need of your money, who does you a favor, and who offers you the best services you need. Such people don't show lots of pushing to get money from your side but they just try to get your admiration for their services. So if you found anyone like this in Egypt, don't hesitate in giving him/her tips.
When Shouldn't You Tip in Egypt?
Some might ask Is it rude to not tip? , and the answer is that unfortunately, just like any other country, there are people who make use of difficult situations when you can't say no and keep pushing to get what they actually don't deserve. In such situations, we will say out loud that you shouldn't give them a penny of what you have as they simply don't deserve your money. Some people are using children to get the money of baksheesh from tourists and this is unacceptable in Egypt and the government is trying its best to prevent such acts and you should assist in that by simply saying no and leaving them without giving them tips. Otherwise, if you found someone who needs help, feel free to give him/her the suitable amount of money you want. It is an act of kindness you show to others and may Allah gives you what you really deserve for such good deeds.
Conclusion
Experience with us now the real magic that can be found in Egypt and join us in one of our incredible well-arranged Egypt vacation packages to have your dream vacation and to spend the best time ever with your family and friends.