The Most Famous 25 Egyptian Foods - Egyptian Culture Food
The Types of Foods in Egypt are countless offering every traveler the chance to taste some delicious cuisine as old and classy as time itself. The food of Egypt will offer a deep look into the heart and soul of the Egyptian society culinary arts and the creative manner in which the Egyptians of all ages were able to create their famous cuisines. This article's main purpose is to showcase all the wonderful foods of Egypt so our clients every sweet bite of Egypt rich culinary arts. This article is written by our team of tour guides and travel consultants who have gathered this information from their own knowledge and experience.
Egypt is not only famous for its ancient monuments, culture, and resorts, but it is also famous for its fabulous food and other beautiful things. With every bite from our delicious cuisine, every traveler will get to travel back in time and space across 4000 years and witness all the culinary arts from all the corners of the globe combined into one dish served in front of you across all the countless restaurants of Egypt. Egypt has been blessed with the food of the gods which explains why Egypt can be found on the travel bucket list of travelers from all over the world, which are:
1. Kushari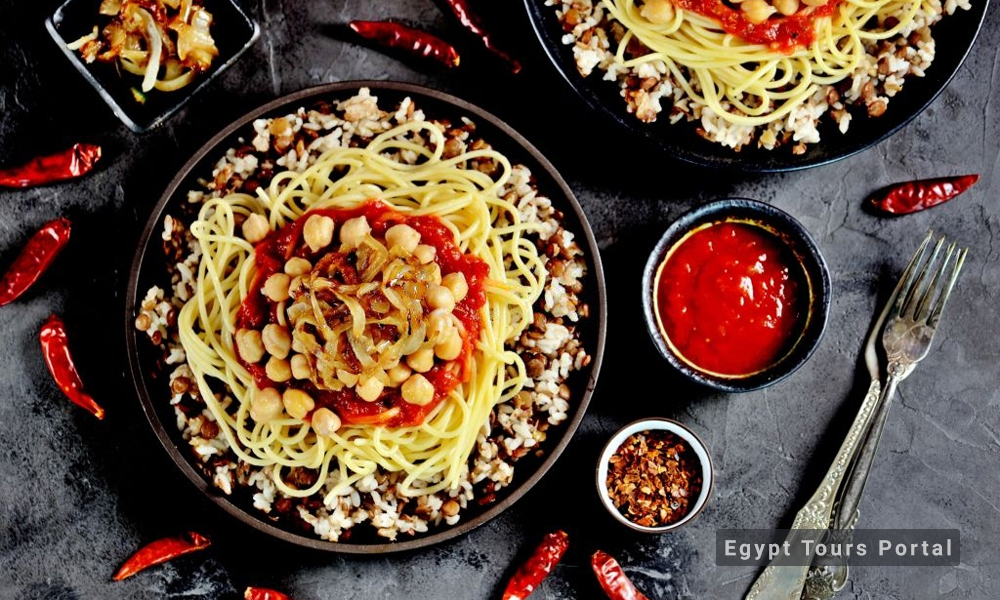 Kushari is a very delicious vegan dish from the legendary Egyptian culinary dating back to the early days of the Islamic era in Egypt. It consists of food consists of rice, lentils, onions, garlic, chickpeas, and tomato sauce. It has four sources of carbohydrates made it the most popular lunch item in Egypt.
2. Ta'meya (Fava Beans and Falafel)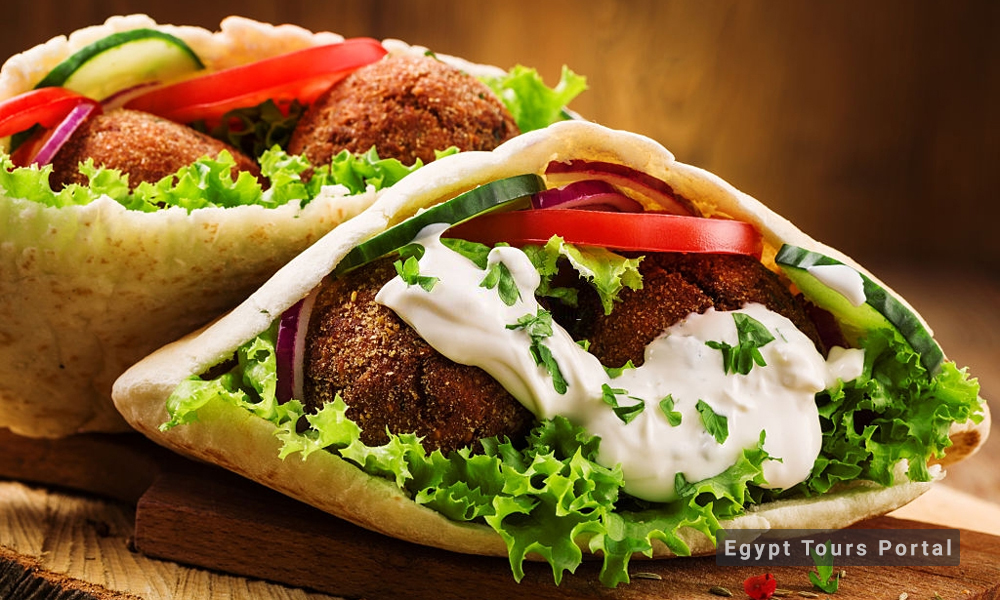 The most famous Egyptian fast food; they are the main fast food in the Egyptian breakfast. The full (pronounced: fool) is made of fava beans. The ta'meya or The falafel is legendary street food with ancient Egyptian roots, known to be a vegan food made of crushed fava beans mixed with spices then deep-fried in the shape of a flat disc then served with tahini, Egyptian bread, and salad.
3. Ful
Ful is by far the most famous food in Egypt, eaten during breakfast by everyone in Egypt on daily basis. It is a vegan dish that is a great source of nutrition and is believed to have been cooked in ancient Egypt. It is made of lava beans prepared with butter, olive & spicy oil, and lemon juice or paper, tomato sauce, parsley, and then added with garlic and onion plus some spices.
4. Hawawshi (Egyptian Meat Pie)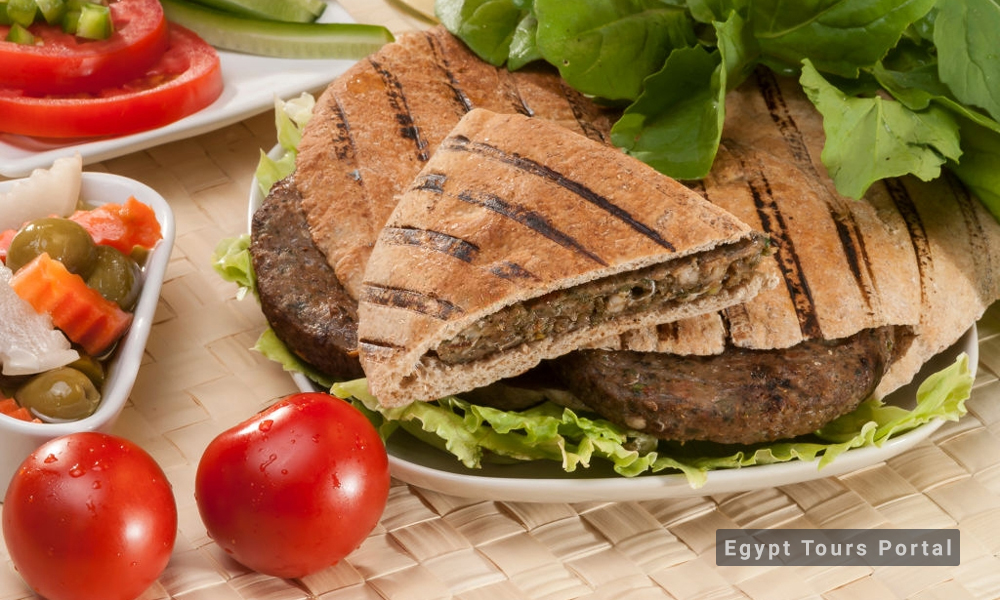 Hawashi is a delicious dish made of spiced ground beef cooked in a whole loaf of bread, either in a rotisserie oven or baked in a regular oven then served with a tasty sauce and salad.
5. Shawerma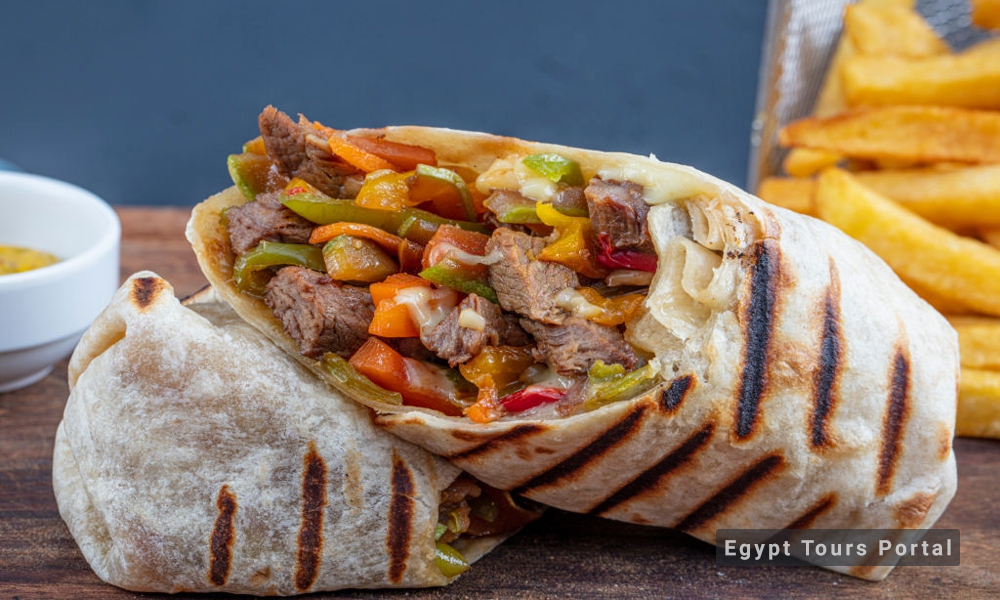 Shawerma is known to be not originally a native Egyptian dish, it became so due to Egypt being part of the Ottoman Empire. It is made of the meat mutton, turkey, beef, chicken,  lamb, or veal cut into thin slices with parsley, chopped tomato, and onions then stacked in a cone-like shape, and roasted on a slowly-turning vertical rotisserie or spit then rolled in delicious bread. That said, the best Shawerma in Egypt will traditionally be available at Syrian-owned sandwich parlors.
6. Kabab & Kofta (Grilled Meats)
Kabab and Kofta are succulent grilled meat cubes and sheesh kebab, typically made out of veal or lamb, are usually served with bread and an assortment of green salads and dips, mostly tahini, baba ghanoush. They are grilled over charcoal and they are a must for any meat lover visiting Egypt.
7. Mulukhiya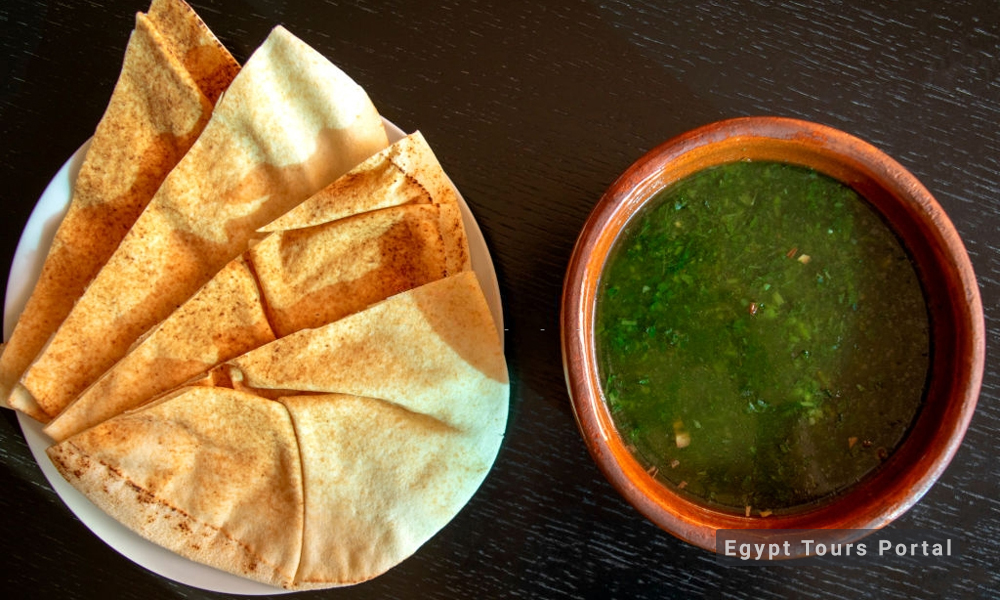 Mulukhiya is made from the leaves of jute and plants, prepared by chopping the leaves with garlic and cooking it in an animal stock such as chicken, beef or rabbit, and served with rice or bread. and it's one of the most delicious dishes in Egypt.
8. Fatta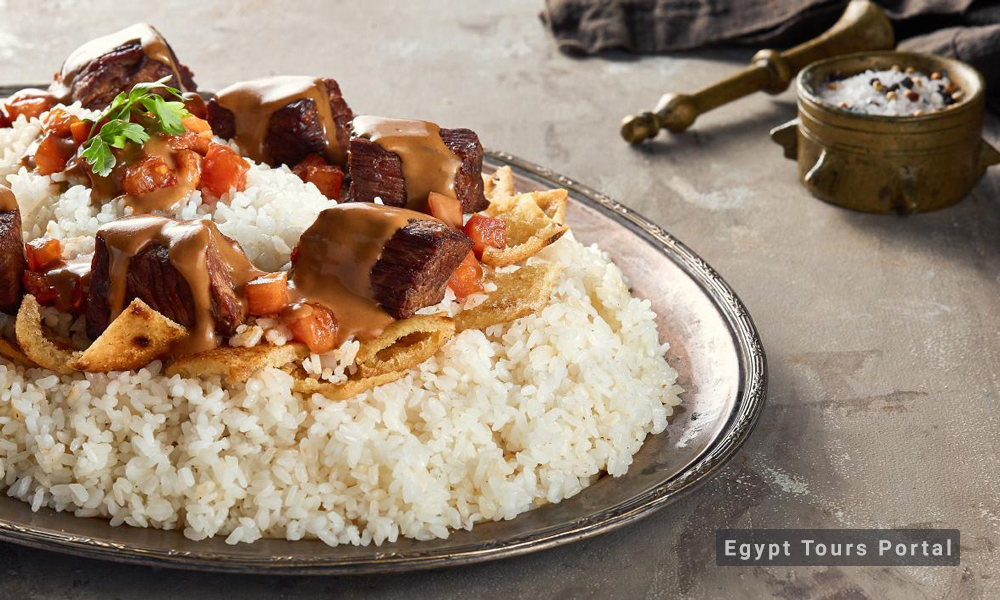 Fatta is usually prepared for festivities such as a woman's first birth. It consists of rice and fried bread, covered in garlic and meat soup, and Large chunks of stewed beef.
9. Roasted Stuffed Pigeons
Roasted stuffed pigeons are a very special dish as When it comes to stuffed food then Egyptian hammam "Pigeons" are by all measures the most delicious as they are stuffed with seasoned rice with meat then baked or grilled.
10. Beserah
Beserah is an ideal meal for vegans as it is a simple delicacy made of creamy green puree prepared with parsley, leek, dill, beans, green pepper, spices, and fried onions on top.
11. Baba Ganoush
Baba Ganoush is a famous dish in Egypt served as a side appetizer next to the main dish with roots from Lebanon made in the shape of cream of roasted eggplant, olive oil, garlic, sesame paste "tahini" and lemon.
12. Alexandria liver and Sausages
Alexandria Liver and Sausages are delicious street food, made of a sliced cow liver which is prepared with spicy pepper, onion, and garlic. On the other hand, the sausage is usually cooked mostly with tomato sauce and spicy pepper both served with pickles.
13. Sayadiyah Fish
Sayadiya fish is a tasty dish cooked in coastal cities of Suez, Alexandria, Port Said, and the resort of the red sea which is made of white fish using sea bass, bluefish, and cooked with onions, spices, yellow rice, and tomato sauce.
14. Baklava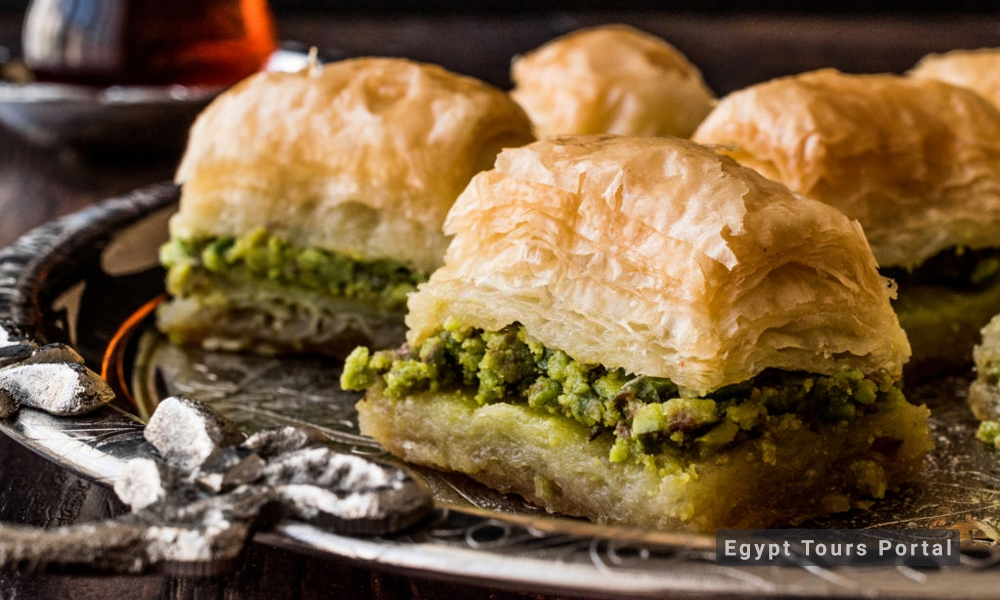 Baklava is crushed nuts baked dessert then put between layers of filo dough and topped with a sweet syrup.
15. Basboosa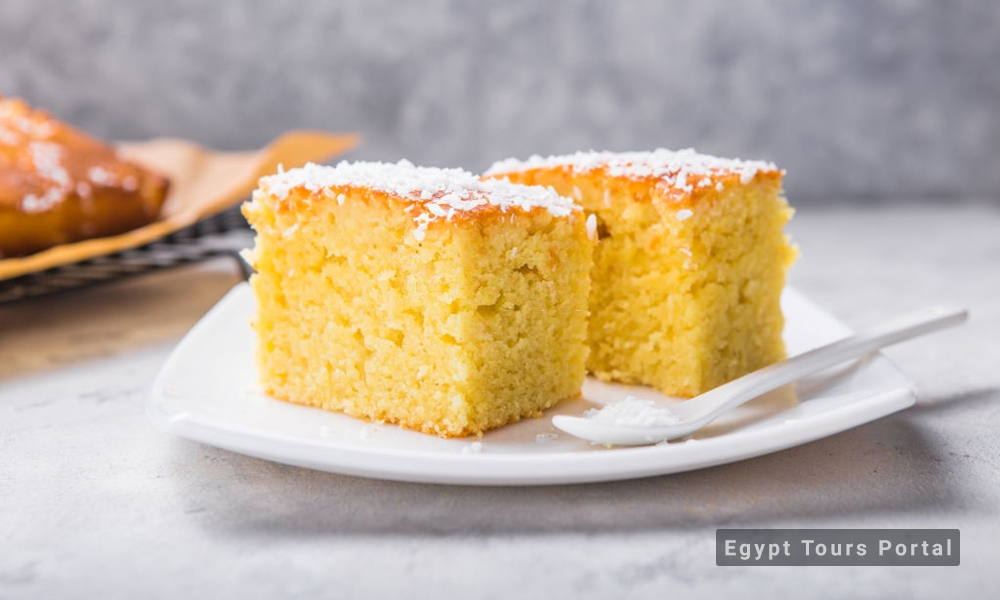 Basboosa is a Light and crumbly cake baked and topped with a sweet syrup.
16. Konafa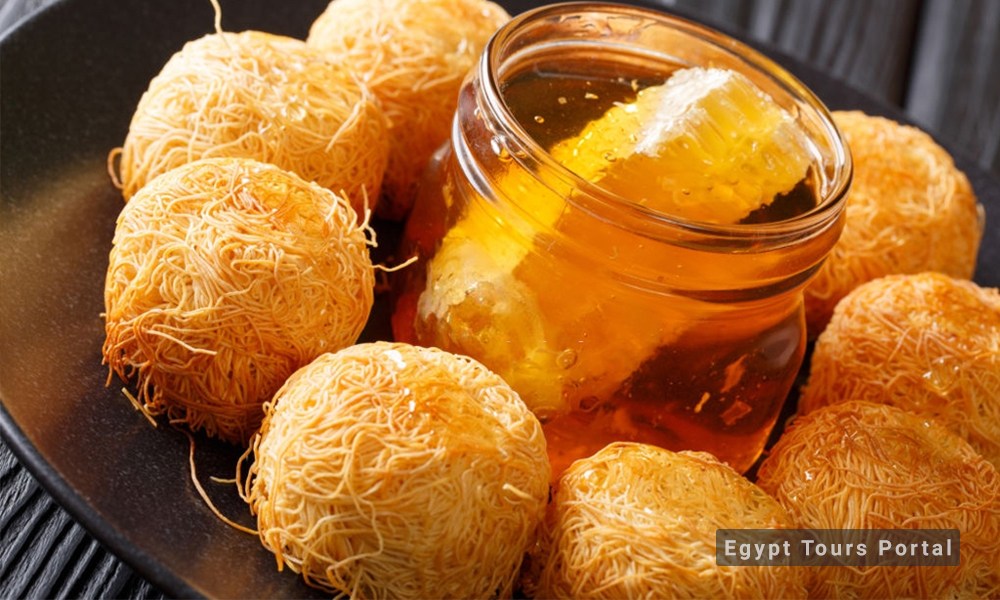 Konafa at first glance looks like hay, but it's actually a nut-filled filo pastries cake prepared with some semolina noodles and topped with a sweet syrup then sprinkled with nuts and raisins.
17.Kahk
Kahk is the oldest dessert found in Egypt dating to the Pharaonic times as shown by the drawing found across ancient Egyptian temples in Upper Egypt that became part of a tradition. These butter-baked cookies are stuffed with dates, nuts, malban then sprinkled with white sugar powder.
18. Mahalabiya
Mahalabiya is a rosewater-flavored ground rice dessert then topped with toasted cinnamon and nuts.
19. Umm Ali
Umm Ali is a traditional Egyptian dessert is similar to a pudding made of layers of puff pastry soaked in milk and mixed with coconut flakes, nuts, raisins, and sugar then baked then complemented with other sweet ingredients.
20. Feteer Meshaltet
Feteer Meshaltet is a traditional Egyptian pastry made in farming villages that has a flaky and layered pastry with no stuffing then served with fresh cream, white and black honey, or Egyptian white cheese. It can be stuffed with fruits banana or strawberry, caster cream, chocolate, and nuts.
21. Sweet goulash
Sweet goulash is a delicious dessert that originated from morocco and turkey which is made of small canapé portions that are stuffed with sweet cream, pistachios, and nuts then soaked in syrup.
22. Rice Pudding
Rice Pudding is a famous dessert made by mixing rice, water, and milk which includes cinnamon, raisins, and nuts then boiled and put in the fridge then topped with nuts and pistachio.
23. Zalabya
Zalabya is an ancient desert with Turkish and greek roots that comes in the shape in the shape of small fried balls of dough that are soaked in syrup and honey sprinkled with sugar powder and brown or white chocolate.
24. Qatayef
Qatayef is a dessert dating to the Fatimid origin, made especially during the holy month of Ramadan. It is mini pancakes stuffed with cream, nuts, and chocolate which looks like dumplings then deep-fried and soaked in syrup.
25. Bakes sweet potato
Baked Sweet Potatoes are an all-natural dessert baked in front of them then sometimes stuffed with ice cream, caramel sauce, chocolate, and nuts.
Make your Meal Even Sweeter with A Tour Egypt Destinations
You can enjoy & try the Egyptian food while discovering the best destinations in Egypt through our Egypt private tours, if you prefer to explore wonderful things by visiting the ancient landmarks in upper Egypt, you can check our Nile river cruises and choose your journey.