Summary
The mosque, nestled within Luxor Temple, stands as a testament to Islamic heritage merged with the grandeur of the Pharaonic civilization. It was built around 850 years ago and remains a stunning symbol of worship in Egypt.
Founded by Sheikh Youssef, also known as Abu Haggag, the mosque's history intertwines with his efforts to care for pilgrims. Legend has it that attempts to move the mosque were thwarted by mysterious events, solidifying its place in Luxor's heritage.
The annual "Moulid Abu El-Haggag" celebration in November is a colorful and joyous event, blending religious fervor with entertainment, drawing both locals and tourists.
Positioned atop Luxor Temple's ancient grounds, reaching the mosque often involves hiring a travel agency to explore its history and cultural significance.
Abu Al-Hajjaj, a revered figure in Luxor, was a Sufi scholar celebrated for his religious devotion and pilgrimage. His influence extends through the mosque's preservation.
The mosque's architecture, a blend of Islamic, Coptic, and Pharaonic elements, reflects its rich historical layers, incorporating remnants from Luxor Temple and even a 5th-century church.
Abu El Hagag Mosque is a phenomenal wonder that holds historical roots connected to the Luxor temple. The mosque was built in honor of Abu Al-Hajjaj, who was a revered figure who migrated to Luxor and is celebrated by the local people even today. It has always acted as a stunning and historic place of worship, which was constructed 850 years ago to be one of the most beautiful Islamic landmarks in Egypt.
It holds a unique significance due to its location within the holy of holies Luxor Temple, thus bridging the beauty of the Islamic culture with the glorious Pharaonic civilization.
Abu El-Hagag Mosque History
Sheikh Yousef was the one spreading the word of Islam in the area, and he was actually the one who built that mosque. He also spent lots of time and put much effort into taking care of pilgrims. After that, he was called "Abu Haggag" which means the father of pilgrims, due to his efforts. Youssef was born around 1150 AD in Damascus, and then he moved to Mecca and eventually settled in Luxor, Egypt, till his death in 1245 AD. The legend says that this mosque was already built in the court of Luxor Temple.
The high-ranking official wanted to remove the mosque, but Sheikh Youssef wanted to keep it. However, the official insisted on moving it. Before destroying the mosque, the official woke up and found that the whole of his body was paralyzed, and the other official officers thought that what happened to him was due to his dispute against Abu El-Haggag. The official eventually changed their minds and gave permission to keep the mosque where it was, and since that time, the Abu El-Haggag Mosque has been considered a very famous site for tourists and locals to visit while being in Luxor city.
Relevant Post
Discover the most famous Islamic landmarks in Egypt, read more about Islamic history in Egypt and how it came to Egypt, and more.
Ream More
There is a famous celebration that is held in Abu El-Haggag Mosque yearly. It is called "Moulid Abu El-Haggag" and it takes place in November every year. It lasts for several days, and it is such a joyful, colorful celebration to attend with a combination of entertainment & religion.
Abu El-Hagag Mosque Location and How to Reach It
Abu El Hagag Mosque is located on Luxor's east bank atop the ancient parts of Luxor Temple that used to be the center of worship in the 14th century BC during the reign of Pharaoh Amenhotep III. The best way to reach this epic mosque and learn about its history is by hiring a travel agency, which will provide a travel agent who will uncover the history and cultural wealth of this magical holy attraction. 
Who is Abu Al-Hajjaj?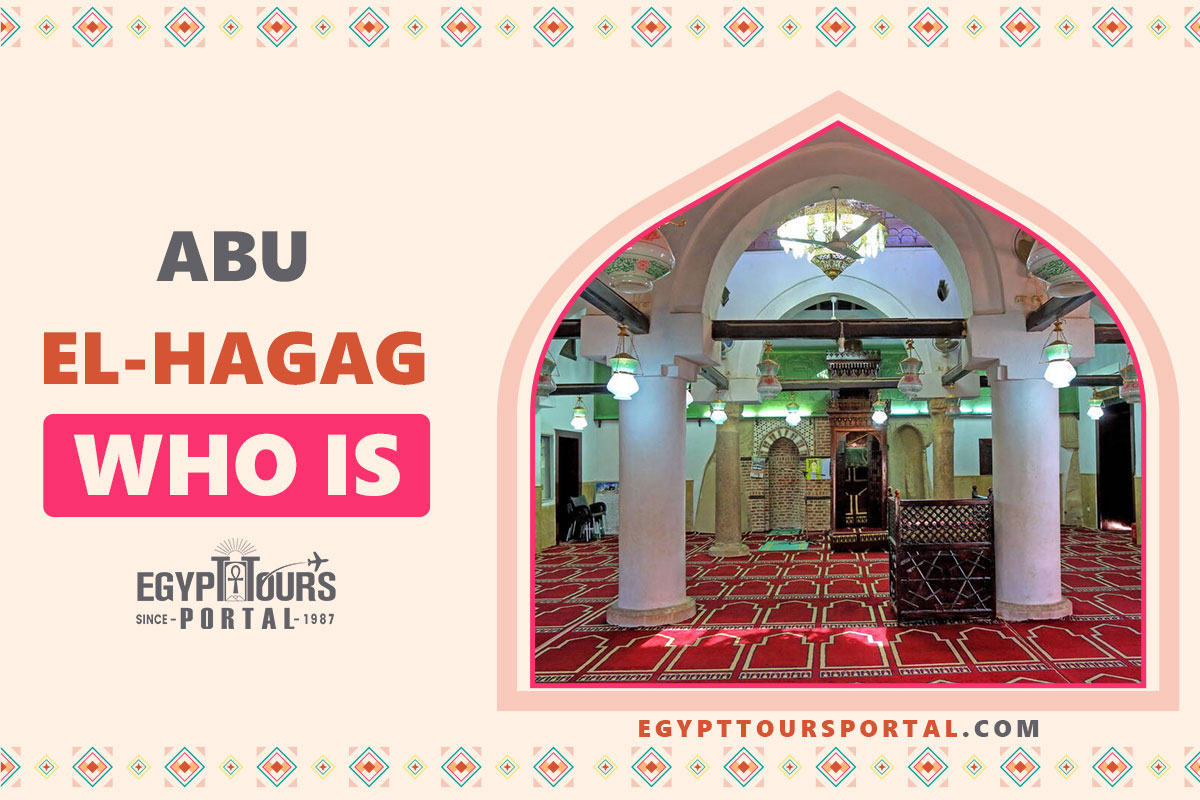 Sheikh Yusuf Abu el Haggag, a.k.a Al-Hajjaj, was a revered holy man in Luxor who was celebrated annually on his mawlid (birthday) called Mawlid Abu al-Hajjaj al-Uqṣūrī. He was a Sufi religious scholar and was considered one of the Ashrafs who are known as the direct descendants of the Prophet Muhammad. He was born in Baghdad around 1150 AD, and he later relocated to Mecca before settling in Luxor. He earned the title of "Father of the Pilgrim" because of his frequent and devoted performance of the pilgrimage (Hajj).
"Hajjaj" refers to someone who consistently undertakes the pilgrimage. Local folklore suggests that he didn't construct the mosque but saved it from later demolition attempts by officials. Sheikh Al-Hajjaj passed away during the rule of Sultan As-Salih Ayyub at the age of 90.
Abu El-Hagag Mosque Design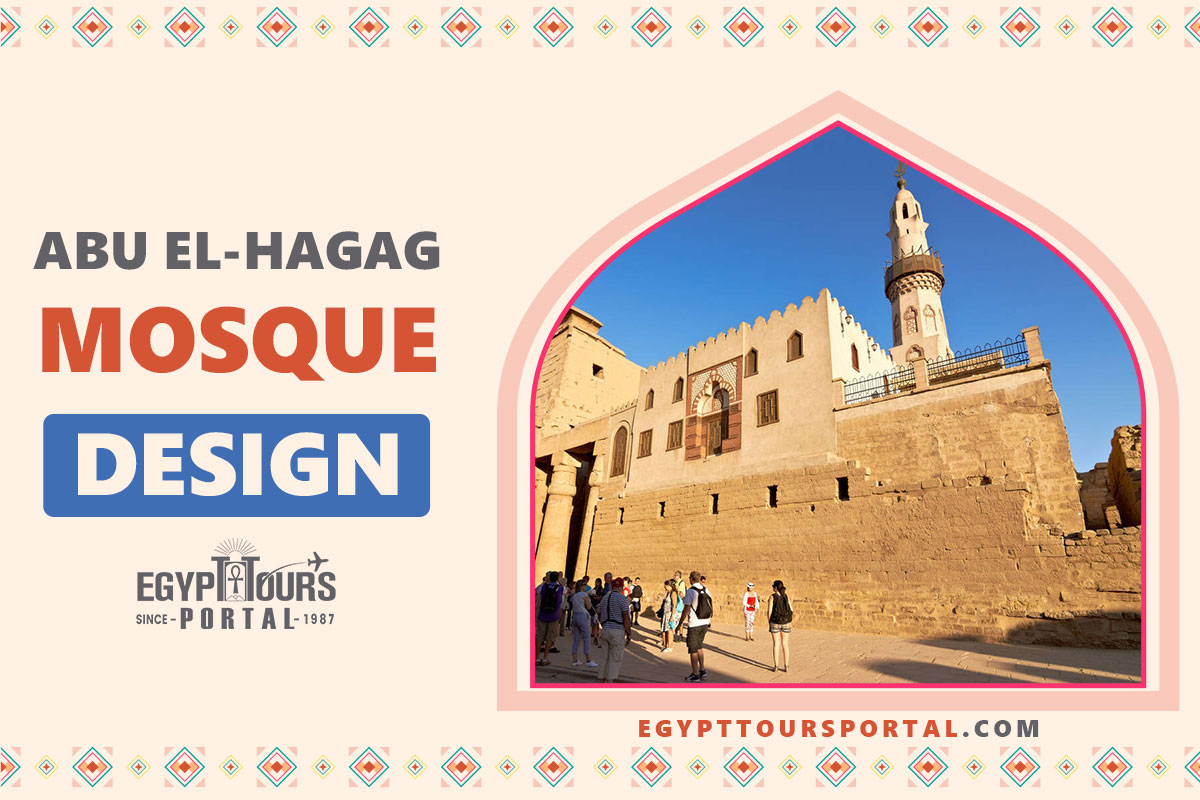 Its design resembles the Fatimid mosques, just like the Esna Mosque in Aswan city and the amazing Mosque of Al-Mashhad El-Bahari, which is located on the bank of the Nile. This mosque is a blend of Islamic, Coptic, and Pharaonic elements. Abu El-Hagag Mosque features a square layout with four minarets, a small dome, and a western entrance. It was built during the Fatimid era, has a minaret in the Fatimid architectural style, and was constructed on a small square area. Its entrance is located on the west side, and it has had many changes in the Ayyubid era. Abu El-Haggag Mosque was built in the northeast section of Luxor Temple, and it dates back to the middle of the Fatimid Era.
There are three arches at the mosque's entrance, and they reach a height of 12 m. Those arches are covered with faience & marble. You will find inside that amazing mosque a simply designed niche, a small grave in which Abu Al-Haggag "Yousef Ibn Abdel Raheem" was buried. There are some balconies on the top of that mosque, and they were restored in 1914 by Khedive Abbas Helmy II. The mosque was rebuilt many times, and recent restoration work revealed its use of columns from the Luxor Temple and even remnants of a church.
Abu Al-Hajjaj Mosque's Cultural Significance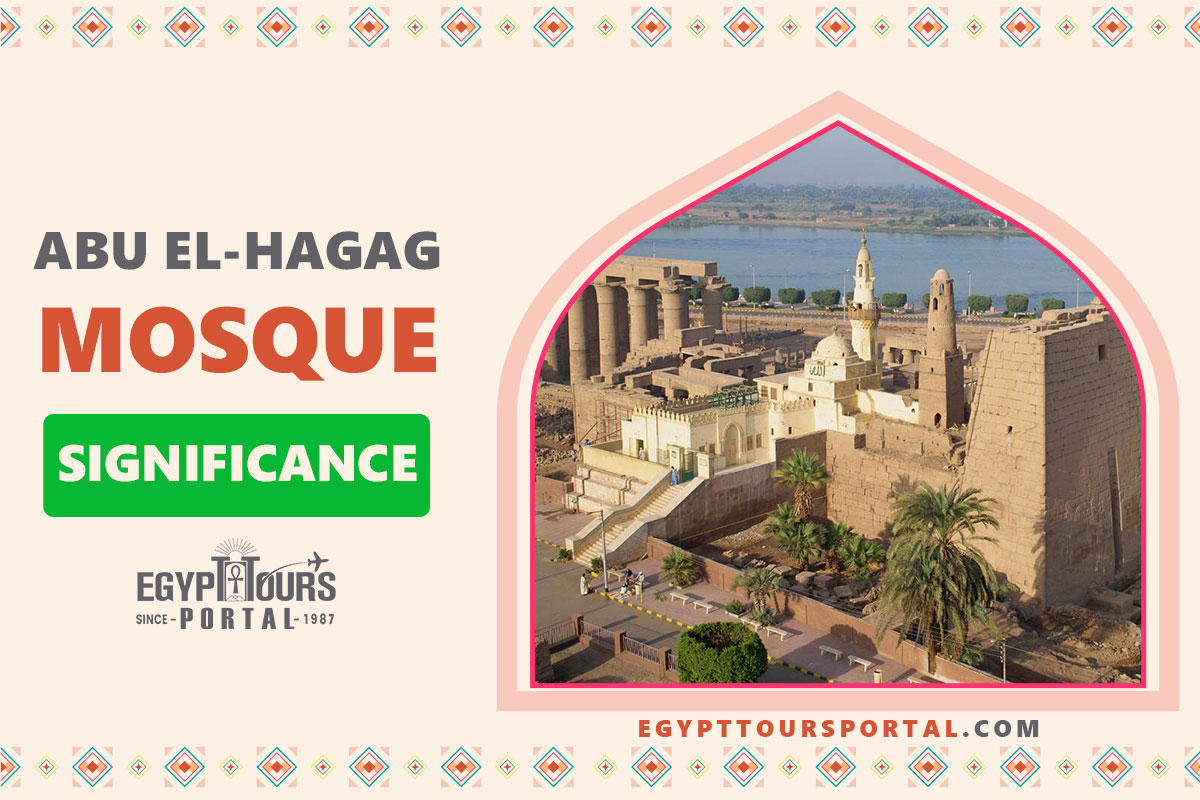 Abu Al-Hajjaj Mosque showcases a unique fusion of Pharaonic, Islamic, and Coptic artifacts. A part of the Luxor temple was transformed by the Copts in 395 AD, then again a mosque in 640 AD, which is found next to a 3400-year-old.
During its restoration, a 5th-century church with Roman architecture was discovered, and Pharaonic inscriptions indicate offerings to the god Amun Ra. This mosque serves as a testament to Luxor's rich history, offering a chance to explore both Islamic and Pharaonic wonders.
Birth and Mouild of Abu El Hagag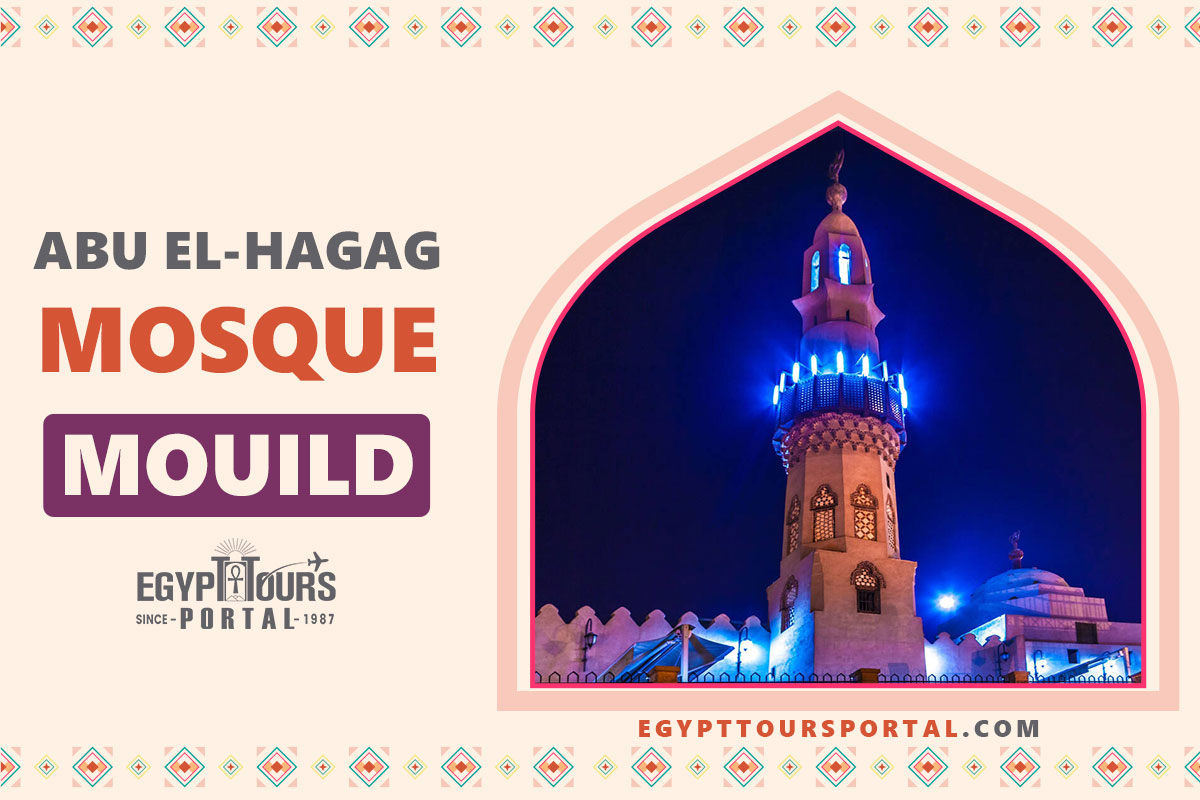 Moulids are festive celebrations in Egypt that commemorate the birthdays of revered holy figures, including saints from both the Muslim and Christian faiths.  One of these celebrations, the Moulid of Abu Haggag, is a local event that occurs annually in Luxor during early November. Lasting several days, it is a lively, colorful, and vibrant occasion that blends elements of religion and entertainment.
This festival is eagerly anticipated by many, and locals often save money throughout the year to partake in the festivities and join the spirited processions through the streets. Visiting the Abu Haggag Mosque during the Moulid is an exceptional opportunity to witness genuine Egyptian traditions and customs. These events are not staged for the benefit of tourists, but visitors are warmly welcomed to participate and experience the unique cultural richness of Egypt.
Enjoy Abu El-Hagag Mosque and Beyond on Guided Tours
Suppose you have the chance to visit this legendary Mosque. In that case, you will be thrilled while being there and while knowing more and more about the interesting different parts of Egyptian history, religion, and culture through booking one of our Egypt vacation packages that cover all niches in the land of Pharaohs.